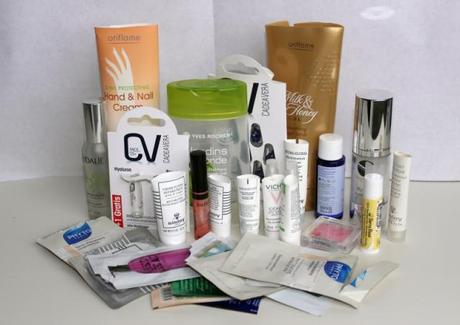 While I love finishing products, I really hope that all my future empties posts will feature less products. It is very time consuming to write, arrange and take photos of a bunch.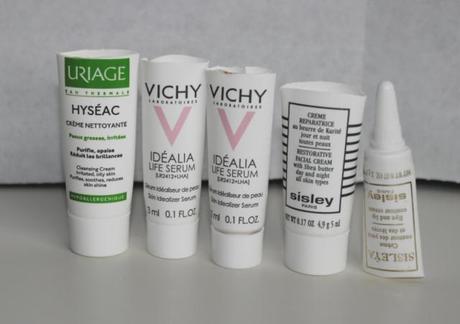 Uriage Hyseac Cream Cleanser Surprisingly, I liked. It is very gentle and non irritating, yet it cleanses well. However, my nose doesn't agree with Uriage scent, so I'll have to pass a full size.
Vichy Idealia Life Serum (x2) I found it ok - nothing magical, but not bad either. However, at this price, I'd rather get something I love.
Sisley Restorative Facial Cream An excellent cream which did wonders on my dehydrated skin. I am very sad to see this last sample gone, however, I'm not sure I'd buy a full size as I'm not a fan of a jar packaging.
Sisley Sisleya Eye & Lip Contour Cream It is a very nice, but super expensive eye cream. After finding Caudalie Polyphenol, I know I would never buy this one.
--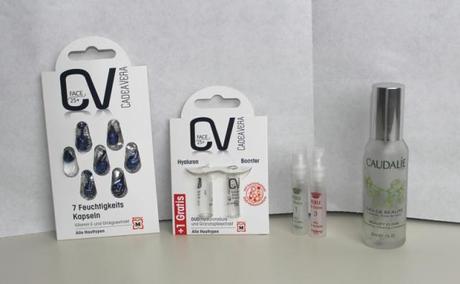 CV Cadeavera Vitamin E & Ginseng Capsules It is basically strongly scented oil. I didn't notice any benefits, but it neither did any harm to my skin. Still, I don't think I'd repurchase it.
CV Cadeavera Hyaluron Booster The bottle contains way too much for one use. I used is as I use Hyaluron - apply over moisturizer to lock in moisture. This didn't leave me impresses. I won't repurchase.
Sisley Eau du Soir #1 and Sisley Eau du Soir #3 One of these (I think #1) is a nice unisex/masculine scent. It is good, but nothing special. The other one is a bit more to my liking, being slightly oriental, but I still wouldn't purchase either.
Caudalie Beauty Elixir As the time flies, I'm more on the "I will repurchase it" side. You can read my impressions in my review.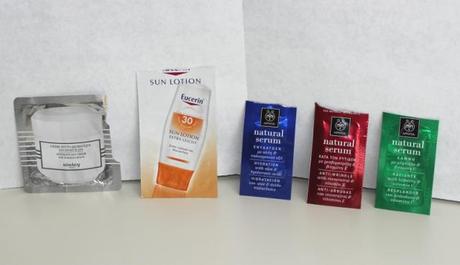 Sisley Intensive Day Cream Another great moisturizer from Sisley. It is very nice - moisturizing without making my skin too oily, but it comes at a price I'm not willing to pay at the moment.
Eucerin Sun Lotion SPF30 It is a nice, but basic SPF. It sinks in quickly, but the alcohol scent makes me not want to buy it.
Apivita Natural Serum Hydration Sadly, the sample was too small for a proper testing - I only got two uses of it. I can, however, say that it seems like a nice product. I might repurchase full size.
Apivita Natural Serum Anti-Wrinkle Similar as above. I didn't have enough to test it properly, however, it seemed nice enough for me to consider buying full size.
Apivita Natural Serum Radiance The same applies for this, but with an extra - this smells like a dishwashing liquid. The smell is enough to put me away from this.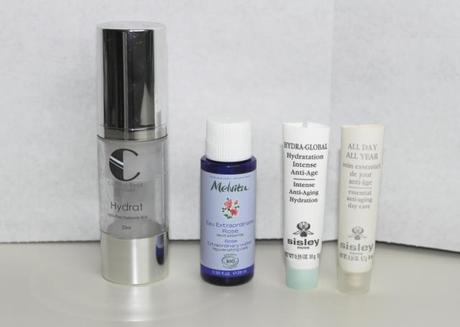 SR Skincare Hydrat This is a pure hyaluronic acid. When I was using it under a moisturizer, I didn't like it as it seemed that it did nothing for my skin. I changed my opinion once I started using it over a cream to lock in moisture. In spite of this, I'm not willing to buy it again.
Melvita Extraordinary Water This is the weirdest toner I've ever used. It didn't keep my skin sufficiently moisturized - I felt it becoming drier immediately upon the application of the toner. I am also not a fan of a strong rose scent.
Sisley Hydra Global It is a nice, albeit expensive moisturizer for oily skin. When my skin is dehydrated, it is not enough, which cannot be tolerated at this price point. I won't repurchase.
Sisley All Day All Year This is slightly richer cream which works better on my skin. Still, I find it is too pricey for what it does.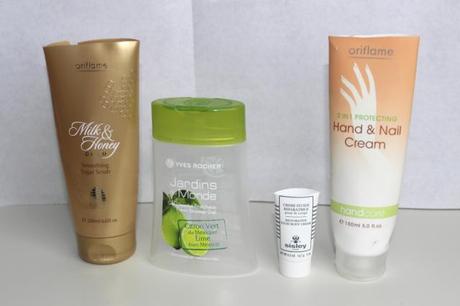 Oriflame Milk & Honey Gold Smoothing Sugar Scrub So far, my favourite body scrub. It has a decent amount of scrubby particles and it does a great job of exfoliating the skin. I've already repurchased it.
Yves Rocher Jardins du Monde Citron Vert du Mexique I hate it. It is not bad as a shower gel, but the scent is 100% similar to Čarli. The green colour doesn't help the impression, too. It definitely gave me the illusion of washing with a dishwashing liquid. A definitive no-buy.
Sisley Restorative Body Cream This one is very nice, especially on sunburnt skin, however way too expensive.
Oriflame 2 in 1 Protecting Hand & Nail Cream The only plus I could find is that it is fast absorbing. It isn't moisturizing at all. I won't repurchase.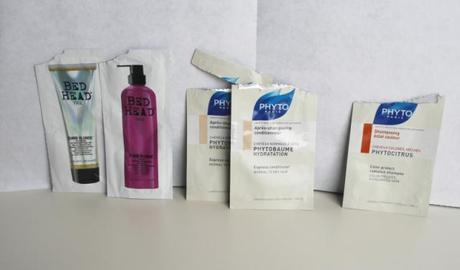 Tigi Bed Head Dumb Blonde Conditioner It has a childish candy/bubblegum scent and does nothing for my hair. I won't purchase full size.
Tigi Bed Head Dumb Blonde Shampoo Same as above.
Phyto Phytobaume Hydratation Conditioner (2x) I expected a lot from this conditioner, but it failed to deliver. It did nothing to moisturize my hair.
Phyto Phytocitrus Colour Protecting Shampoo Also nothing special.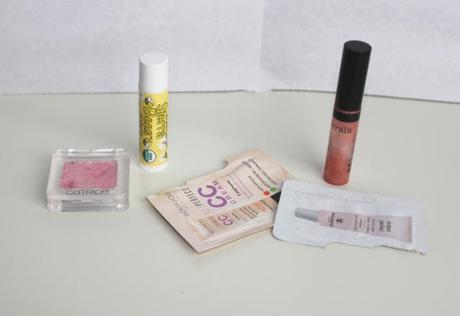 Catrice Mono Eyeshadow in Gilbert's Grapefruit I rarely throw out make up, but I had to with this one. It looks like a nice pink in the pan, but on the skin is a super frosty pale pink with a bunch of silver glitter fall out. I swear, it is worse than Midnight Cowboy Rides Again. I wouldn't wish it on an enemy.
Sierra Bees Vanilla Lip Balm A basic lip balm, but I didn't like it. It was too stiff upon application and not especially moisturizing. I won't repurchase.
Bourjois CC Cream #53 I still can't decide about this one, so I'll hold my judgment until I test it more.
Sisley Instant Perfect primer This is a very nice, slightly pore minimizing primer. I have the full size, but after using it up, I don't think I'd repurchase.
bareMinerals Marvelous Moxie Lip Gloss in A Lister I liked the peachy pink colour, but I didn't like minty taste and formula. It stung my lips. I won't repurchase.
I also forgot to mention that I gave away two items to my sister - Oriflame BB cream and Lancôme Teint Miracle foundation mini.
And here's the update:
August total:
FULL SIZE: 9
MINI: 15
SAMPLE: 11
2014 TOTAL
FULL SIZE: 55
MINI: 74
SAMPLE: 94
xoxo Tamara