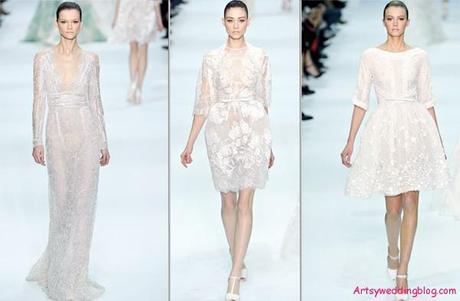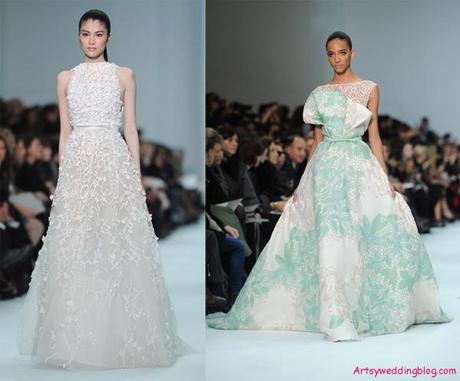 Elie Saab, born in 1964, is an international fashion designer with an inborn developed talent since childhood. Ever since, Elie Saab has led in the fashion house with his creative and excellent collections all over the world. His fashion house is the most recognized for exhibiting some of the most popular brands in the world. Some of his collections include wedding gowns, cocktail dresses, and accessories such as belts, shoes and perfumes. His accessories are tailored to accompany the bridal gowns so as to compliment the intended beauty.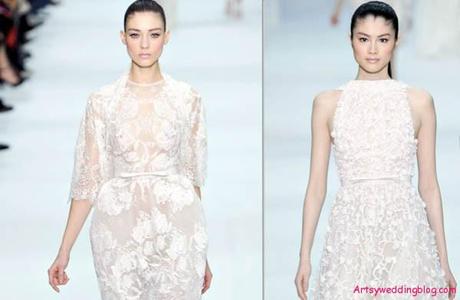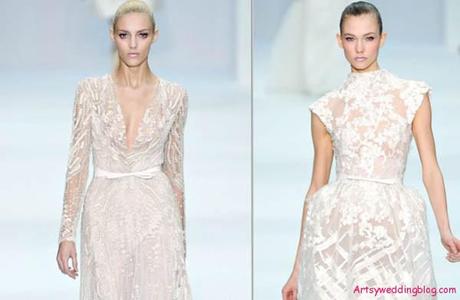 His brands are considered stylish with great creativity, largely appealing to his already grown ability. This has made Elie Saab win a high reputation throughout the world making him a great fashion outlook, opening the bridal market with some of the most sought bridal selections. The bride can choose from a variety of shoes such as ankle boots, open toe pumps, round toe pumps with two ankle stripes or open toe sandals with heel. Others are thin belts worn to match with the gown for a more refined look. The belts are leather made with some three buckle closures that have a Saab logo. Gloves also go well with some gowns during winter, and there are a variety of choices, from mid to full length. And you've got to like Elie Saab's choker necklaces made of gold. The Elie Saab la perfume in a classy jewel glass and an inviting fragrance dazzles femininity with a captivating touch.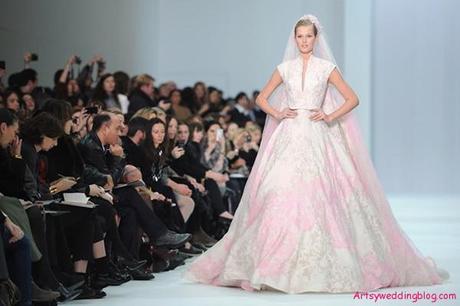 Elie Saab's delicate classical wedding gowns are made from high quality fabrics mixed in different overlays and transparencies bringing about lovely and impressive gown volumes. Such fabrics include silk, taffeta, organza, chiffon and gorgeously decorated laces. The gowns are luxurious from the dated styles to the most recent standard styles. His glorious collections depict his magnificent quality of materials.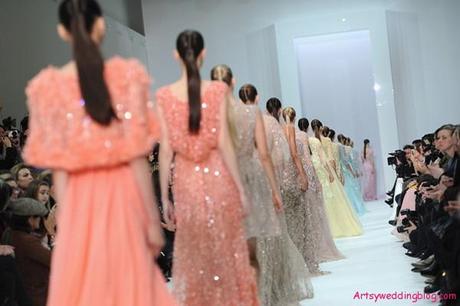 The delicate wedding gowns are designed in the most exquisite styles to the classic ones. Elie Saab chooses to go with styles that some may term as simple yet elegant, since they are crafted in enchanting details.  The gown collections are adorned with intricate embroideries, laces and sculpted lines to create delicate fluffy trails. And they look so romantic with lovely flowers smartly printed on the gown. A gorgeous voluminous skirt adds a glorious appearance to the bride, symbolizing delicacy, purity and secrecy.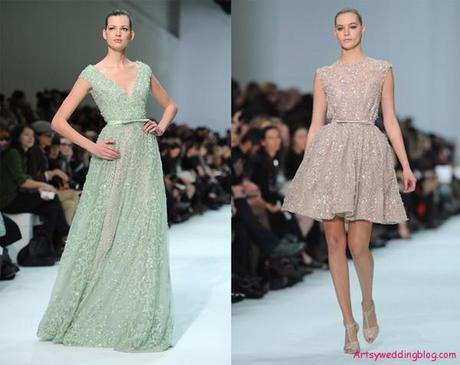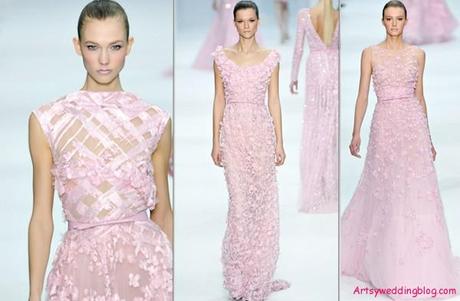 There are gowns designed for the fall or winter seasons which are light with sparkling gold bead embellishments.  Princess slim gowns at Elie Saab's are a picture-perfect beauty with charming mini cocktail dresses for an afternoon or a graceful long dress for an evening party. These wares are paired with some impeccably matching accessories and comfortable heels.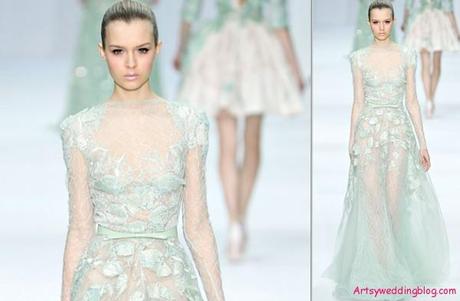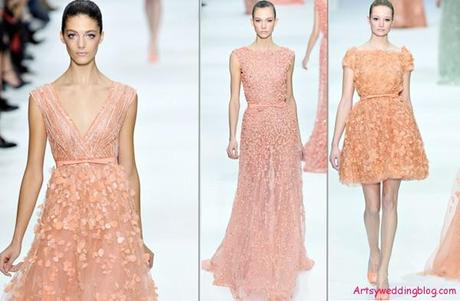 Spring season wedding gowns featured at Elie Saab make the bride look terrific. The dresses for this season are made from organza with petals, layers and tulles in powdery shades of  nude salmon, ivory, pink and white.