I did a bit of online shopping yesterday and found that ELF (Eyes Lips Face) still had their sale going, so got a few bargains!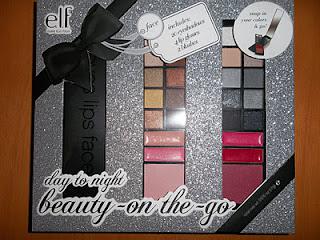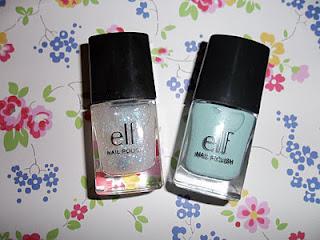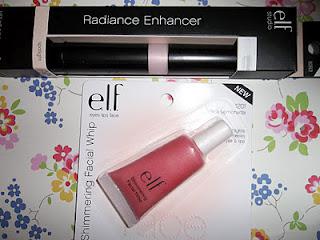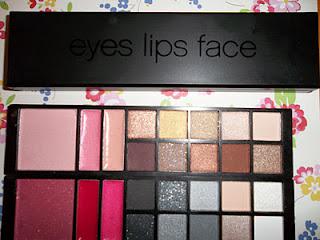 Day to Night beauty on the go £3.50
Nail Polish in Mint Cream and Twinkle £1 each
Radiance Enhancer in Spotlight £3.50 and Shimmering Facial Whip in Pink Lemonade £1.50
Snapshot of the Day to Night beauty palettes
I went onto the website primarily for the pallete, which i'd seen before and was waiting to be reduced in price (I sound such a cheapskate!). The Day to Night beauty on the go was originally £7 and part of their Christmas gift range. It is a good idea - in principle. The actual shades in the palettes are great - a mixture of taupe, nude and brown shadows and glosses for day and then more smokey, glittery greys and blacks for night, again with glosses and a blush. The problem is the case they're supposed to go in. They clip in, with the idea that you take them out with you in your purse, but the beggar is impossible to open - it's so tight. The other thing is, where do you put the other palette that's not being used? There's no other protective case etc, so if you just throw it in your make up bag it will get damaged. I am a little disappointed in that's it's not as practical as it's made out to be.
The polishes are a fresh minty green and a clear glittery top coat, which I will review when I have longer nails. The shimmering facial whip is great - I've had it before but in a lighter shade. Pink lemonade is very pink, and it's multi-purpose so I use it on my cheeks and a little on my lips mixed with a clear gloss. The Radiance enhancer is their equivalent to YSL's Touche Eclat , for under eye circles, but is also marketed to be a highlighter. 
I'm all about my budget beauty, but it can be hit and miss. Have you ever bought from ELF, and what did you think of the quality of the products?