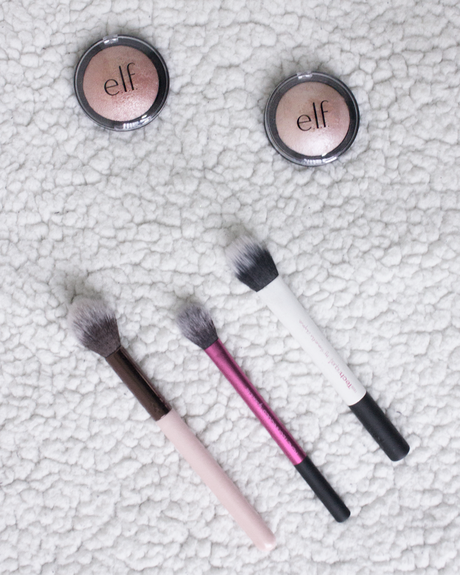 Recently was sent these two baked highlighters from ELF. I was a bit cautious with my expectations of their performance, in the past I have not been very impressed with the quality of baked cosmetics. These however are beautiful if the right applicator is used.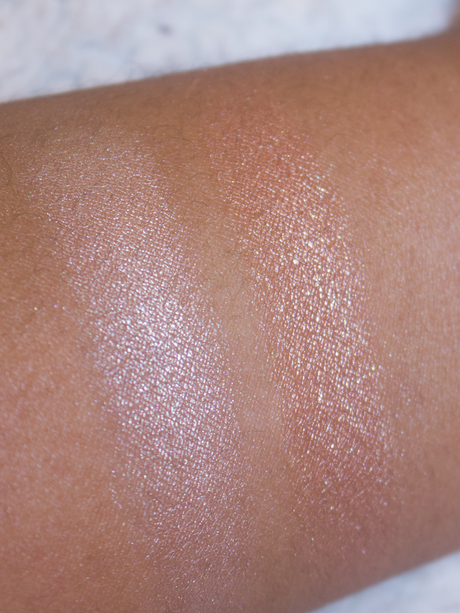 ELF Baked Highlighter Moonlight Pearls (left), Blushed Gems (right)
As you can see in the swatches these highlighters are beautiful and can create a gorgeous, illuminating glow to the skin. They are swatched at full potential and can be applied lighter for a more subtle highlight. (affiliate links below)
Moonlight Pearls*
A pale warm ivory
SHOP
Amazon: http://amzn.to/2joPEfT 
ELF Store: http://fave.co/2kaTeah
Blushed Gems*
A golden tan glow
SHOP
Amazon: http://amzn.to/2kJensh 
ELF Store: http://fave.co/2kaTeah
I was pleasantly surprised by these highlighters and am so happy to have tried them, I am slowly but surely making my way through the ELF cosmetics line as all of them are vegan. I really love these highlighters. On my medium-dark skin Moonlight Pearls gives a high contrasting dramatic glow to my skin while Blushed Gems provides a warm, more subtle reflection of light for an everyday wear kind of look. I found these powders to really adhere well to my foundation and last for several hours of wear without fading away. 
Swatching these with your finger will leave you disappointed with a lackluster swatch. Baked powders are dryer than normal powders to the touch and as such they require a brush in order to release product from the surface. After testing it out with several of my makeup brush I've chosen these three to recommend to you if you decide to purchase the ELF Baked Highlighters.
1 Real Techniques Duo Fiber Highlight Brush (Limited Edition)
Gives the most dramatic application (As seen in swatch). 
SHOP
 ELF Alternative for $3 http://amzn.to/2jPGIMp
2 Real Techniques Setting Brush
Gives soft application with single layer. 
SHOP
 http://amzn.to/2kMr8FF
3 Luxie Beauty Highlight Brush*
Gives soft application with single layer. 
SHOP
 http://fave.co/2jNHb4a