This past week, my family and I were able to get out and enjoy a delicious treat of a meal at El Chile group's El Alma over on Barton Springs Rd., just across the street from the Long Center. I can't tell you how many times I've driven past, and even walked past El Alma, and had no idea what it was, besides a cool looking building. I always meant to stop and see what it was, but I just never did.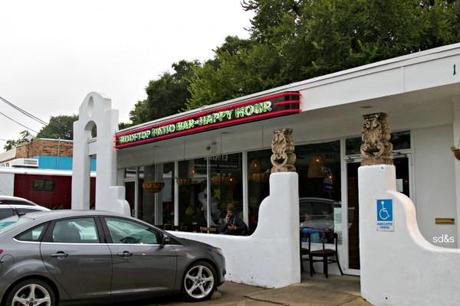 It wasn't until we arrived at El Alma that I realized that this funky, multi-tiered was our destination, and I was properly enthusiastic.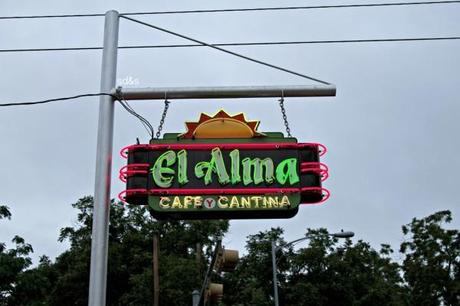 El Alma's structure is actually built into a limestone hillside, and the restaurant bar's staircase is set against a rock wall adorned with beautiful plants and a waterfall, all leading up to an expansive outdoor patio. (Un)fortunately, the day we went was our first rainy day in SO LONG (YAAAAYYY! We SO needed that rain), and therefore, the patio was not open (Boo. The patio looks AMAZING).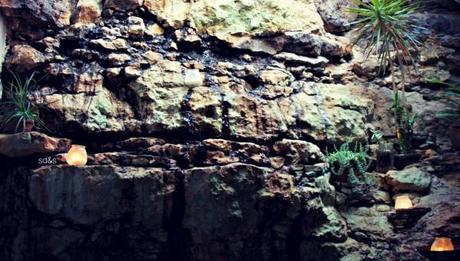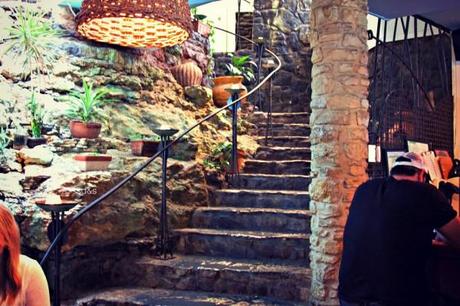 We didn't make any reservations before our 6:15 p.m. on a Saturday night arrival, so we were in for a bit of a wait. I would suggest making some reservations… While we waited, we got some drinks from the bar, and looked around at the space. It was VERY cool. We loved the turquoise, the basket light fixtures, and that limestone wall. Funky, fun and unique, that's for sure.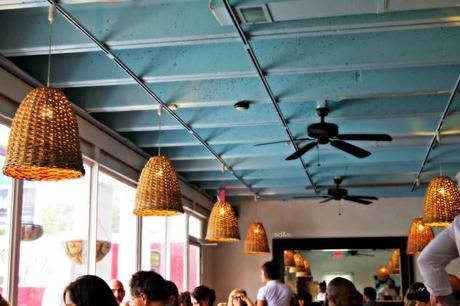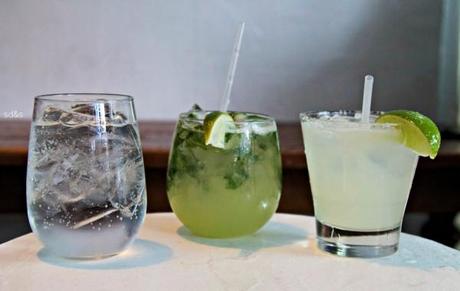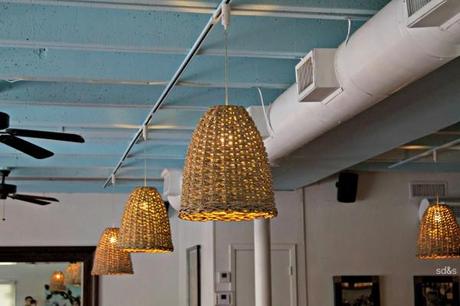 As for the drinks, Michael ordered the Charlie's Special: Don Julio Silver, Cointreau, hand-squeezed lime juice and agave nectar on the rocks. Yum. As for me, I went with a virgin Mojito, which by the way, was amazing. I love the combo of mint and lime, and pretty much couldn't get enough of this refreshing mocktail. The little man was easy and went with Sprite, but he felt fancy since his glass matched ours.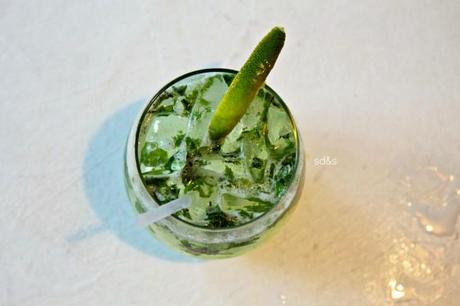 When we were seated, we got right down to business with reviewing the menu, and sampling the complimentary chips and salsas.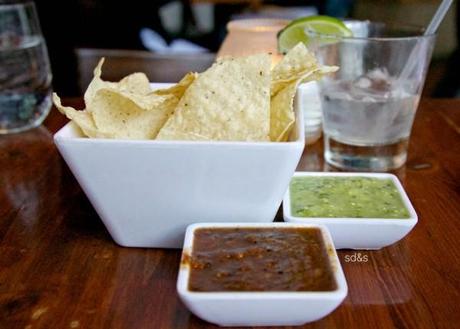 While perusing the menu, so many items grabbed our attention, but we decided to start with the Crab Jalapeños: Lump crab meat stuffed jalapeños with queso fresco & crema, as well as some Guacamole al Chipotle, served with avocado, lime, cilantro and tomatoes, and topped with smokey chipotle crema and sunflower seeds. Plus, since I checked into El Alma on Facebook, we got a complimentary order of some street corn with fresh chips. Oh yeah! Oh yeah! Checking in paid off! Pro Tip: When you go, see about any sweet deals like this. Delicious.
Our various apps arrived quickly, one right after the other, and we got to grubbing. First of all, the 2 salsas that accompanied the chips were outstanding. The red one was smoky and spicy, while the green one was bright and acidic. They worked beautifully together, and I couldn't get enough. That red salsa! I wish they'd sell it. I'd drink it about now.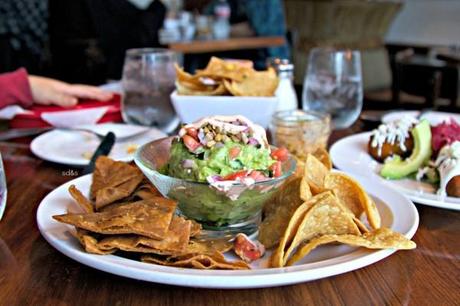 As for the guacamole, it was fresh, bright, creamy and smoky. We all loved it, and while it was reminiscent of the guacamole at El Chile Group's El Sapo, it held its own as a distinct dish. Yum.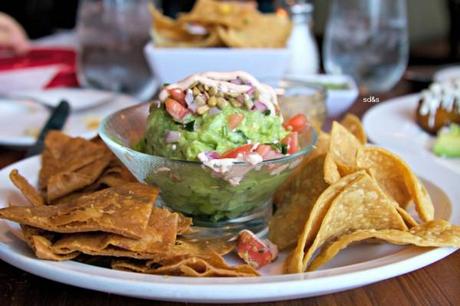 The crab jalapeños were also very good, but man oh man were they spicy!!!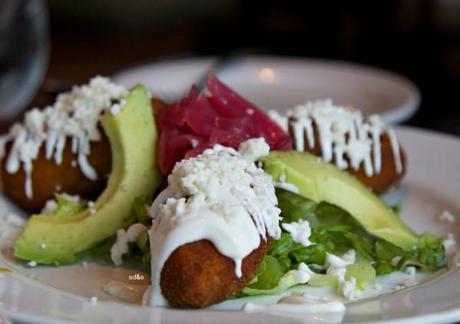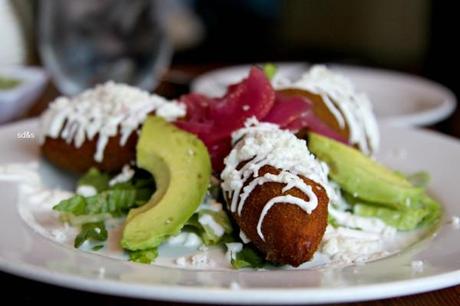 That's the thing about jalapeños, you don't know what heat level you're going to get. I mean, have you ever gotten those cream cheese and bacon jalapeños from HEB, and one batch you get are pretty perfect, and the next is explosively hot? Yeah. That. But the flavor of these fried, crispy snacks was quite good, just a bit too spicy for my taste that evening.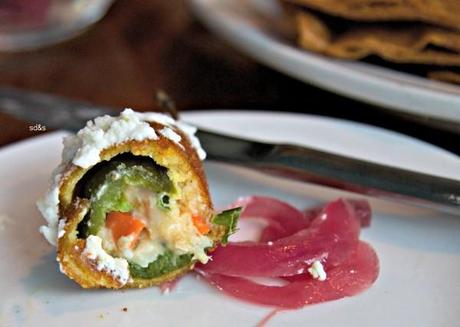 And that corn? Yum. Sweet, crunchy, savory, creamy. Great flavor, great texture, great starter.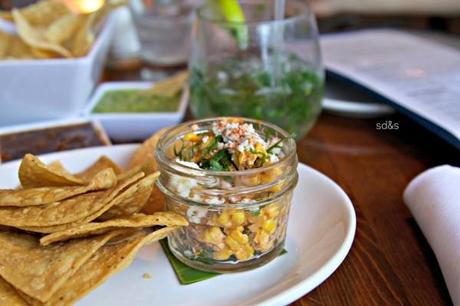 While we were still snacking, our waiter came by and we placed our orders for our main dishes and new drinks. Michael chose the Palomita with El Jimador Reposado, Ruby Red grapefruit juice, and Fresca over ice. I got a new virgin Mojito, and the kiddo got a refreshed Sprite.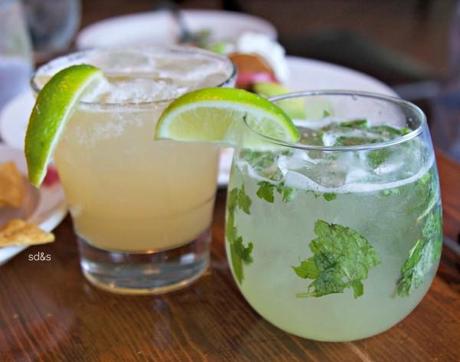 As for the food, the little one ordered Camarones a la Plancha: Shrimp with garlic ancho butter, corn slaw and avocado, served with white rice. Michael went with the Shrimp and Crab Relleno with shrimp, lump crab, panela cheese & spinach stuffed inside a poblano. I decided on the Carne a la Parilla, a 10 oz flat-iron steak, chiles toreados, caramelized onions and morita chimichurri, served with crispy potatoes. Everything sounded so good, and I had to keep telling myself to take it easy on those chips, so that I would have enough room for what was promising to be a wonderful meal coming.
Individual happy people photo break!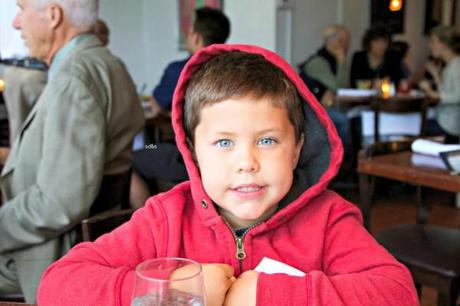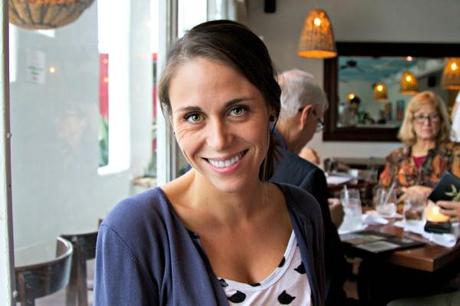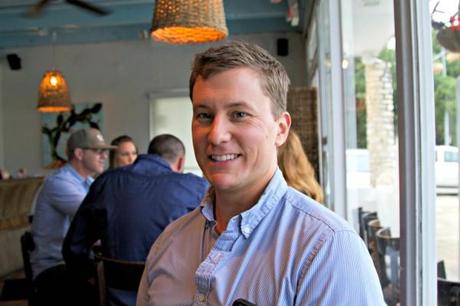 Suddenly, it was like the dinner service went to a stand still. No food was coming out, and so no matter how hard I tried to avoid stuffing myself with too many chips and too much salsa and guac… let's just say it was hard.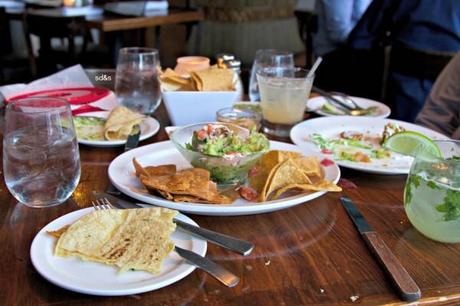 But finally, our dishes arrived, and we were ready. The kiddo's shrimp looked sensational,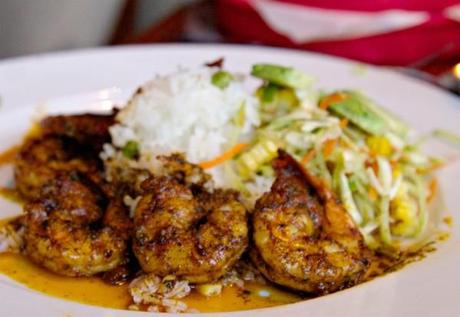 and Michael's dish was gorgeous.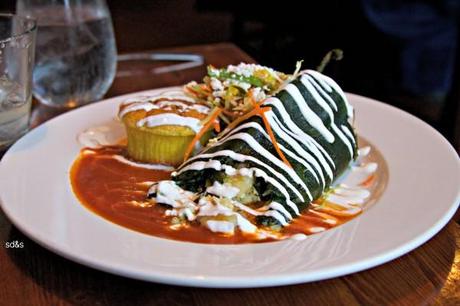 Mine…. Mine made me sad. It looked… boring. I was hoping for something out of a piñata. I didn't get that. So I reluctantly took a bite, and I was reminded of a very important lesson I learned as a child: Never judge a book, or a steak, by its cover.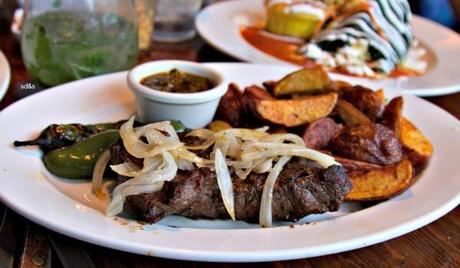 This steak was explosive with flavor, super juicy, perfectly cooked and just plain wonderful. Oh wow. I felt bad for being sad over the appearance. The potatoes were also dang good, but what I really want to touch on here was that morita chimichurri. It was sensational. It brought out so much added flavor from that already near-perfect steak, and I just couldn't get enough of it. It was a solid dish, that's for sure.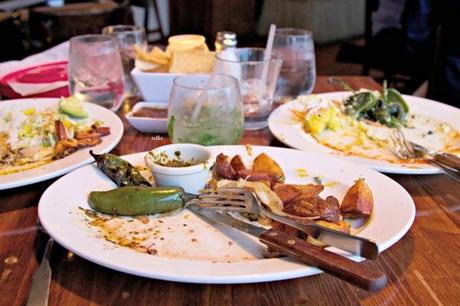 But we weren't done. Oh no. Dessert most definitely had to be thrown into the mix. We each decided to get a different one, so the kiddo went with the XO Coffee Tres Leches Cake,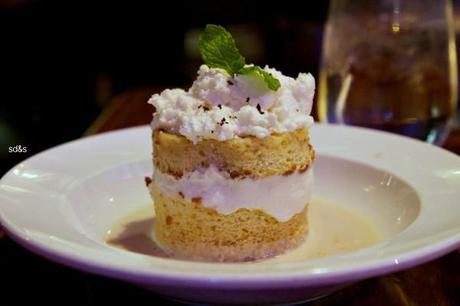 Michael picked the Cajeta & Jack Crème Brulee with Cinnamon cookie,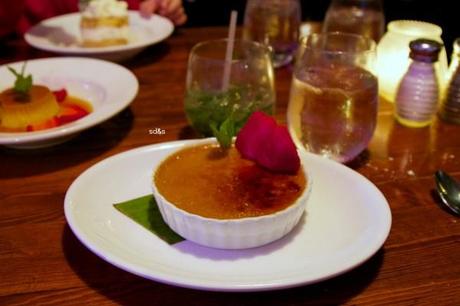 and I decided on the Mango Flan. Oh how I love flan…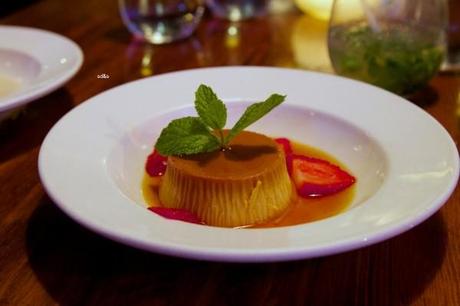 And oh let me count the ways I loved this flan and it's not too sweet and perfectly custardy joy. Yum. Yum. Yum. The kiddo was all about his cake and Michael really liked his Mexican caramel + Jack cheese Crème Brulee. We each decided we enjoyed our respective desserts better than the rest, and decided against sharing. Phew. I'm no good at sharing.
So let me close with this. Did you know that El Alma means "The Soul" in Spanish? Well, I really felt that these folks at El Alma made my soul happy, and that the food as from theirs. While it may not have been the BEST meal we've ever had in all of our lives, it was certainly extremely solid, and extremely delicious. I'm so happy we decided to head out on that rainy night for some of this modern Mexican cuisine from the cool white building.