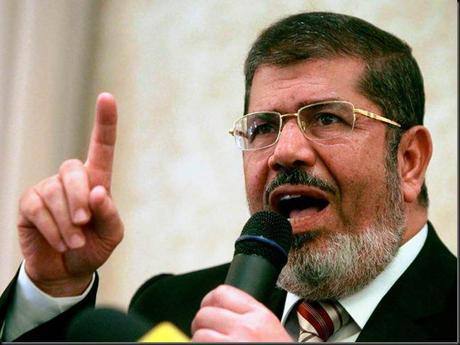 A real bombshell in Tehran today as Mohammed Mursi told a summit in Tehran that Assad's was a oppressive regime and everyone there has a duty to back the uprising in Syria He went on that the current situation of the Syrian people was equivalent to that faced by the Palestinian people. In drawing this line in the sand over the civil war going on in Syria, the Syrian delegation promptly walked out of the conference. This really has opened up a can of worms in the Middle East, and if you look at Mursi's chart against that of Syria, you can see exactly why.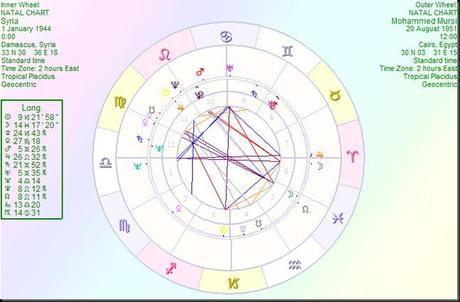 Here we have the Syrian natal chart against that of Mohammed Mursi, Egypt's new president, born just north of Cairo on 20th August 1951. The thing to look at is Mursi's Uranus the planet of independence and rebellion which opposes the Syrian Sun (Assad) and sits conjunct to the Syrian Midheaven (the ruling regime over Syria), is square to the Ascendant and makes a supportive trine to the Syrian Moon (the population). You could not find a more compromising position for Mursi's Uranus to be. Mursi's freedom loving and internationally progressive Jupiter Moon conjunction in Aries opposes the Syrian Ascendant and squares the Midheaven.
Mursi's Pluto makes a sextile over the Syrian Saturn and as in all synastry aspects, the slower planet Pluto has the advantage over the faster moving one, so Mursi's call for change will resonate over those who administrate and run Syria – in effect Mursi should be a catalyst for the transformation of how Syria is governed. Finally, Mursi's Sun sits on the Syrian Jupiter, so for Syrian to prosper and have freedom and international contacts again, they should listen to his lead.
It is so interesting that Mursi made his speech as transiting Mercury was at 26 Leo, conjunct Mursi's Sun and Syria's Jupiter as well as conjunct to the fixed star Alphard. In a previous post I mentioned that words from the heart with depths of emotion would characterize 30th August, and could bring about the transformation of a situation. So it is proving in Tehran…
Links - Mercury conjunct to Fixed Star Alphard