Mayfair always makes me think fancy and expensive. But it needn't be the latter. I took Chris to Moncks of Dover Street recently for a little Monday night date night, and it was amazing. Fancy, incredible service and awesome food but also affordable!
Moncks of Dover Street is a beautiful art deco brasserie serving a contemporary European menu. The brasserie runs quite far back from the street, opening up into a light-filled atrium at the back. It's got a sophisticated style with an edgy touch, making it a cute spot for date night. It was pretty quiet when we visited and very relaxed. The service made you feel at home and very welcome. It was incredible - super friendly and very chatty. We had plenty of recommendations and the passion of our waiter Juan shone through so brightly. You could see him give the same level of service to all those around us, and it really did make the whole evening an amazing experience.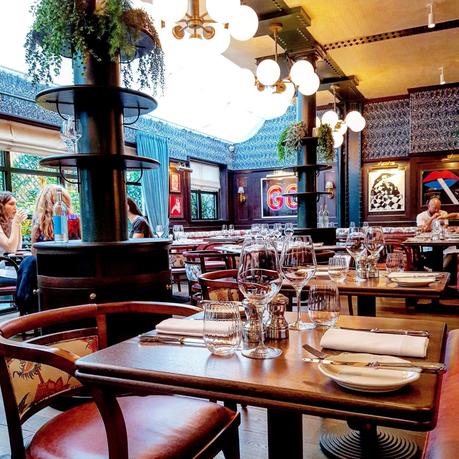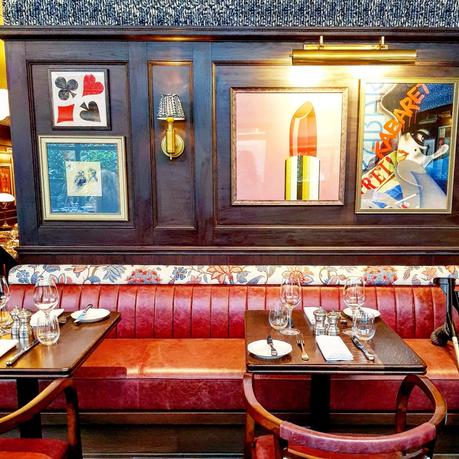 Cocktails to start are a must.
There are a handful on the side of the dinner menu, with more within the full drinks menu alongside an extensive wine list, beers and spirits.
The King's Negroni with Plymouth gin, king's ginger liqueur and martini rosso vermouth, had a slightly bitter edge from the ginger but was absolutely delicious. One awesome Negroni we enjoyed so much we had to order a second. And a third. Two for Chris and one for me, because you know, drinks envy.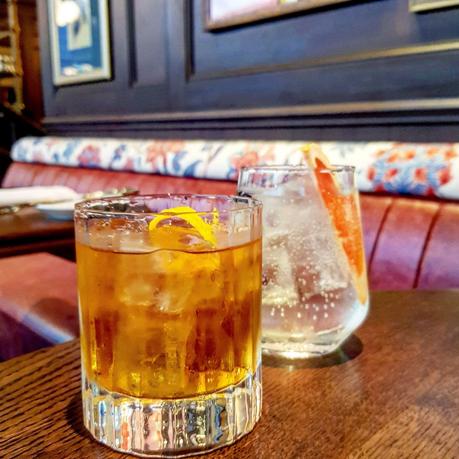 The Miller's Gin & Grapefruit was a beautiful refreshing drink to start too. A fab sized G&T, refreshing and very tasty.
On to the food and the main a la carte menu features a variety of dishes from Baked Artichoke and Scallop Gratin to a Lobster Roll and Baked Quinoa Falafel. There's plenty of choice for starters, small bites, mains and desserts including some veggie and vegan options too.
The small bites work well as starters.
A little smaller, as to save space for the main, but still plenty of choice and some very tasty options.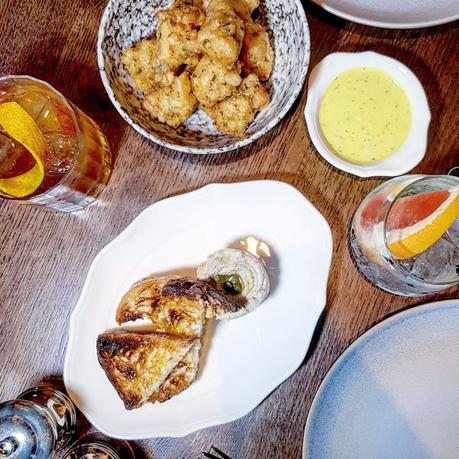 The Spiced cauliflower fritters were light, fluffy and beautifully spiced. They were a great texture (think soft fritters), and very tasty! The yoghurt dip alongside had a touch of citrus lemon and coriander which added a herby tang, and complimented the fritters very well.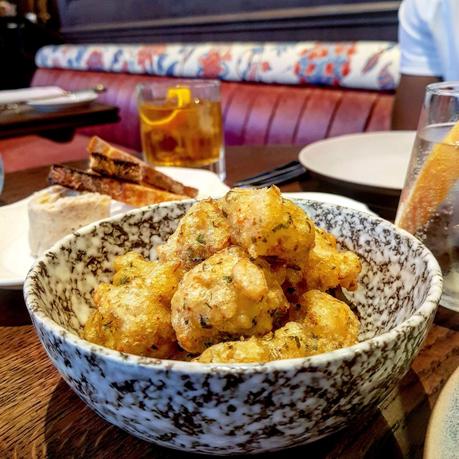 The smoked mackerel pate with capers and toasted sourdough is just as tasty in its own way. The pate was subtle in flavour, soft but not overly creamy. The texture made me think of a smoother flaked tuna. We hadn't had a fish pate before, and we'd definitely order again based on this one. There could have been a touch more sourdough for sharing, but we didn't want to fill up so it was ok this time round.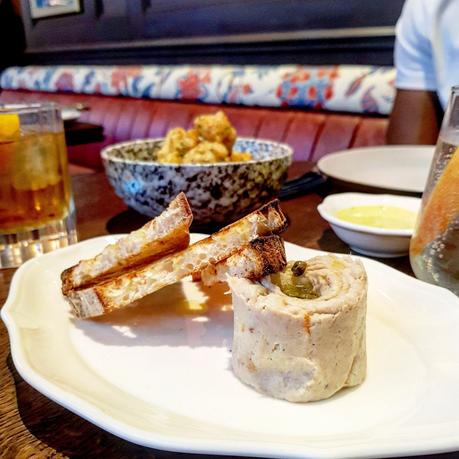 The mains all looked like a really decent size too as we watched those around us be delivered, and our choices head to our table.
The Baked quinoa falafel is one large, tasty vegetarian dish. It's a warm salad with beautifully roasted aubergine, fresh seasonal leaves, and a fantastic, rich soya and tahini dressing. Fantastic mix of flavours and textures. I'd never had sesame quinoa falafel before, and these were fab. They were delicious and soft, falling apart easily, but not crumbly at all like traditional chickpea versions. We added halloumi atop too, because when is not a good idea to add cheese? It was cooked so well and added an extra meatiness to the dish.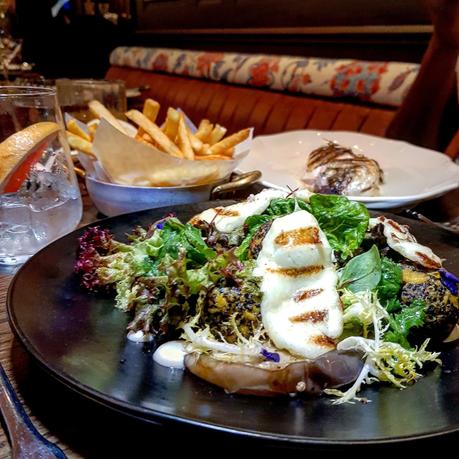 The fish of the day was Chris' choice. It was a sea bream, which was available in different weights - 450g was the perfect size for him! Juan had offered for the team to remove the bones, which we obviously took him up on. Bones in fish is the most annoying thing and they did a pretty good job with only a couple sneaking through. We'd never been offered this option before, and we thought it was SO good.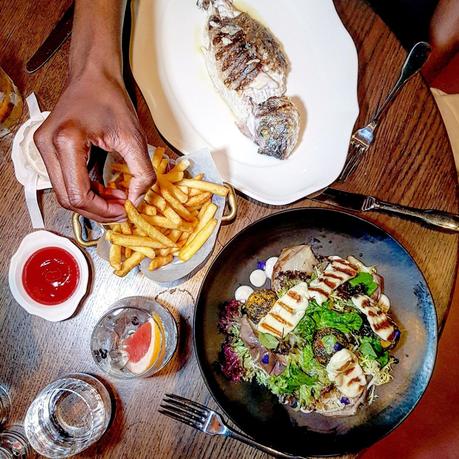 The fish itself was light, perfectly cooked and very tasty. It had a great skin, and flaky, soft meat. It was superb with a side of chips, which were fries-style, crisp and super salty. Exactly how I like them!
We barely had space for dessert but Juan tempted us with his favourite, the Chocolate Fondant with vanilla ice cream.
It was chocolate-y, but not too rich, with a fantastic oozing centre. Chris actually made a few 'ooh' and 'amazing' exclamations as we cut into it. The creamy vanilla ice cream balanced out the chocolate a little more, and we could definitely see why it was a fav of Juan's. We were very pleased we made space to share this one!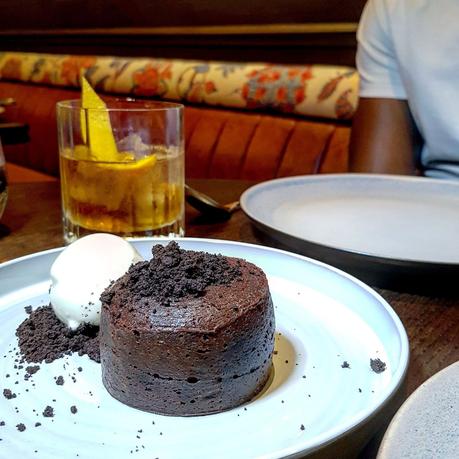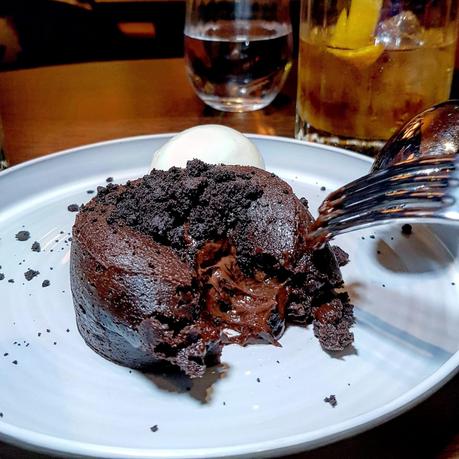 We finished up with a glass of sweet wine, because when there's a good one on the wine list we cannot resist! The Sauternes, Clos Abeilley was a fab smooth and very sweet vino. It reminded me of a great quality tokaji yet not as pricey. It really satisfied - the best way to finish a fantastic meal.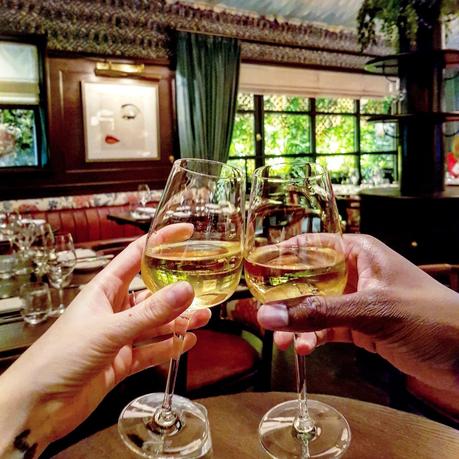 Summary - Moncks of Dover Street:
Price: Pretty reasonable especially for Mayfair - small bites priced between £3.75 and £7.25, mains between £11.50 (quinoa falafel) and £29 (fillet steak). The fish of the day was £27 for 450g when we visited.
Food: The menu is extremely varied across the small bites, starters, mains and desserts, offering plenty of choice.
Drinks: There is quite the drinks menu with some fab cocktails and delicious sweet wine. Again, the prices were pretty reasonable for Mayfair.
Atmosphere: Sophisticated, relaxed, cute spot. We loved the art deco interior and atrium space at the back!
Wait: It wasn't busy on the Monday we visited but do book if you can.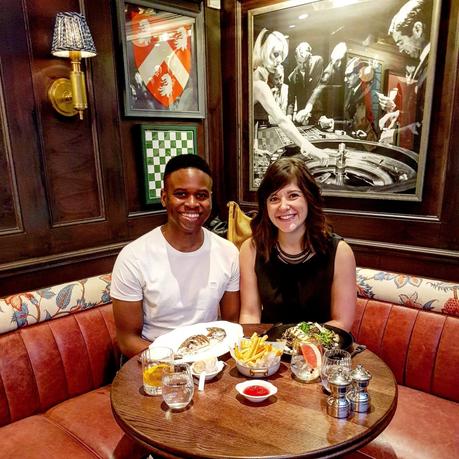 Have you found somewhere you fell in love with recently?
Chloe xx
*This was a review for East London Girl but I loved it so much I wanted to share it here too. All views my own.