By the time it gets to Friday, you're ready for a treat right?
A couple of Friday's ago, I decided that it'd been a long week, I'd been at client meetings, catching up at work after my holiday and I'd had a migraine to battle with too, so decided that I deserved a nice lunchtime treat. Out I popped, by myself, to find a nice little quiet spot to shut off from work and enjoy just a little self indulgence, and peace and quiet. I literally got just round the corner before setting my heart on Peyton and Byrne. A couple of my colleagues are pretty much regulars, and are always on about how good the quiche and salad is, so I decided that it was about time I have it a whirl.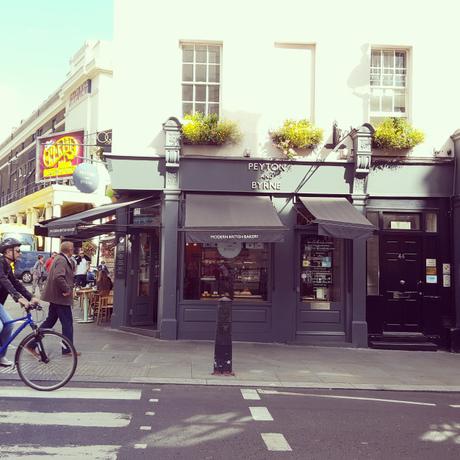 There were a few quiche options that day (these change daily), and stuck between two I finally went for the ham and leek tart. There were also several options for a side salad, should you wish to add this to your quiche (again these change daily, and they always seem to have a good selection of different types from grains to veg, and leafy options). I was given the option to mix 2 of the salads to create one side portion, and so opted for a fresh bean salad and an aubergine dish to accompany my ham and leek quiche. I did almost get a coffee, but as I was trying hard to give up coffee during the week (that didn't last! In fact that Friday was my last successful day!), so I didn't get a drink, I just helped myself to the tap water Peyton & Byrne have out on the side for customers. Collecting my tart and salad, along with a set of cutlery, I found a nice little table in the window and settled in. I obviously managed to get a couple of snaps before tucking in..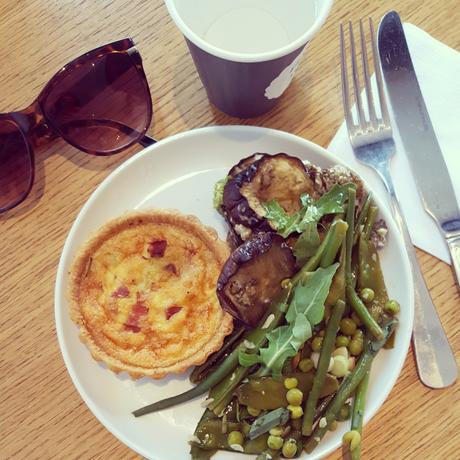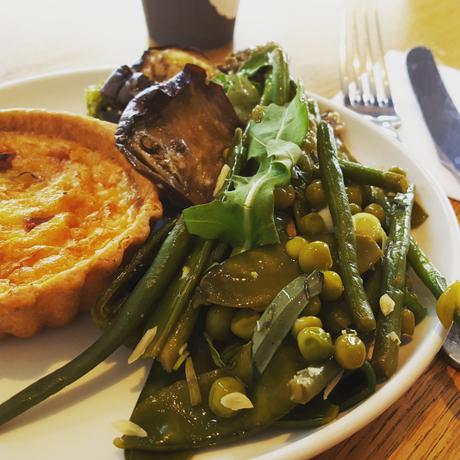 The tart was delicious. With a crunchy and slightly buttery crust, and creamy filling, the tart had a strong leek flavour, and plenty of ham. The flavor combination of ham and leek always works well, and this is just another example. It really was as good as expected after all the shining reviews from colleagues. The bean salad was crisp and fresh, and I loved the mixture of garden peas, French beans and mangetout. A delicious accompaniment to my tart. Aubergine is huge at the moment. Did you know it's actually being classed as the new avocado? Crazy I know! This aubergine dish was really tasty. The aubergine was soft and flavoursome, with a light oily drizzle. This also went extremely well with the tart! I slowly ate my way through, savouring every minute of my peaceful lunch. It was lovely to get out and enjoy my lunch rather than eat sitting at my desk. If you're out and about in central London at the weekend, or if you work near a Peyton & Byrne, I highly recommend popping in for lunch. Everything is served fresh, there's plenty of choice from sandwiches to salads and quiches, and plenty of cakes, the service is friendly and efficient and it's also very reasonably priced for Central London – it was £5.70 to dine in with my quiche and salad, it's slightly less to takeaway. I'm definitely going back! Do you treat yourself on a Friday? Chloe xx