Food Room is a small, independent cafe in Highgate, nestled in among the restaurants and shops on Archway Road. It's cute and homey, with teal walls, wooden beams and mix match prints on the cushions and table runners. The walls are filled with prints and brik-a-brak. There are fresh flowers and vases dotted around and a sweet little book corner too. Exactly how you imagine a little neighbourhood breakfast and lunch spot.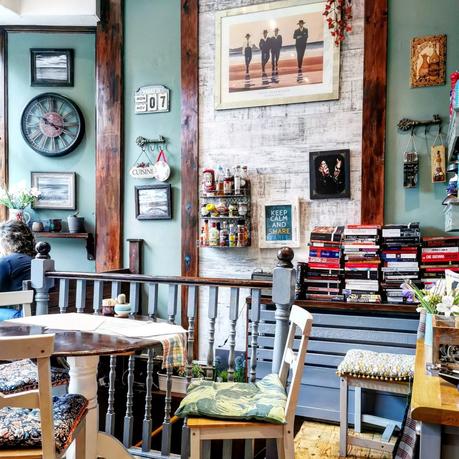 It is a little squished/tight with the number of tables, and we could imagine it getting busy. We were told we might have to share our table for four if they had more people arrive. But it's kinda what makes it a bit more homey and chic. Service is friendly too, making you feel welcome without rushing you through service or being overbearing. We were pretty much left to it after our order was taken and dishes delivered.
The menu at Food Room is small and concise, featuring a several breakfast or brunch items and just a few lunch choices. But they do it all so well. We actually visited on recommendation from my housemate. She's a vegan and loves the food Room, having been herself multiple times. As usual, I was stuck between a few of the dishes.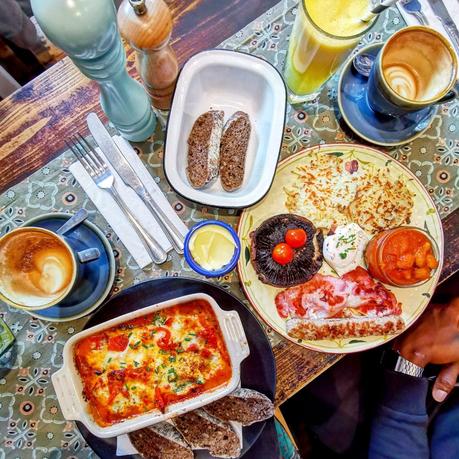 The baked eggs however was an awesome choice.
The rich tomato stew was combined with pepper, onion and a la dente butter beans too - quite different to shakshuka I'd had previously. It was topped with two baked eggs, just runny inside and plenty of cheese. It was one dreamy dish of flavours and textures which all worked together so well. The sourdough alongside was fresh and super tasty too! It was perfect for dipping in. And there was plenty - Chris might have had my last piece as I could see he was enjoying his so much! But he dipped it in a little of the sauce from my baked eggs - think it might have been him with the food envy this time.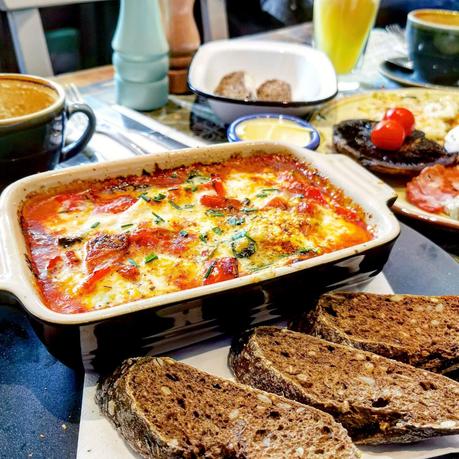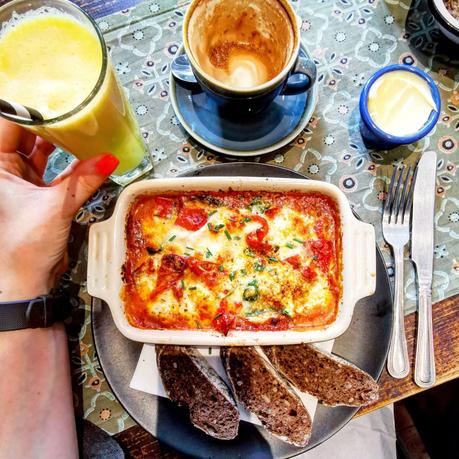 His dish however was fantastic too - the full English. The meat was really good quality and tasty. The beans were made with butter beans too, and absolutely delish. the mushroom was cooked well, as was the poached egg. The potato rosti fell apart easily, but there was plenty of it and it had a fantastic flavour with the onion shining through. Along with a couple of pieces of bread, it was a fantastic full english.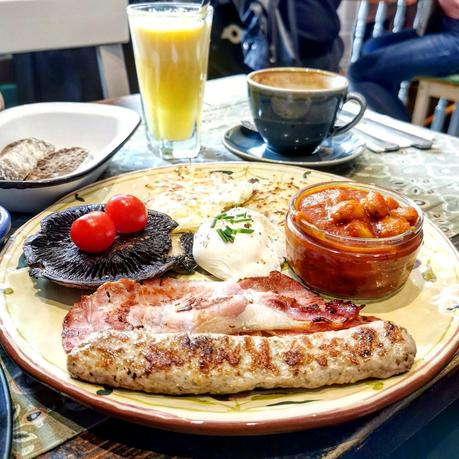 Coffees and cold drinks are listed on the back wall as they do takeaway too.
There are a few freshly made juices, and the usual coffees on offer. The coffee at Food Room is fantastic. It's rich in flavour, but not bitter. as a result, the flat whites we ordered were superb.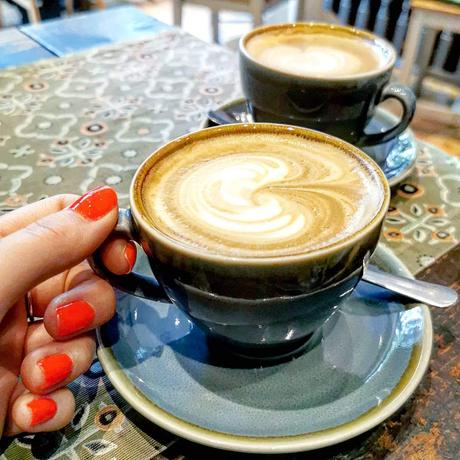 The freshly squeezed orange juice comes frothy, as though the whole orange is blended. It does have bits in it and is citrus-y, not sour. It's a fab orange juice if we do say so ourselves.
What a feast. We don't do enough local spots, as we venture into central so often, and when we have a weekend to ourselves we tend to cook in (we do looove cooking too!). But this has made me remember how good these little local spots can be and I definitely need to do more of them!
Summary - Food Room Highgate:
Price: Very reasonable for the quality and service - we paid £35 for our breakfast, two drinks each and service.
Food: Fantastic comforting brunch dishes with a homey feel. The baked eggs is divine.
Drinks: Absolutely superb coffee and delicious fresh orange juice.
Atmosphere: small and homey, very welcoming. You might have to share tables.
Wait: We got in straight away on the Sunday we visited, but I've been told that it can get busy so there might be a short wait.
Have you got a favourite local food spot?
Chloe xx