Battersea Power Station claims to be the hottest new destination in West London. The iconic building and surrounding area is being brought to life, fast becoming a top spot for food and drink. I'd heard good things from a few friends and acquaintances who live South of the river. They continue to go back again and again. But with me further north, and Battersea Power Station a 15 minute r so walk from Victoria, I wondered whether it'd be worth the trek.
Battersea Power Station is pretty cool. It looks like it's straight out of Shoreditch with it's bold entrance, twinkly lights and coloured wood work. This is all before you get to the restaurants and bars, of which it already has a number of, including Megan's ( already a fave), Tonkotsu, The Coffee Works Project and Battersea Brewery.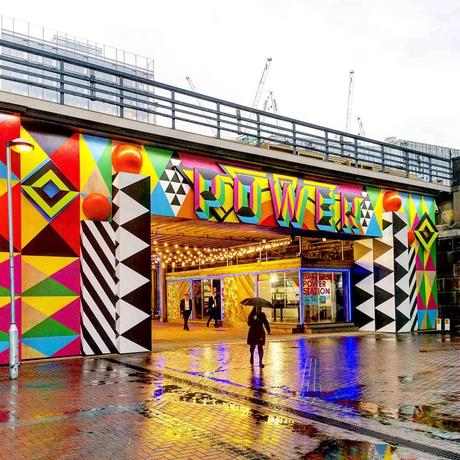 I went along recently to try Cinnamon Kitchen, which is nestled away down the first turning after the pretty section. Cinnamon Kitchen has a classy, sophisticated feel. It's gorgeous inside, very atmopsheric with low lighting. It's also pretty big, going quite far back, with an upstairs too. Service was super friendly and efficient too - always there to offer more drinks, take our order or check everything was ok.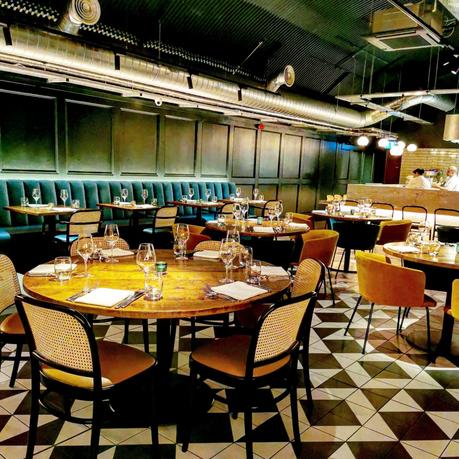 Cinnamon Kitchen specialises in modern-Indian cuisine with British influences using innovative cooking techniques.
The menu has plenty to choose from including several appetizers, mains (with options from the grill too), a good handful of sides, breads and desserts. Options included dishes such as Bombay Street Food, Spice crusted Lamb Fillet, Wild African Prawn and Kale and Quinoa Kofta. The menu had a good number of options for vegetarians and vegans, as well as those with other dietary requirements, and it's super clear on the menu!
The Char-grilled Achari Cauliflower and Bombay Street Food made for a couple of great starters.
The char-grilled cauliflower was beautifully spiced and very tasty. It had a great texture. The hot garlic chutney which came with the dish, added a fab spice to it - pretty hot, so you just need a little with each mouthful.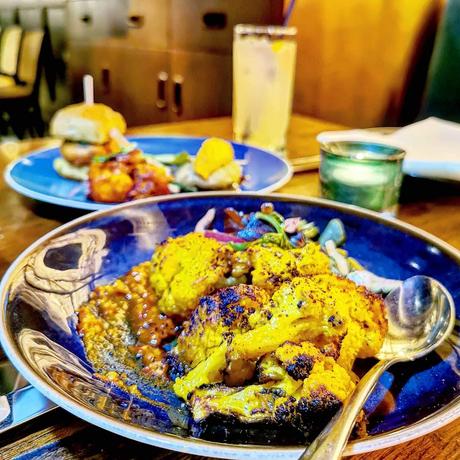 The Bombay Street Food, consisting of Vada pao, tapioca cake and chilli paneer was fab! The chilli paneer was cooked perfectly, and absolutely delicious. The vada pao (an indian street food dish - fried potato dumpling in a bun) had a fantastic fried spiced potato dumpling in the middle. It was aromatic and super tasty. The tapioca cake was very yummy too.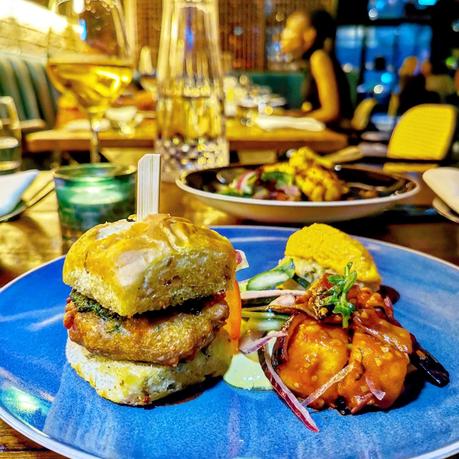 Picking between the mains and grills is a tough choice. I would say go for one of each and share, but both of ours were fab in their own way.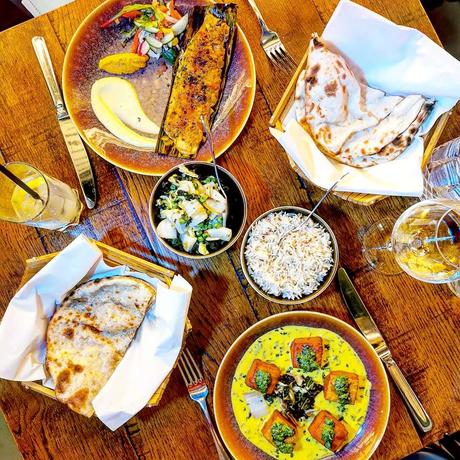 The Banana leaf wrapped Sea Bass with Chilli, tomato and kokum crust was superb. The sea bass was tender, beautiful in flavour. The chilli, tomato and kokum crust went so well - adding a depth of flavour and fantastic topping. You need to order a side with the grills - but I quite like that as you can choose what you want then. The pilau rice was cooked well, and worked together with the flavours of this dish.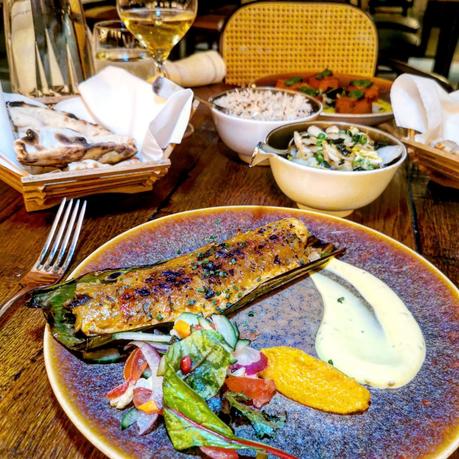 The Kadhi Pithod Saag, a Spiced chickpea gnocchi in yoghurt and spinach sauce, arrived unlike expected. Not quite the gnocchi I often have. The chickpea gnocchi was square, in a crispy coating. The yoghurt and spinach sauce was fragrant, a touch sour, and went fantastically with the chickpea gnocchi. I loved this dish.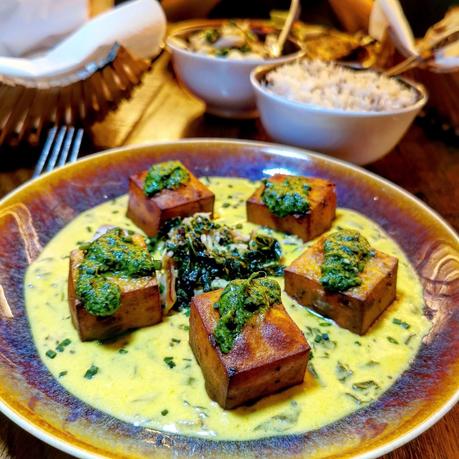 The naan alongside is a must.
The bread itself is soft, just the tiniest bit toasted. Above all, still warm. It's very tasty. But the peshwari is the dream. It's sweet with a delightful amount of filling throughout. I'm not sure I've ever had a peshwari naan as good as this one.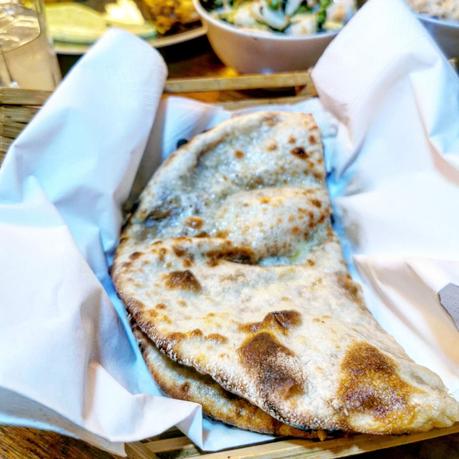 Finally, the stir fried greens with cumin and garlic came a la dente, and just seasoned. A mix of a few different greens, including peas, this side was fab alongside our dishes, and the flavour didn't overpower either of our choices.
As much as we were tempted by the Sticky Ginger Toffee Pudding and Lassi Panna Cotta, we couldn't manage dessert of the edible kind. But did opt for a hot chocolate each, one milky and one bitter. They were both delightful and a great way to finish such a feast.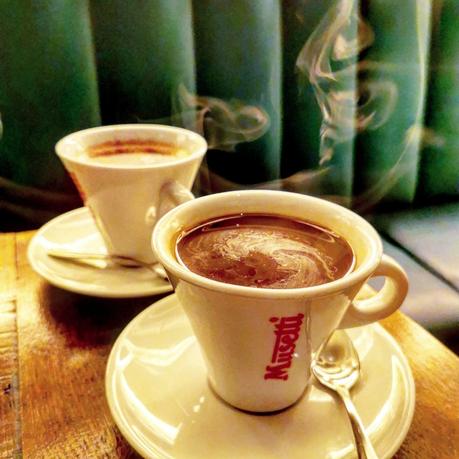 Of course, we had drinks alongside too.
The menu is pretty extensive, with several Indian inspired cocktails, wine, spirits, beer and soft drinks.
The freshly squeezed lemonada juice was refreshing and fab for alongside an Indian feast. I had a glass of muscat, as recommended by the team. It was of-dry, oaked (hence the yellow-ess), and quite potent in taste after swallowing, but absolutely delicious alongside our choice of dishes.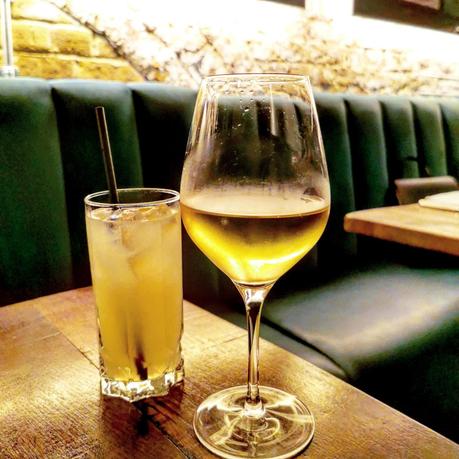 It was definitely worth the trek down south...
Summary - Cinnamon Kitchen, Battersea Power Station:
Price: Pretty standard - starters between £6.50 and £9, mains from £6.75 (the Kadhi Pithod Saag was £15), naan £3.50/£5.50.
Food: specialises in modern-Indian cuisine with British influences. The menu has plenty of choice for all dietary requirements, and all dishes we tried were superb.
Drinks: Quite an extensive drinks list. The Muscat was a beautiful wine to accompany our dishes.
Atmosphere: Sophisticated, classy, atmospheric. Similarly, Batterea Power Station is pretty cool!
Wait: It wasn't busy on the Monday we visited but do book if you can.
Chloe xx
*I was invited along to review Cinnamon Kitchen at Battersea Power Station. All views my own.