Hey Plummies!
Today I'm sharing a very healthy recipe of my favorite Cottage Cheese (Paneer) in yet another way ~ Rolls. Paneer Rolls are a good idea for lunch as they contain essential nutrients like proteins, carbohydrates, Vitamin C and A and Calcium.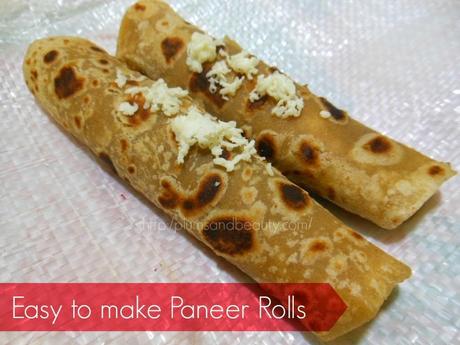 Easy to make Paneer Rolls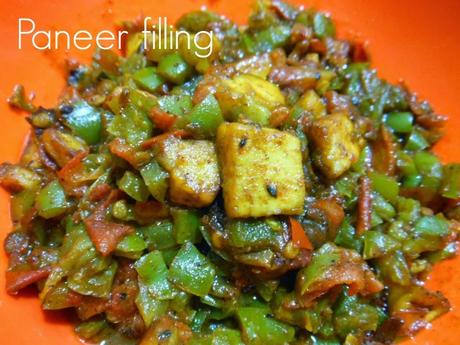 Easy to make Paneer Rolls
Ingredients you'll need for this recipe (for 8 rolls) :
For the filling :
Cottage Cheese : 100 gms (cut into small cubes)
Tomatoes : 2 medium sized (finely chopped)
Olive Oil : 2 teaspoons
Capsicums : 2 medium sized (finely chopped)
For the marinade :
Yoghurt : 1/4 cup (made from skimmed milk)

Red Chilli Powder : 1 teaspoon

Turmeric Powder : 1/4 teaspoon

Ginger, Garlic paste : 1/2 teaspoon

Gram Flour (besan) : 1 tablespoon

Chaat Masala, Garam Masala : 1/2 teaspoon

Dried Fenugreek Leaves : 1/2 teaspoon

Salt : to taste
For chapati's dough : 
Wholewheat flour : 1 cup

Skimmed Milk : 1/4 cup

Salt : to taste
Step-by-Step method :
Mix together all the ingredients for the marinade in a deep bowl.

Add the Cottage Cheese and tomatoes, and toss lightly to mix. Set aside to marinate for 10 mins.
Heat the oil in a non-stick pan and add capsicums and saute` for 2 mins.
Add the cottage cheese mixture and saute` over high heat for 10 mins, stirring occasionally. Cook till dry and set aside.
For the chapati, combine all the ingredients and knead in a soft dough. Divide the dough into 8 equal portions and roll out each portion into thin chapatis.
Heat a non-stick tawa and cook each chapati lightly on both sides. Set aside.
Divide the cottage cheese (paneer) filling into 8 equal portions.

Place one portion of the filling in the center of each chapati and roll up lightly. 

When ready to serve, warm the rolls on a hot non-stick tawa and serve hot.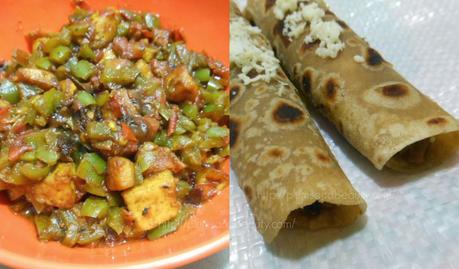 Easy to make Paneer Rolls
Hope you like this simple and easy to make Paneer rolls! I like having these on lazy days, when I don't like to spend extra time in kitchen :p