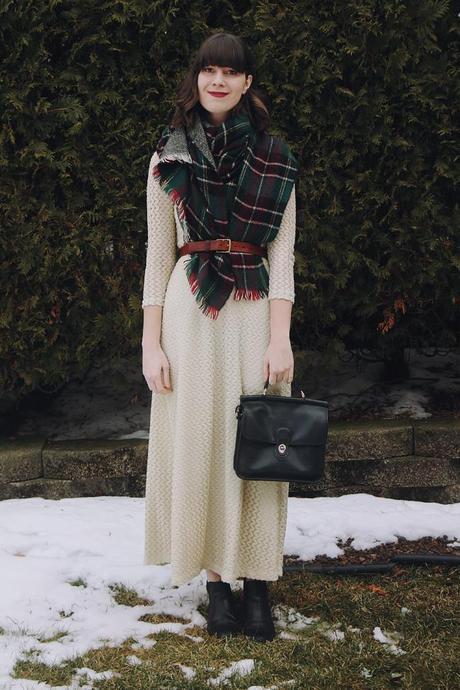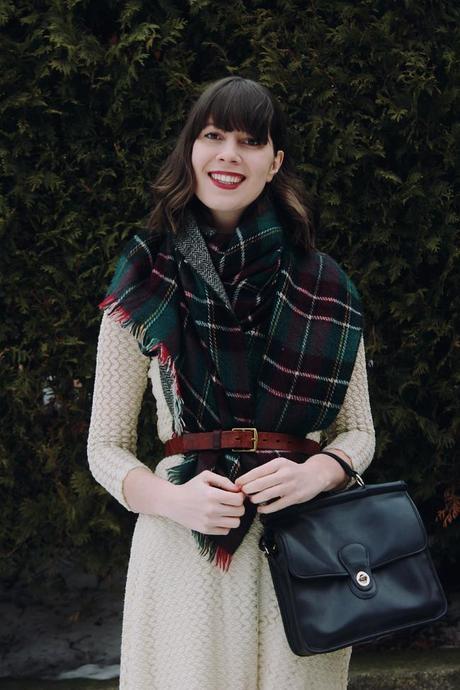 I get that if your breath comes out in white puffs once you close the front door behind you, you might not be up to the task of putting too much effort into your morning's look. Couple that with a car that has a windshield frozen over and a wind that's trying to get under your coat, and we've all thrown up our hands and tapped out.
It's much harder to show your playful style during the frostbitten months, I know. Layers can be intimidating, and getting creative with what you have can be exhausting. But what if we broke the formula down a bit and, instead of thinking of complex turtleneck and sweater combinations, we just focused on a few key pieces to turn an outfit around. What if it was just as easy as throwing three things together and looking just as on-point as your summer counterpart? Read on and I'll prove it to ya sister friend.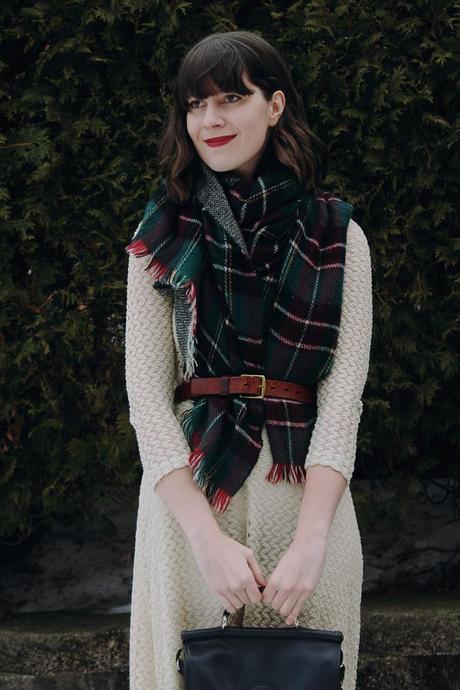 I'm a bit of a pants-hater, which means I have to go through the winter months either A) being okay with a three month bout of pneumonia as I flounce around in skirts, or B) I need to find ways to cozy up my dresses.
I usually strive to do B), and I've found that to achieve that it doesn't have to be a complicated dance of sweaters and patterns. Just focus on a few well-tailored focal points and call it a day. For example, let's take a vintage maxi dress and see how we can change it completely in three quick steps. This New Old Fashion Vintage crochet dress has summer written all over it: it's white, it's lacy, and it just about begs to be worn while walking barefoot through grass. So how do I make it look like it belongs with duster jackets and pompom beanies instead? Simple.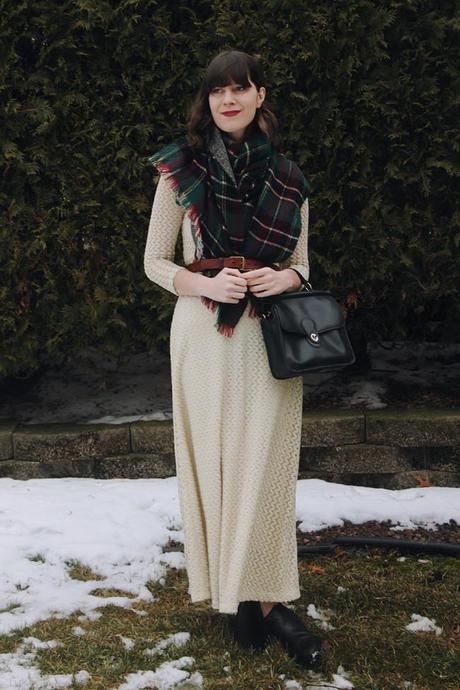 I broke out on of my many scarves. The fastest way to cozy up your winter dresses is to wrap something around your neck. Be it a blanket scarf, a fur snood, or a chunky infinity knit, it'll fix your summer-to-winter dilemma in seconds. To keep my blanket scarf looking sleek, I cinched the ends with a belt, keeping it tight against my body. This small move gave the look a bit more of a polished, put-together feel, while also offering a touch of color. Then, to round out the look, I chose well-tailored Chelsea booties and a structured bag, giving the dress just enough of a pop but without much effort.
And that's the secret- that's it! During the colder months the look is all about the scarf, the boots, and the bag. Have a few well-made pieces, and it'll completely revamp your entire look and without much thought. Now, go on. Put on a pair of long johns and fleece lined tights and break out those dresses you've been missing!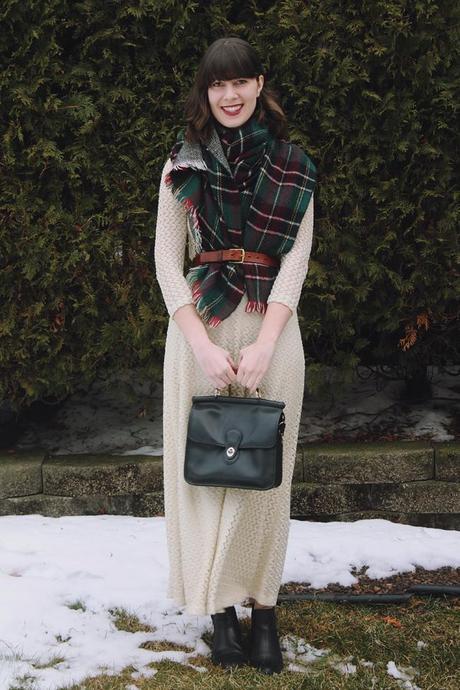 PS: Want more ideas on how to wear your dresses during winter? Try reading:
Styling Tips: How to Wear Over Sized Clothing and Not Drown
Styling Sheer Pieces for Fall
How to Wear Maxi Dresses When It's Cold
How to Make Something Trendy Part of Your Style
What to Wear to a BYOB Movie Night
What to Wear to a Wine & Tapas Bar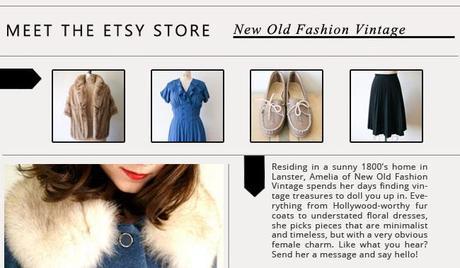 ONE| TWO| THREE| FOUR