It's been a good 4 months since I've done a makeup look and before that, even a longer time. I first started my blog with makeup reviews and hauls but I always enjoy doing makeup looks more. Trying on different makeup looks is so fun although I have never done playful and very artistic makeup looks, I would try to do a couple in the future. I like doing more wearable makeup looks. 
The look that I'm doing today is the one that I have been wearing quite often for the past couple of weeks, maybe even for a good month now. I have been complimented on it several times, even the Sephora makeup artist at my local Sephora store loved it when I went to pick up some items (Sephora Haul & Swatches). I am actually using most of the items I've purchased from that haul but the look is basically the same but the face isn't as contoured as I've been doing previously because I'm only using a bronzer not the contour palette for this look.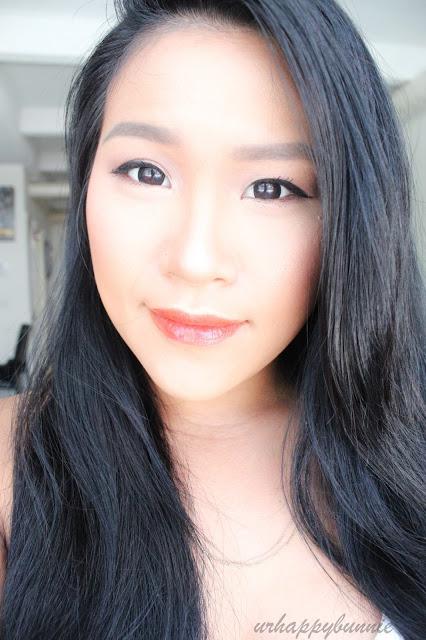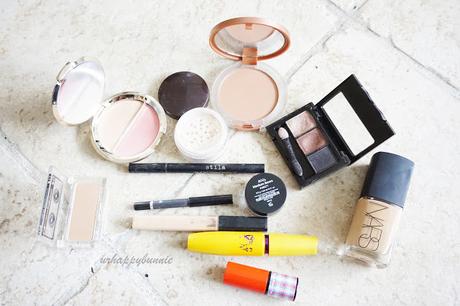 Face/Cheeks:
NARS Sheer Glow Foundation in Syracuse - Applied one layer all over my face with a damp sponge. I've been using the Real Techniques Miracle Complexion Sponge. I like this better than the Beauty Blender. Although they work quite the same I like how the Real Techniques has a flat side and it is just easier to work with and handle.
Maybelline Fit Me Concealer in Sand - I have been using the Vely Vely IM Custom Flawless Concealer in Natural for the past two months since it is a good light shade for an under eye concealer and brightener, but I have ran out of it a week ago, also I've noticed that it is a bit too thick for my liking for a summer time makeup. I have gone back to my all time favorite Maybelline Fit Me Concealer. I use the shade Sand for brightening. The Maybelline Fit Me Concealer is a dupe for the NARS Radiant Creamy Concealer.
Laura Mercier Transluscent Loose Setting Powder - I have applied this transluscent powder with the Real Techniques Setting Brush underneath my eyes, forehead and chin just to set the makeup.
Clinique True Bronze Pressed Powder Bronzer - Used as a light contour on the cheeks, temple and jaw using the brush it came with.
The Face Shop Lovely Me:Ex Bronzer - This particular line from the Face Shop is discontinued now. The Lovely Me:Ex Eyeshadow in Toast is exactly the same as this bronzer which is one of my favorite blending colors. I used this light brown shade to contour the nose and underneath the lip. The shade is just the right shade for a subtle contour.
BECCA x Jaclyn Hill Champagne Splits Shimmering Skin Perfector Mineral Blush Duo - Using the blush Flowerchild, I applied it on the apple of my cheeks blending it towards the back. Using Champagne Pop highlight, I applied it with a fan brush on the top of the cheek, just above that blush, on the bridge of the nose, Cupid's bow, forehead and chin. I went back with the setting brush without any extra product and just go over my face so that everything is blended out nicely and seamlessly. 
Brows:
Ardell Brow Pomade in Medium Brown - I have been using the brow pomade recently for a fuller looking brows since I've always had sparse brows. This is optional, but I also sometimes use the Maybelline Fit Me Concealer in Sand with a synthetic brush to carve out my brows for a fleeky look. I only do this occasionally when I want extremely perfect looking brows or when I mess up. On the daily, I don't really care as long as my brows don't look bald or extremely wonky.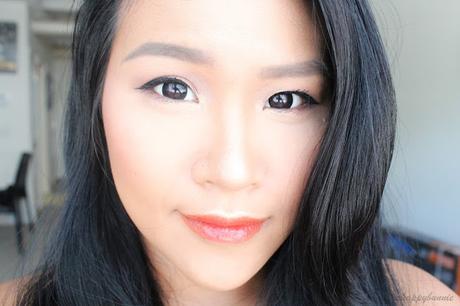 Eyes
:
Ipsy x NYX Eyshadow Trio - I've had this eyeshadow trio for a good year or so but I have never really given it love up until a couple of days ago when I was going through my makeup drawer looking for a small eyeshadow palette good for travel. Although I have several palettes in my collection I love how versatile these 3 shadows are very day to night appropriate. I like how small it is too and I can take it anywhere. I can do a lot with only 3 shadows especially with a taupe, brown and black.  I applied the taupe shade all over the lid all the way to the crease and blended it with a blending brush. I applied the dark brown shade on top of the taupe right on the lid keeping it there and taking the same blending brush just blended the harsh lines. Stopping there would make it daytime appropriate but if you want a smokey eye, you can build up the brown shadow so that it would get darker and add the black shadow as well. On days when I want to feel glam, I actually do that trick and although it is the exact same makeup look, by packing more color, it looks different and more glammed up. I also applied the brown shade on the outer half of my lower lash line and just blended it out with the same blending brush I previously used. 
Stila Stay All Day Waterproof Liquid Eeyeliner in Jet Black -  Lined the upper lash line and extended it with the liquid liner. You can go as dramatic or as simple as you would like with your liquid liner. I always prefer this style of lining my eyes of just slightly extending it on the outer corner rather than flicking it up. If liquid liner makes you feel that it would just smudge and melt off because of sweat and humidity, You might want to try using a black eyeshadow to line your eyes. I have been using that trick often too whenever I don't feel like being too precise with using a liquid liner. 
Doucce Ultra Precision Eyeliner in Black - Another Ipsy product from my glam bag. I have an Ipsy subrscription but more often than not, I just put them aside and forget about them. The eyeliners that they would sometimes send in the glam bag are the ones that I usually look forward to since eyeliners are some of the products that I go through faster than other makeup product. I use this black eyeliner to tightline my eyes and this is such a great eyeliner because it is extremely pigmented and doesn't smear or transfer at all.
Maybelline Volum' Express Colossal Mascara Waterproof - Curl the lashes and apply your favorite mascara. My favorite mascaras are all Maybelline waterproof mascaras. I love the Colossal, the Colossal Cat Eyes, the Falsies, the Falsies Flared and the Mega Push. I get any of the above mentioned whenever I run out of mascara and they do quite well. The Colossal is the one I currently use. I would also use some false lashes when I feel like it but today is not the day for falsies. False lashes extremely changes your look so try on different lengths and styles.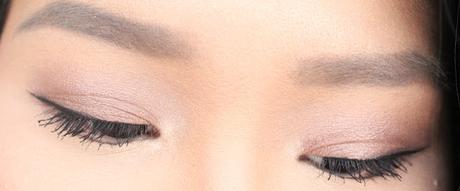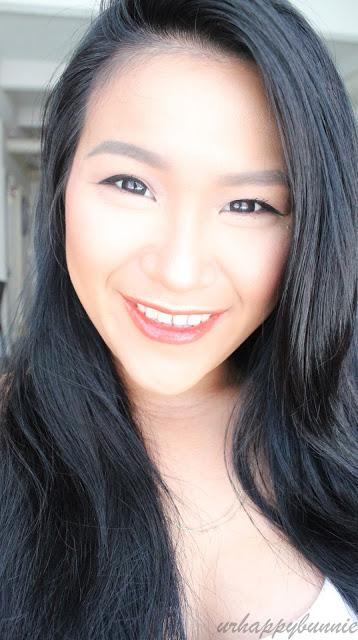 Lips:
Too Cool for School Glossy Blaster Tint in Merry Tangerine - I usually change up my lip color and today I'm feeling orange. The Glossy Blaster Tint has a glossy finish yet it does not feel uncomfortable or sticky at all. This and the Stila Lip Glaze are the only glosses that I like on the rare occasion that I do use a gloss. The tint lasts for a long time too. Too Cool for School is a Korean brand carried by Sephora although not all products from the brand are available. I checked the Sephora website and the Glossy Blaster Tints are not available. This is among the several products I have previously received from BNTNews for review.