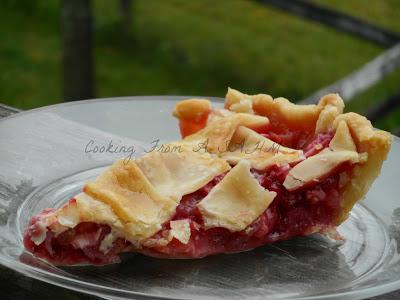 My daughter turned 7 yesterday and so she asked for Strawberry Rhubarb Pie. See I'm not a pie fan, and I never make crust. So this recipe uses Pillsbury. Feel free to use your own. 
Strawberry Rhubarb Pie
2 Cups of sliced strawberries2 Cups of diced Rhubarb3/4 C Sugar1/3 C Flour1/4 Tsp Salt2 Crusts(one for bottom and one for top. Make your own or Pillsbury makes a 2 pack of dough.)
In a bowl add your sliced strawberries, and rhubarb. Add in your sugar, flour, salt. Mix till combined. In a pie plate spray it and add your bottom dough. Pour in the strawberry mixture. Even it out. Next you can either just lay the down on top and make slits or you can do a lattice top. I did the lattice. Just cut strips and weave it on top. Brush with Egg yoke. Wrap strips of aluminum foil around the edges. Bake at 350 for 25-30 minutes. Let it sit for an hour or two. Then ENJOY!