Hey everyone!
Today I'm sharing a very easy-peasy recipe for all sweet lovers! Coconut Ladoos is a very traditional recipe that's prepared by blending coconut with condensed milk. These ladoos remind me of my childhood days, when my paternal grandma used to prepare these for us to fulfill our craving for sweet-tooth. Let's get along with the recipe!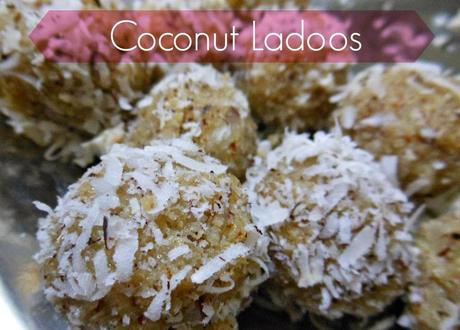 Ingredients you'll need (for 10 ladoos) :
Condensed Milk : 1 tin of Nestle Milkmaid (or 250 ml of Milk*)
Coconut : 1 medium sized
Raisins, cashew-nuts, almonds : 10-15 pieces
Grated Coconut : for garnishing
Sugar : 2 teaspoons*
Ghee
*Prepare condensed milk (if you can't find Nestle Milkmaid)
Boil 250 ml of Milk in a large pot, till it becomes thick.
After it becomes thick, add 2 teaspoons of Sugar.

Continue Stirring it till the sugar dissolves and milk starts to leave the container
Step-by-Step recipe :
Grate the coconut and add 3 teaspoons of sugar to it.
Take 1 tin of Nestle Milkmaid in a large non-stick pot and boil the same, stirring continuously for 10 mins on medium flame.

Once thick, add coconut+sugar mixture, raisins, cashew-nuts, almonds and stir of 5-10 mins or till the whole mixture starts leaving the pot.

Take Ghee and grease your hands, making round balls.

Quickly roll over the grated coconut and tada you're done!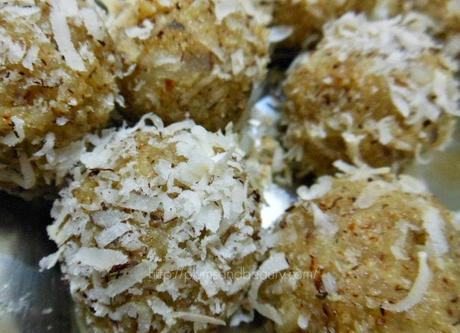 Note : Some people also use Jaggery in place of sugar. You can also prepare this using Sugar Free Natura, if you're health conscious like me!
Hope you find this recipe useful! Do share your pictures, if you try them and Share your comments below.