Easy Coconut layer cake recipe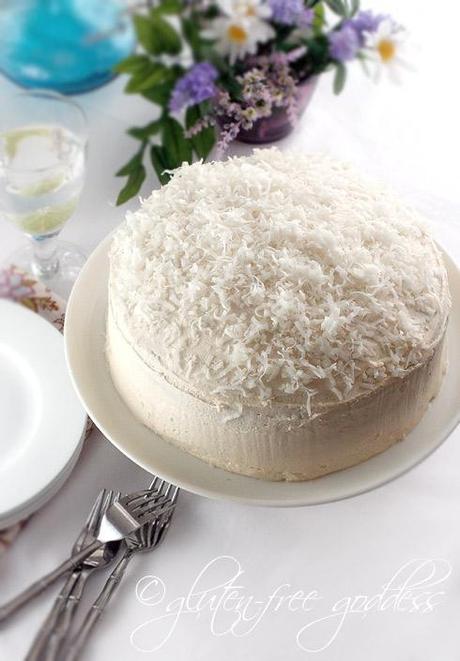 Coconut cake heaven. Gluten-free and dairy-free deliciousness.
By
Meet Karina
Birthdays are complicated when you reach a certain age. Oh, don't get me wrong. You're grateful for another year. I mean. You're still alive and kicking, right? Waking up to a fresh start. Starting a spanking new year on the planet with one more number under your (slightly pinching) belt. A number that grants you a whisker more authority in the world. A tad more wisdom.
If you've been paying attention to the lessons life likes to offer up as experience, and not sleepwalking, that is. Not acquiescing to the expectations of others. Or choosing safety over the challenge of the new. Or worse- finding yourself somewhere, in some situation, or relationship, strictly for the sake of momentum, chafing inside a role you don't remember signing up for.
Birthdays can be markers like that.
Defining where we've been. And how far we've come. Or not.
It was my husband's birthday this weekend. And yes, I baked a cake. And as I stirred the batter and scooped it into cake pans, I thought about the other cakes I have baked for him. The chocolate cake in our first year of marriage. Children beneath our roof. Blue balloons and candles. The newness of each others' dreams. The shine of our ideas. The belief in what was possible.
We've shared seventeen birthdays now.
 And the single constant through these seventeen years is change. Change has woven its intricate self deep inside our marriage, our seven homes in four different states, our work as artists, and writers, our sons' lives.
There isn't a piece of our life together that has not been burnished by change.
I asked my husband what he felt about this birthday, if anything. He said at first he didn't feel anything about it. That is was just another day. Another number. But later he turned to me and said he'd been thinking about his early years. The stuff he assumed was important. The choices he made. Or rather, didn't make. The times he stuck with things out of a sense of duty. Or a bone bred stoicism, believing in the virtue of sticking it out. Trying to make the unworkable work.
Looking back, he said, I don't understand it. When people say they wouldn't change a thing?
I'd change ten thousand things, he said.
And that's why I love you, I told him.
And it got me thinking. Would I change ten thousand things? Or would I choose the devil I know?
The thing is, the devil I know is change.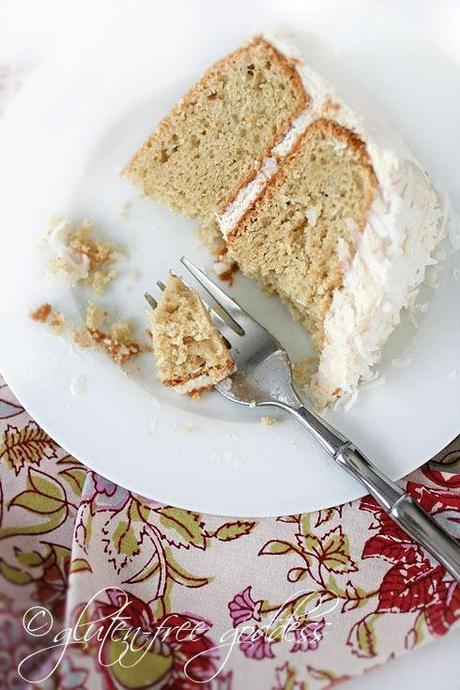 Moist and tender coconut cake- perfect for any gluten-free celebration.
Gluten-Free Coconut Layer Cake
This moist and tender layer cake makes a lovely birthday cake. I baked it the morning of my husband's birthday, and covered it until serving (at room temperature). The next morning we had a slice for breakfast- and it was even better. Perfect texture. I would suggest wrapping and freezing for serving beyond twenty-four to thirty-six hours, however.
Ingredients:

1 1/2 cups 

potato starch (not potato flour)


1 1/2 cups sorghum flour
1/2 cup organic 

coconut flour


1 1/2 cups 

organic cane sugar


2 teaspoons xanthan gum
3 teaspoons baking powder
1/2 teaspoon baking soda
1/2 teaspoon fine sea salt


3 free-range organic eggs, beaten

, or egg replacer


1/2 cup light olive oil

 or vegetable oil
1 14-oz can 
organic light coconut milk
1 teaspoon 
lime juice
2 teaspoons bourbon vanilla extract
Instructions:
Preheat the oven to 350ºF. Line two 9-inch cake pans with a circle of parchment paper. 
In a mixing bowl, whisk together the flours and dry ingredients.
Add in the eggs, oil, coconut milk, lime juice and vanilla. Beat until smooth. It should resemble a slightly thick and sticky cake batter.
Scoop the cake batter into the two prepared cake pans and spread evenly. Use wet hands, if necessary, to smooth out the tops. 
Bake in the center of the oven, side by side for 

33 minutes

, or so, until firm and springy. A cake tester inserted into the center should emerge clean. Cool on a wire rack.
Make the frosting.
Gluten free dairy free coconut layer cake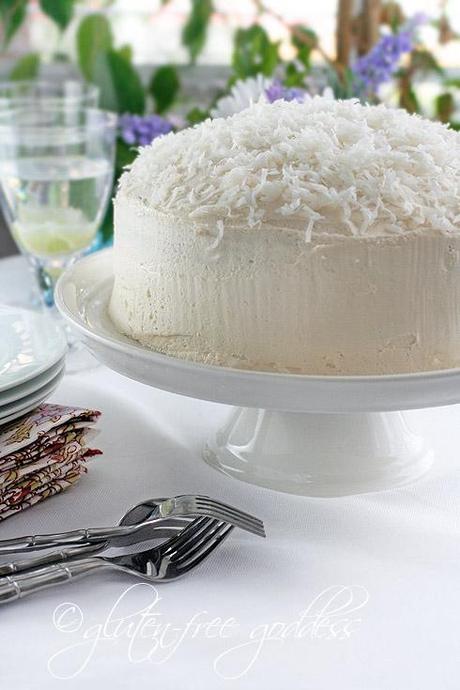 Creamy vegan frosting adorns this elegant coconut cake.
Coconut Frosting
Ingredients:
1 cup dairy-free butter or butter flavored organic palm shortening
1 teaspoon pure coconut or vanilla extract
1 pound powdered sugar
1/4 cup coconut milk
Option:
Flaked sweetened coconut for topping
Instructions:
In a mixing bowl, beat the shortening and extract till combined. Add in the powdered sugar and half the coconut milk, and beat till smooth. Slowly add the remaining coconut milk, as you need it, a little at a time, until you achieve a smooth and creamy consistency. 
Frost the Cake:
When the cakes are cool, gently remove one from the pan and peel off the parchment paper. Trim off the domed top if you like, using a long serrated knife, to keep the cake layer even. Brush off any crumbs.
Center the first layer top side down on a cake plate. Frost the layer with roughly 3/4 cup of icing. Remove the second cake layer from the pan and peel off the parchment. Trim the dome top, if you like (brush off any crumbs). Place the layer on top of the frosted layer.
Scoop about a cup of frosting onto the top of the cake and spread it evenly to the edges. Begin adding frosting to the sides of the cake, spreading it evenly over the sides. Clean off the frosting spatula under warm water and dry it off.
Smooth the sides by turning the plate as you hold the spatula firmly in place. Clean off the spatula with warm water again, dry it, and smooth out the top.
Sprinkle with grated, sweetened coconut, if desired.
Allow the frosting to set, or chill briefly, before covering and storing the cake. 
Yield: 
1 9-inch layer cake
Recipe Notes:
Using coconut milk is a classic choice for making a coconut layer cake. And inherently dairy-free. I used the richer coconut milk in a can- though it was the "lite" version. If you use full fat coconut milk, you might need to keep an eye on baking time- it may need a smidge longer to bake through the center.
If you'd rather try another milk- experiment and let us know how it worked. I imagine any good tasting nut milk, rice milk, or moo-cow dairy milk would be fine.
If you'd rather use butter or vegan stick margarine, either one will work. Just make sure it tastes buttery, not grassy.