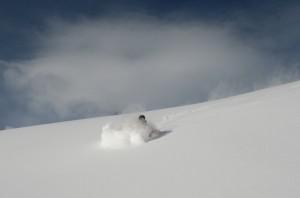 Tine charging down Grand Envers, Aiguille du Midi.
Anyone offended by face shot photos and utterly fed up with hearing about the absolut amazing powder skiing conditions in Chamonix – please shut your eyes. (Otherwise click on photos to enlarge).
Every year it is the same, and it usually happens some time in April… you think you can put your skis in the basement and oil up your camalots for the rock climbing, but Mother Nature loves to play games with you, so she will always surprise you with a few more heavy dumps on top of the spring flowers!
Chamonix Snow Report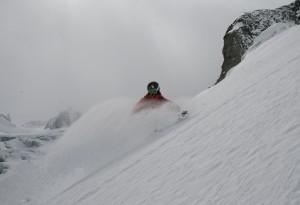 Typical everyday conditions week 13!
It started on the last weekend of March where we got in total 60cm on 3000m, and even more up high. From that point onwards there is only deep powder skiing and an abundance of fresh snow to be reported. However the weather has been very changable and avalanche danger obviously very high at times.
That weekend (27-28 March) the strong winds caused the top lift on Grands Montets to stay closed and you had to hold on tight not to blow off the ridge on Aiguille du Midi. Chamonix off-piste skiing was probably best from the Bouchard and the Herse lifts on Grands Montets. These lifts offer 1000m vertical and are much more efficient then the top lift (therefore without queues). Another good option was to ski in Courmayeur, Italy.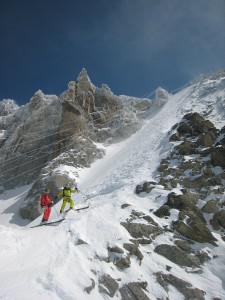 Tine and Helli on the west side of Aiguille du Midi.
Freeskiers Tine Huber and Helli Fischer joined us during Easter and contributed greatly to all the photos. Thanks guys, it was so much fun to have you here!
The 29th of March was a sunny day where we skied various runs off Aiguille du Midi. On the first clear day after heavy snowfalls, such as this day, it is normal that it takes some time to clear the lift stations and to showel the arête that has to be descended on foot before you put on your skis. Getting up there quite late, we still had time for two laps of 2000m vertical before the sun warmed up the slopes and made the snow heavy. The recent 60-100cm of wind transported snow caused avalanche risk 4, and numerous self-relesed slides of considerable magnitude were observed on variously exposed slopes (the skiers left exit couloirs of the popular Grand Envers run included).
A good 20cm of snow on 2000m falling on the 30th was just enough to fill in the tracks in on Granads Montets again. Skiing the Lavancher bowl, you just about hit the base. But the best was yet to come…
April Fools Day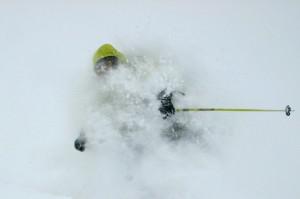 Tim blindfolded by powder, 1 April!
Waking up on the 1st of April the spring-green Chamonix town had turned into a proper winter-white ski town, and it kept dumping all day long. 50cm on 3000m, rain-snow limit on 800m. The best April fool's joke ever! We dived into the fresh snow, head over heals in the whiteout. The poor visibility gave a sensation of even deeper snow and that you had it all to your self (a rare feeling on Grands Montets during Easter). But when the clouds finally scattered the reality of a completely re-tracked mountain and masses of happy skiers was reveled to you.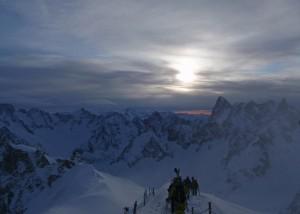 Early morning on the Aig du Midi arête.
2nd of April was another of those clear, optimal powder days. Maybe the best snow-wise this winter!? Taking first bin up to the Aiguille du Midi we had skied 4500m vertical before lunch. Being Easter weekend and all, many people had an amazing experience in Chamonix this day.
Powder Party Goes On!
A bit of snow over night on the 2nd and another big dump over night on the 3rd…
I understand that you got the drill by now, but just to give you the latest update on current snow condition before I publish this post…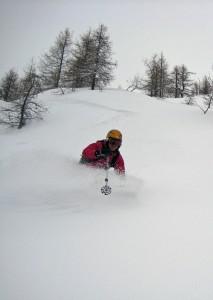 Hanna deep in the snow on Pres de Rocher.
Today on the 4th of April we found 25-50cm of wind transported snow above 3000m. All lift systems in Chamonix opened late, after they had secured the pistes. Courmayeur opened, but only the bottom half of the system.
The morning being cloudy, we skied the trees from Aiguille du Midi mid station (Pres de Rocher) until it cleared and we got a run off the top. Snow was really light above 2000m, but on some wind affected slopes the top-layer was dense and easily sliding. Avalanche risk was high also lower down where the snow was heavier.
Tonight we get another 10cm of snow. Monday and Tuesday will be sunny, but during the week the snowy weather fronts are coming our way in a steady stream again.
To conclude…
- Powder skiing has been perfect.
- There has not been great conditions for ski touring due to either bad weather or too much fresh snow (not that there has been any need to walk anywhere to ski powder, but some people really like to walk anyway). For example most people who expected to do the Haute Route this week, unfortunately(?) had to change their plans.
- Grands Montets and Aiguille du Midi has been the preferred areas for off-piste skiing in Chamonix, since the snow has stayed light and cold in altitude. But please note that these mountains are no place to be for unexperienced off-piste skiers without a mountain guide, especially in current conditions. Extensive knowledge about glacier and avalanche safety as well as route finding skills are indispensable.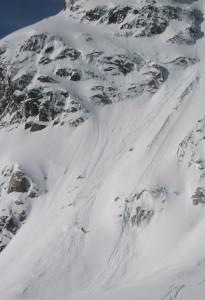 Asmus picking a great line...
I have lost count of how many meters of snow on the Aiguille du Midi the above adds up to, but fore sure we have a long and great spring- and steep skiing season in front of us now with all this snow filling in and sticking well to the high mountain faces. Skiing the Vallee Blanche will also be in good conditions for a few more weeks.
Is Chamonix Too Crowded During Easter?
One draw back with visiting Chamonix during Easter holidays are the big crowds and the incapability of the Chamonix lift systems to handle them. For many visitors, week 13 can involve a lot of queuing, espacially on Grands Montets and Aiguille du Midi. Also, for non-locals, the ever-changing priority rules, opening times and various lift passes is completely incomprehensible. It is a game you need to learn how to play with the all-mighty access provider Compagnie du Mont Blanc. For obvious reasons I will never write a post about "how to avoide the crowds in Chamonix", but it is another good reason for me to recommend you to ski with a mountain guide in Chamonix.
Freedom Of The Hills