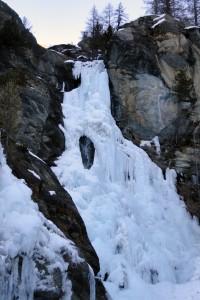 Right start of Cascade de Lillaz, 8 Jan
Just a short update on the conditions we found in Cogne a few days ago, 8-9 Jan 2013.
In general there was less ice then what I have seen the last few winters in Cogne at this time of the year. The recent warm weather has made the ice white and thin in most places that are exposed to the sun. Heavy traffic has also contributed to the thinner ice found on certain pillars and cigars.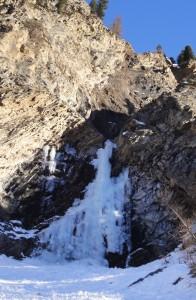 Stalattite Di Cristallo, 8 Jan
Still there is lots to climb on the west side of Valeille (rive droite) as well as far into Valnontey.
Valeille Ice Falls
The right start of Cascade de Lillaz was not climbable, too much running water.
The easier start on the left is doable, and then the steeper section in the middle of the canyon is also ok. High up on the slab the ice has taken too much sun and is melting away.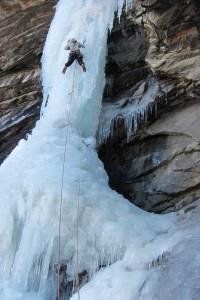 Tutto Relativo, 8 Jan
The first 35m pitch of Stalattite Di Cristallo is formed, and in pretty good conditions although the attachment of the ice at the very top is thin. Above that pitch there are only small icicles, no formed ice falls, however big enough to hurt should it come down on somebody in the afternoon sun.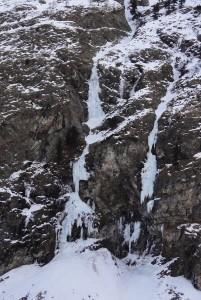 Stella Artice, 9 Jan
Tutto Relativo is in good condition.
The upper pillar is pretty thick and well climbed of course. The falls higher up to the climbers left looks also pretty good (Eau de Cristaux / Cristal Guisy).
 
First pitch of Stella Artice is ok, although alomst see-through. The freestanding pillar on the 2nd pitch looked like it had seen too much traffic and we noticed some horizontal cracks on the top of it, so we stayed clear of that one.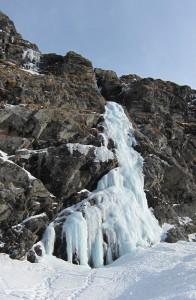 Cold Couloir, 9 Jan 2013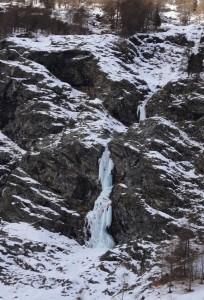 Candelabro Del Coyote, 9 Jan
Cold Couloir was in good condition (although we only climbed the first 4 pitches). It also takes a fair amount of sun in the afternoons though, but should stay fine for a while.
 
Candelabro Del Coyote was clinging onto the grass and was certainly to much of a shower for our taste. There was not so much ice left on the 2 bottom pitches.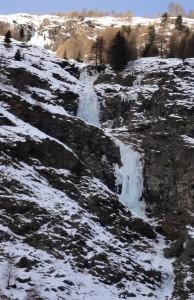 Tuborg, 9 Jan
 
Several teams were on Tuborg this day, and it looks still fine. Hopefully it will be saved during the coming week with colder temperatures.
 
 
Valnontey Ice Falls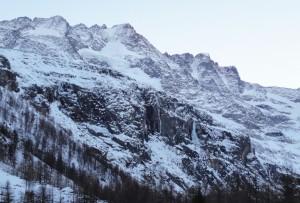 L'Ago di Money and Monday Money, 8 Jan
Monday Money is in great condition as well as the Cirque di Patri. Fellow climbers also reported Repentente Super and L'Ago di Money to be in very good condition this day.