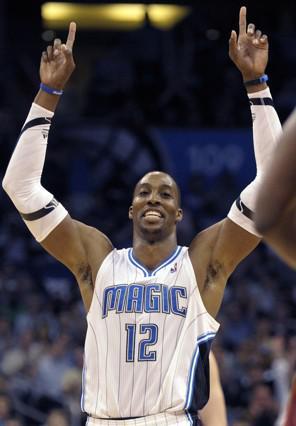 Photo: Phelan M,. Ebenhack - AP
- Adam Parker
The storm is over. The dust has finally settled.
Dwight Howard informed Orlando Magic management late Wednesday night that he wants to stay with the team through next season and will not opt out of his contract, according to sources close to the situation.
Howard
has just signed a waiver of the early termination option in his contract
. With the waiver signed, Howard will remain under contract with the Magic through the 2012-2013 season.
As Magic fans breathe a sigh of relief, inevitably, other GM's throughout the NBA are slamming their fists. Most notably, the Dallas Mavericks front office, which had plans to pursue both Howard and soon to be free agent Deron Williams this off-season.
There were initial reports from RealGM.com that Howard had decided to opt out of his contract, but the rumors turned out to be false. And without a doubt at this point, Howard will not be leaving Orlando, regardless of how baldy other teams in the NBA wanted him.
Early Wednesday morning, Howard told Magic management he would not opt out of his contract and would remain with the club next season. Later that evening, he told select teammates the same thing. Then, during a conference call before Wednesday's game in San Antonio, Howard changed his mind and told the Magic he was not prepared to sign the ETO waiver, ESPN.com's Marc Stein reported.
One source close to the NBA's reigning Defensive Player of the Year insisted Howard "didn't fully understand the ramifications" of surrendering his ETO.
Dan Fegan, Howard's agent, then added in a statement to ESPN.com that Howard only did so in conversations with teammates and team officials early Wednesday because he had been warned by the that they would definitely trade him by Thursday's 3 p.m. EST deadline if he didn't take that step.
"Dwight has chosen not to waive his ETO under pressure from the team that he might be traded,"
Fegan said.
"However, Dwight expressed once again on a call today with the DeVos family and Alex Martins that he very much desires to pursue a championship this year with the Magic. Dwight also expressed that he had no intention of leaving the Magic high and dry at the end of the season."
But after the game in San Antonio, Howard again reversed his decision and told Magic officials he wanted to stay. After mulling it over on the club's post-game flight from San Antonio to Orlando, Howard told the Magic he was ready to sign the waiver right then and there, at approximately 3 a.m. EST.
The Magic, according to sources, told Howard to continue thinking about his decision and made plans to meet with him and have him sign the waiver early Thursday morning.
Howard told RealGM.com that he's having a hard time leaving Orlando, the only NBA city he's called home since entering the league out of high school.
"Man listen, you know my heart, my soul and everything I have is in Orlando. ... I just can't leave it behind,"
Howard told RealGM.com
Howard also expressed to the website that he was sorry for the way the situation had unfolded.
"I have gotten some bad advice,"
Howard said, according to the report.
"I apologize for this circus I have caused to the fans of our city. They didn't deserve none of this. I'm sorry from the bottom of my heart. I will do whatever I can to make this right and do what I was put in Orlando to do."
Now that Howard has decided to stay, he passes up the opportunity to sign a long-term contract this off-season. If he had opted out and re-signed with Orlando, Howard could have locked in a max contract of $109 million over five-years. If he signed elsewhere, he could have received $81 million over four-years, as a ballpark figure.
At this point it feels like Howard was being pulled in a hundred different directions all at once. He was getting pressure from the Magic and its fans to stay, no doubt via the use of a heavy guilt trip that plays on the 26-year-old's emotions.
But is it really the best move for Howard to waive his early termination option on his contract?
No.
It benefits the Magic and their fan base, but to be honest, we here at Beard and Stache don't believe it benefits Howard long-term. It's understandable that he doesn't want to become the next social pariah and is worried about outside perception if he 'pulled a LeBron' and left the only NBA team he's ever known.
We know you've gotten some 'bad advice' recently Dwight, but let us leave you with this -- Don't listen to unnecessary outsiders. You need to do what's right for you and your family, because after you've blocked your last shot or dunked your last ball, your family will be the most important people in your life.
Ultimately, we're happy if you're happy, Dwight. That being said, we can only hope that your wishy-washy decision-making improves as you move forward in your career.
Be sure to follow Beard And Stache on Twitter 
@BeardAndStache
, 
and also Adam 
@Adam_Parker43
, Like our Facebook page 
HERE
!