All of us keep hunting for those perfect (or close-to) dupes of our favorite department, high-end or luxury cosmetics. I am no exception!
Presenting
"Dupe That!"
section in the blog that exactly focuses on affordable dupes or alternative products to that elusive makeup product you have always wanted.
Today's dupe is for a lipstick -
MAC Brick-o-la
.
So which lipstick is its dupe? Hang on!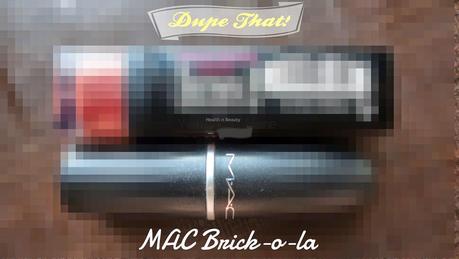 MAC describes "Brick-o-la" as a "mid-tone berry". It has an 'amplified creme' finish and is part of the permanent line of MAC lipsticks.
IMO - this is a berry pink with hints of brown and red to it. A versatile shade that would flatter all skin tones.
The dupe I have for you is from the French drugstore brand - Bourjois.
Shade
"#05 Brun Boheme"
from the
Bourjois Rouge Edition
range of lipsticks fits as a perfect dupe to MAC Brick-o-la.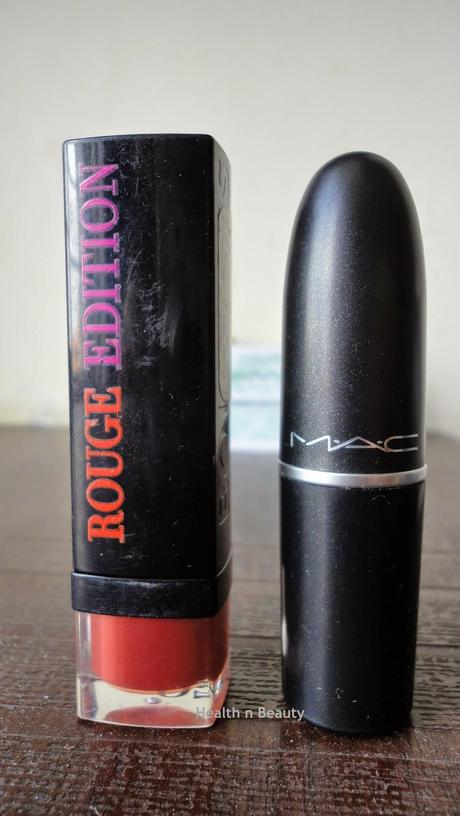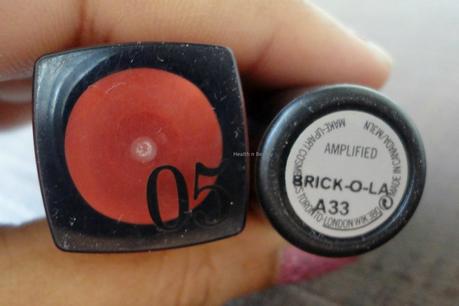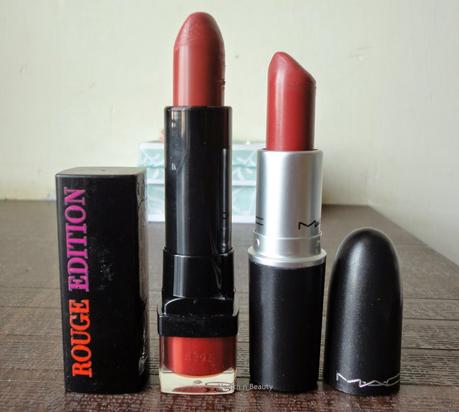 If you compare the lipstick bullets as such, Brun Boheme comes across as darker. Whereas in reality, Brick-o-la is a tad more pigmented (I would rather call it redder) when swatched.
On my lips, both the shades look exactly the same!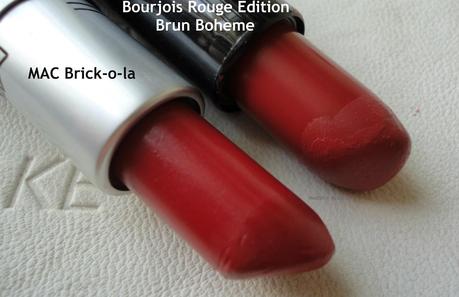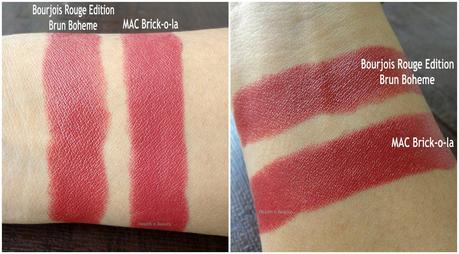 BOTH SWATCHES ARE SINGLE SWIPES
Packaging -
Though I love the cult MAC lipstick packaging, I prefer the Bourjois packaging in this case - since its easy to identify the shade with its transparent bottom.
Texture -
Both lipsticks are creamy and non-drying on the lips.
Pigmentation -
Both are definitely pigmented lipsticks, but MAC Brick-o-la scores a brownie point for pigmentation when compared as single swipe swatches.
Staying power -
Owing to the creamy texture, both lipsticks stay for about 4 hrs. with light food/drinks. Both fade evenly as well.
Price -
MAC Brick-o-la is priced now at INR 1450 and is mostly OOS being a shade-in-demand. Bourjois Rouge Edition Brun Boheme is sold at INR 1050.
Availability -
Brick-o-la available only at MAC stores in select cities and does not retail online too. Bourjois counters are spread across the country and their products can be bought online too.
Winner -
B
ourjois Rouge Edition Brun Boheme #05
Brick-o-la lovers....
If you do not have a MAC store in your city or this lipstick remains elusive being OOS most of the time -
Bourjois Rouge Edition Brun Boheme
is a must check-out shade for you!
Hope you liked this post... Do drop in your comments/suggestions below... C ya soon!