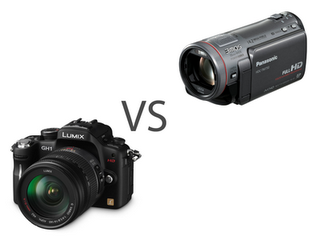 Hello friends,today our topic is DSLR VS Camcorders .But before that, i would like to go into details about development of normal cameras up to digital single lens reflex cameras(DSLR). As you all know, now using a DSLR camera for film making is the trend. Canon 5D, Canon 7D are very famous models in DSLR arena. But when it comes to choosing a camera for  independent film making,this will be the most hardest thing because of so many reasons. But before going to DSLR cameras,one have to keep few things in mind and choose the best camera or camcorder that suits your needs. But this post doesn't emphasis on considerations while buying a digital camera or a DSLR model camera. But the main theme of this post is to just tell you the basic differences between a DSLR camera and a digital camcorder. But before reading this post,if you not familiar with digital camcorders or digital cameras please go through Types Of Camcorders And Digital Cameras, and if you are not aware about what a DSLR means then please go through DSLR cameras in film making.
Development From Normal Cameras To DSLR Cameras
In olden days the cameras use two have to different lens which are meant for two different uses. One lens for viewfinder and another one for exposing the film in the camera and these two lens are called as twin lens reflex the main disadvantage of this is twin reflex lens is that when you  see something through viewfinder of the camera its not the same what you get in your final photograph because of the light reflection but its not the same thing with DSLR cameras. They will have a single reflex lens so that light will get reflected in the same path through the lens, so the result will be what you see through the viewfinder will be reflected in your video or photograph.
Image Quality
The most important thing when choosing a camera or camcorder is the image quality. What do you think guys..? which is better a 12MP digital camcorder or 3.5MP DSLR camera..? okay i will get into the details, you will have sensors for both digital camcorder and a DSLR camera..but the size of the sensor is responsible for the quality of the print you get..yes its true..Mega Pixel is not an bothering thing to consider, the usual size of a digital camcorder sensor is usually small when compared to DSLR, usually DSLR sensor size varies from 14.8mm-22.2mm and 15.5mm-23.6mm. So, when it comes to picture quality you may go for DSLR camera that is why many filmmakers are passionate about DSLR's.
Lenses
This is the major difference between  camcorder and a DSLR camera, a digital camcorder will only have permanent lens which you get when purchasing  the camcorder. Whereas, for a DSLR you will have interchangeable lenses for zooming and stability and focus, you will get different types of lenses depending upon your need like wide angle lenses etc., this will give you a chance to experiment and give you a chance to give feel to your shot depending upon the emotion you want to carry in a scene.Zoom option is fixed and works in a limited field in a digital camcorder but we can have different types of lenses for DSLR cam.
Frame Rates
A DSLR camera will have faster frame rates when compared to digital cams. Frame rate in a digital cam is slow. Whereas in a DSLR camera you can shoot at 24f/sec. Also you can slow down and freeze the frame rate when you feel it is necessary in a DSLR camera.
Some Advantages And Disadvantages With Both Digital Camcorders And DSLR Cameras
Digital camcorders are very sleek and small so ultimately easy to carry,whereas some advanced DSLR cameras will be big in size. A digital cam will not have shutter,no noise etc., tilting, panning will be easy, you can shoot anything and everything without changing any lenses. You will have a framing option in digital camcorders so that you can frame your shot easily without any problem or assistance of a professional cinematographer(i.e following rule of thirds etc.,).
When it comes to DSLR cameras, sensor dust is a big problem..Will have shutter sound depending upon the situation. But good at auto focus and fast frame rates when compared to digital cams. Price is also an important factor since digital camcorders are more cheaper than DSLR cameras. So guys please decide which suits you best. I will post about the things to consider while purchasing a digital camcorder and a DSLR camera in my upcoming posts.please let me know your opinion on this post in comments space..