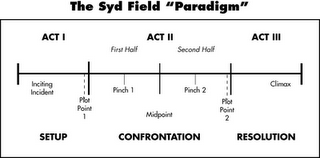 Hello friends, after a very long time i got time to post something very important to story writing and forming the structure of a story for a film. This is the story structure illustrated by screenwriting gurus Robert McKee,Syd field etc.,. I taught that instead of giving a downloadable link it would be fine to host it on slide share for download. A screenwriting should under go so many steps to reach to final draft stage and shooting script stage. Once if u have an idea it wont be clear i mean  road map will be confusing. To reach a goal successfully in any thing we perform we need some outline sketch and  plan to reach our goal in a smooth way. This post will do the same. This is the story structure followed by many writers. Hope this will give a good idea about framing ur story in a sensible way..cheers.. and have fun..it can be downloaded.
This Dramatica Paradigm is very much famous in framing a story structure. Hope this post may help u all.. 
   Dramatica paradigms by different authorsView more documents from Vivekanand Arumanda.