Hi guys,  :-h  just playing catch-up here again and I've got a swag of finished reviews to up and publish, so please bare with me  [-O<  as I'm trying to simplify the layout of my blog posts a bit, coz to be honest the publishing side of blogging is still taking me ages :-O  The writing is the easy part, it's getting it online here that slooooooooows me down, big time!!!  :-w
Anyway, this here is a product sent out by the gorgeous ladies at Beauty Heaven, as part of their trial team!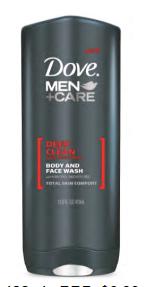 I got my guy friend to trial this product, who happens to be a farm labourer and I can vouch, he comes home from work in a grubby looking state and usually smells like he's been sweating overtime,  :-&  something that is always the norm for men who partake in physical labor and live and work here in the FNQ tropics.  :-"  The Dove Deep Clean Face and Body Wash instantly appealed to him, particularly because it's a two-in-one multi-tasking product that takes care of the face and body, rather than having to use a separate product.  ;-)
The Dove Dove Deep Clean Face and Body Wash is presented in a large 400ml deep gray coloured bottle with the signature Dove Men logo and a sturdy flip-top lid that is located at the base, to stand the bottle upright.  The formula is a thick, gel-like fluid that is clear in colour, allowing you to identify the tiny micro-beads infused with-in.  The scent is extremely masculine and smells just like a crisp, refreshing aftershave lotion, which lingers on the skin for hours after washing, much to his delight.  It lathers up easily and the beads are super gentle on the skin, yet provide a super deep-down clean, sloughing away, dead, dulling skin cells to leave his face and body smooth, soft, whilst banishing dryness and flaking.  It is also extremely hydrating and for a guy who couldn't be bothered applying a face or body lotion, it locks in moisture to give his skin continual nourishment.  <:-P
The Dove Deep Clean Face and Body Wash is a clear winner for busy guys, who are usually too lazy to indulge in face and body care, but yet are always concerned about their appearance.  It's a quick and easy solution that thoroughly cleans even the dirtiest of skin, delivering effective results that meet all of his skin care needs, all in the one handy product.  \:D/
Ladies, does your man use a body wash, or is he a soap kind of a guy?  :-?  Guys, what do you think, is this something that would appeal to you or……nahh???  :-/  Share your thoughts in the comments section  :-)
The image in this post is generic.