Yes that is exactly what I am trying to tell you . Me , Kareena Kapoor and Rujuta Diwekar ! Rujuta who you ask ? What.... you dunno ? Your not up to date with the gossip mills :P . Arre wahi ... who helped Bebo to get to her phenomenal size 0 ! 
Yes , Rujuta Diwekar is Bebo's dietician and also the author of the very successful book " Don't Lose your mind , Lose your weight " . But that was not her only claim to fame . Rujuta has been in fitness industry for over a decade now . She has worked with known names like Anil Ambani, Amrita Arora, Konkona Sen Sharma and Saif Ali Khan. 
From her official Facebook
page
: 
The pre-eminent fitness professional in the country, Rujuta is amongst the only trained sports science and nutrition expert going around. In the field for over a decade, Rujuta has always had a holistic approach towards fitness and emphasized on a healthy lifestyle rather than any drastic changes that are not long term. Having worked with people from
all walks of life, of all age groups and varying fitness levels she has fine-tuned her methods to fit the lifestyle of the Urban Indian.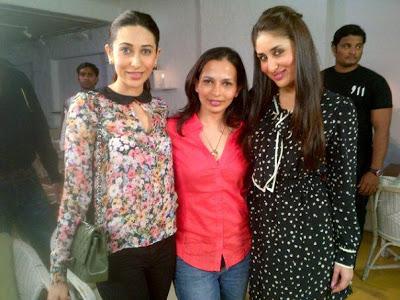 That is Rujuta with the beautiful Kapoor sisters .

Read more....Click here ...Read more....