You guys rock! Thank you all so much for congratulating Kyle and me on our new home :) We are so excited to start this new chapter of our lives and we appreciate your kind words!
Time for a weekend update!
On Saturday, Kyle asked if I wanted to work out at a park near our old high school. Of course I said YES! Plus, this would give me a chance to go to our old high school track and I could do a timed mile. Because apparently I wanted to relive high school PE?
I started with a warm-up lap and I quickly remembered how much I hate the track. I'm fairly certain that 400m on a track is wayyyy longer than 400m on a running trail. Same with a mile, and any other distance for that matter. And man my legs were not ready for this run. I think they were still beat from Thursday's 400′s 0.3 mile repeats.
After warming up, I took off like a speeding bullet 16 year old dog with a hip replacement. I knew it was going to be a tough one when I started to feel winded during the first lap (6:30 mile pace). I started to slow down because I know I can't maintain that pace. My next lap was still sub-7, but just barely and I wanted to quit already. Lap 3 was definitely over a 7 min pace, and I swear I felt like I had been smoking a pack a day for my whole life. During my final lap, I just kept repeating that this was my last lap and then I'm done and can go pass out in the corner.
7:16 mile. Not bad. For some reason I wasn't super happy with my time, even though I should be because the last time I did a timed mile it was 7:46.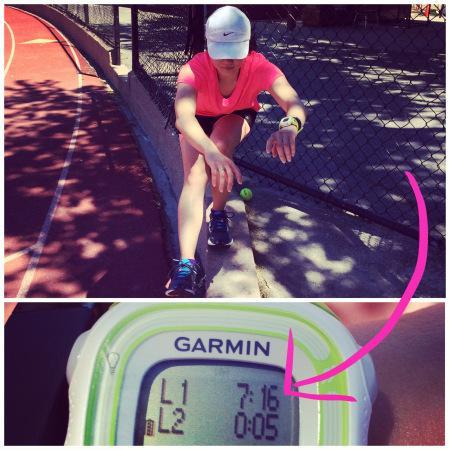 [Instagram]
And then I remembered (much later) that I need to stop comparing myself to other runners. Celebrate your friends' successes, but don't use it to diminish your accomplishments. The only person I should compare myself to is past Amy, and I'm much faster than her :)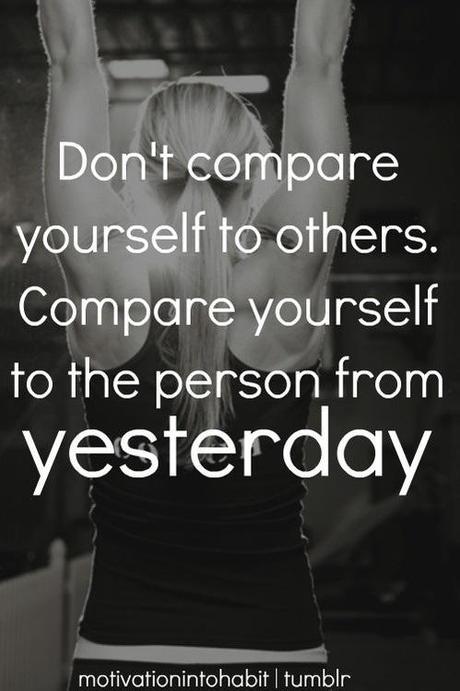 After ridding that feeling of suffocation and death, Kyle and I did some pistol squats. They hurt so good. I decided that I will try to incorporate them into my workouts because they are awesome and burn and hurt. But seriously, I was able to pin point my week spots in my lower body when I was doing them.
After some arms and abs, Kyle and I went to buy/pick up a couch that I had found on Craigslist. I know, super sketch, but this lady turned out to be really sweet and only offer me candy to get into the back of her van twice. I kid. She really was very kind.
The couch is in great condition but it has this bad musty smell. We were planning on steam cleaning it anyways, but now this is an absolute must. If you have any tips, please please share!
Oh and then back at Kyle's house, he gave me our house warming present (which he spent way too much on!) and he was simultaneously named, "Best Boyfriend Ever."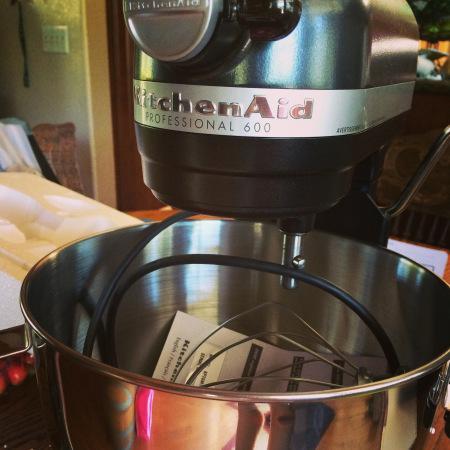 Seriously cannot wait to use this bad boy. Would it be weird to whip this out just to scramble my eggs?
The rest of my weekend was pretty uneventful except for a leaky pipe at my parents' house (we don't move to our new house for about a month). Our neighbors discovered that our pipe that runs from the water main to our house was leaking. Fan-freaking-tastic.
My parents were out of town at a wedding, so they asked Kyle to help me shut off the water (apparently it is hard to turn off). Of course Kyle, living up to his Best Boyfriend Ever title, decided to investigate and temporarily fix the problem until we could call a professional. 5 hours later he had stopped the leaking enough so that the water could be turned on for the evening. (We shut it off again this AM, until someone takes a look at it)
And that's about it! Ran an incredibly slow 2.5 miles this AM before work. Legs were so sore and tired that this was all I could manage. Can't believe my 10K is on Friday! Crap, I need to find a red headband/bandana to wear!
Do you find that you compare yourself to your super speedy runner friends? STOP! :)
Ever do a timed mile?
Have any couch cleaning tips?
Ever buy anything off of Craigslist?