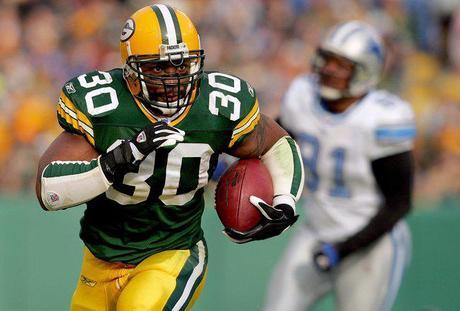 Photo: Getty Images/Matthew Stockman
- Adam Parker
Don't call it a comeback...
I can hardly believe it either.
Are we talking about the same Ahman Green? The former Green Bay Packers star who spent eight seasons with the Packers followed by two seasons each with the Houston Texans and Seattle Seahawks?
That guy wants to make a comeback to the NFL?
Give me a break.
Green officially retired from the NFL in 2011, but he refuses to call it quits. Instead, at age 35, Green has announced his plans to return to the NFL and more importantly (or at least hopefully for his sake) -- to the Packers.
You've got to be kidding me.
What a joke.
You've had your time in the spotlight, Ahman. It's time to give it up; ride off into the sunset and call it a career.
It's not like the Pack-Attack need you anyway. Aaron Rodgers and that prolific passing attack managed pretty well last season without anything that remotely resembled a running game, so it doesn't make much sense to bring you back.
But you haven't even heard the best part -- Ahman wants to play until he's 40. That's right, the big 4-0. Not just the overused cliche 'over-the-hill' for football. That goes for us regular folk too.
Unless you're a punter or kicker, you simply don't belong in the NFL at age 40. The game is far too physically and mentally taxing.
Hell, Ahman should know this -- considering his longtime teammate at Green Bay, the NFL Ironman himself aka Brett Favre -- was forced out of the game unceremoniously in large part due to nagging injuries and old Father Time.
Did he all of a sudden forget about the wear and tear the body of an NFL running back takes? There's a reason why they typically have the shortest shelf life of any other position in the NFL.
But I digress, since Green did say, to his credit, that he would be okay playing elsewhere on the field.
"I came into the league in special teams and I'd have no problem doing it again,"
Green told FoxSportsWisconsin.com.
"Playing special teams in kickoff coverage, punt coverage. Just put me anywhere. I'm a football player first. That's something my dad always reminded me. 'You're a football player, not just a running back.'"
You have to ask yourself, what could Green's motivations possibly be? Does he want to go back to Green Bay so he can go Super Bowl ring chasing on the coattails of A-Rod and co.? Or is the once great player simply in dire financial straits like the T.O.'s of the world and needs that NFL paycheck to pay the bills?
Whatever the reason, Green has made his intentions perfectly clear.
Despite everything, Ahman is out to prove everyone wrong. He's out to succeed where Tiki Barber failed. Ahman Green wants to make an NFL comeback.
Good luck.
Be sure to follow Beard And Stache on Twitter 
@BeardAndStache
, 
and also Adam 
@Adam_Parker43
, Like our Facebook page 
HERE
!