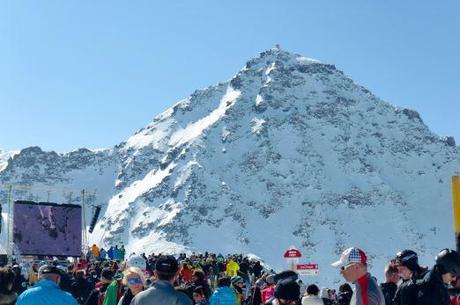 Verbier Extreme Spectators
"Sensation-seekers", according to psychologists, fill their days with thrilling adventures and novel experiences. Their brains seek more sensation, more of a dopamine kick, more of that optimal flow moment than the rest of the population.
Psychologists have been watching sensation seekers for decades, comparing skydivers to reckless drivers and gamblers, lumping them all together into a wide category of "risk-takers". Psychologist Marvin Zuckerman created a personality test for sensation seeking, check it out and see where you stack up.
Neuroscientists have recently dipped into the "sensation-seeking" brain and found more enlightening discoveries. I recently interviewed Cynthia Thomson of the University of British Columbia for my upcoming book on action sports. Thomson focused her PhD study on skiers and dopamine. Dopamine is the brain's way of offering motivation in the form of a reward. It provides that nice kick of good-feeling reverie after we accomplish something big. And it turns out, not all brains handle dopamine the same way. Thomson found that skiers tend to have a variant of the DRD4 dopamine receptor that affects the way their brain handles dopamine. In other words, they needed more thrill to get the same kick.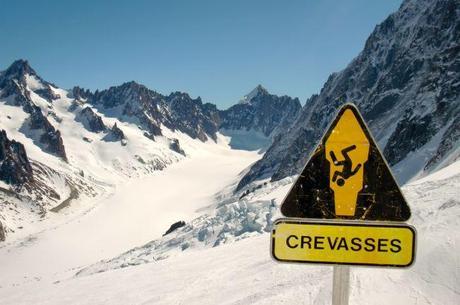 Just another day in Chamonix
Where psychologists and neuroscientists diverge is by lumping together athletes and addicts. In Thomson's initial study, she didn't separate them either. But she was able to determine the difference in later work. In addition to being sensation-seekers, addicts also score high for impulsivity. This is not so for high-risk athletes. At least not the ones that stick around. Just imagine an action sport athlete that was also highly impulsive. He or she wouldn't be around long. Involvement in a risky sport, such as skiing, skydiving or surfing requires careful planning and extensive training. Anyone jumping off cliffs without first checking the landing (acting impulsively) isn't going to live very long. Impulsivity tends to fade as we age, whereas sensation-seeking remains more stable.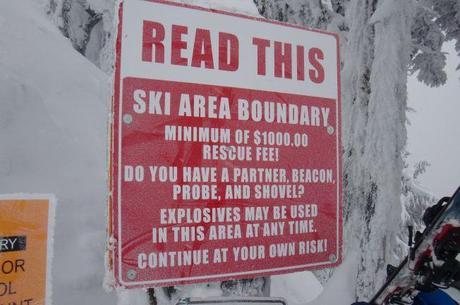 Stevens Pass Boundary warning
I believe that as we get older and log more experiences our judgment overrides our impulsivity. This is evident in my job as a ski patroller and EMT. I've seen enough head injuries to wear a helmet while skiing. I've watched avalanches rip down slopes and break apart trees enough times to choose my line carefully. In many ways, I've gained judgment by learning from others' mistakes. But I've also had my fair share of close calls.
My new book project, which I'm calling Crystalized: Finding Clarity on the Edge (but that title probably won't last, so don't bother googling it just yet) will take a look at the hows and whys of participation in action sports. I will especially look at my own experiences with dopamine-inducing sports and try to determine where I stack up against the experts. Most of the time I wonder what they have that I don't have. Why are they able to huck bigger jumps, surf bigger waves, run scarier rapids and overall scare the shit out of me watching them from the near sidelines? Maybe it's their DRD4 dopamine receptors. Or perhaps it's their training. Or maybe I'm just a natural born scaredy-cat in comparison.
The best part about this book is the opportunity to interview some amazing athletes and brilliant scientists. I will be sharing some of these interviews here. I will also start hosting a radio show next month at Voice America, an internet radio site, where I will have many of them as guests on the show. (Hopefully you will join me for those interviews.)
Cynthia Thomson's research suggests that some individuals need more thrill than others. If so, she posits that skiing and other action sports offer a viable avenue for sensation seeking, rather than the more destructive types of negative risks often associated with the term. Either way, her research shows there could be a genetic link to sensation seeking after all.
As if I needed another reason to go skiing.