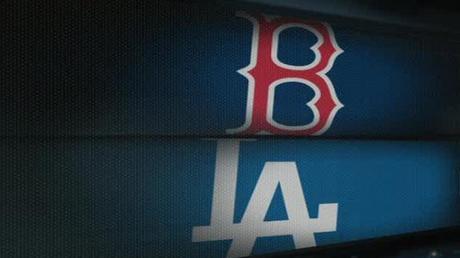 Image: espn.go.com

- Adam Parker

Kobe Bryant shook Adrian Gonzalez's, Josh Beckett's and Carl Crawford's hands and said, "Welcome to my city, the city of stars. Welcome, to Los Angeles."

Okay, so Kobe didn't actually roll out the red (or I guess in this case Dodger blue) carpet for the newest members of the Los Angeles Dodgers (Kobe is too cool to be handing out "Star Maps" and be a city tour guide, even for his fellow professional athlete).
Even though Kobe wasn't leading the welcoming party, no doubt another former Lakers great and coincidentally, new part owner of the Los Angeles Dodgers, Magic Johnson was more excited with the pricey new toys acquired by the Dodgers in a blockbuster trade with the Boston Red Sox.
Who moved where in this deal?
Let's take a look.
The Dodgers completed the largest trade in franchise history Saturday, acquiring All-Stars Adrian Gonzalez, Carl Crawford, Josh Beckett (Nick Punto and $11 million in cash from Boston was also sent to L.A.) in a nine-player trade in which the Dodgers are taking on more than a quarter of a billion dollars in salary.
That's right. Billion — with a B.
Meanwhile, Boston acquires first baseman James Loney and minor leaguers Allen Webster, Ivan De Jesus and two players to be named later — pitcher Rubby De La Rosa and outfielder Jerry Sands, according to sources.
This trade has so many more angles to it than it just being the biggest blockbuster deal in baseball for some time.
This trade really represents a tale of two teams and their journeys in opposite directions.
The Boston Red Sox made their stance abundantly clear after this trade. The towel has been thrown in. The white flag has been flown. They're done. General manager Ben Cherington (successor to the 'House that Theo [Epstein] Built') has made his stamp on the organization and in doing so, has shed some $250 million in salary through 2018.
There was no good way to go about dismantling such a great roster (on paper), but it had to be done and Cherington did an admirable job. The atmosphere in Boston, going back to the last season of Terry Francona's managerial reign, has been toxic.
Not the type of atmosphere you normally expect in a Red Sox clubhouse and organization. Hopefully, Cherington's closing up of the 'Epstein' shop will lead to future success in Boston. Fans are just going to have to be patient.
As for the Dodgers, if it wasn't already evident, this move announces to the rest of the baseball world know that the new ownership group (led by hedge fund Guggenheim Partners and fronted by NBA legend Magic Johnson) is not putting a price on winning as soon as possible.
"We did this for our fans. We want to win now," said Johnson, whose group purchased the Dodgers from controversial owner Frank McCourt in March for $2.15 billion. "When you bring in the type of players that we've brought in, it sends a message to our fans that we want to win. Our players are extremely happy."
He added: "We understand that you have to spend money (or as I like to call it, embrace the 'Yankee Experience') to be good in this league. We understood that before we bought the team. So we're excited."
It's a new era in Dodgers baseball. We all knew we'd eventually see it; we just didn't quite count on it happening this soon. Dodgers general manager Ned Colletti has been feverishly working the phones this season, landing All-Star outfield Shane Victorino, stud shortstop/third baseman Hanley Ramirez and relievers Randy Choate and Brandon League.
The Dodgers were also players in the Ryan Dempster and Cliff Lee sweepstakes, respectively, but failed to acquire either player.
After missing out on Dempster and Lee, Colletti and the Dodgers clearly weren't content with standing pat, especially with the Giants in the way for their quest for the division crown. Instead of resting on their laurels or throwing themselves a pity party, the Dodgers and Colletti worked the phone magic again to pull off this gem.
Watch out baseball. We thought the Philadelphia Phillies were going to be the National League counterparts to the Yankees, but apparently we were mistaken. The Dodgers, seemingly out of nowhere, have emerged to claim that title.
Is there an award for MLB Executive of the Year? If so, Colletti should receive it. I used to think that Ruben Amaro Jr. (Phillies), Theo Epstein (former Red Sox GM now Cubs' President of Baseball Operations) and Brian Cashman (Yankees) were the top executives in baseball. Needless to say, I think it's safe to put Colletti's name in the conversation now.
Will the big spending and big moves lead to a World Series? Dodgers' faithful can only hope.
Be sure to follow Beard And Stache on Twitter @BeardAndStache, and also Adam @Adam_Parker43, Like our Facebook page HERE!