Did you know today is World Food Day?
I never used to be conscious of food waste – as a student and my early 20's I'm pretty sure I was guilty of wasting food like a lot of others. More recently I have been a lot more aware of food waste, and this infographic from Hassle outlines just how big the problem is! An average waste of 260kg of food per household per year! And the impact on CO2 emissions is crazy – I had no idea it impacted so much.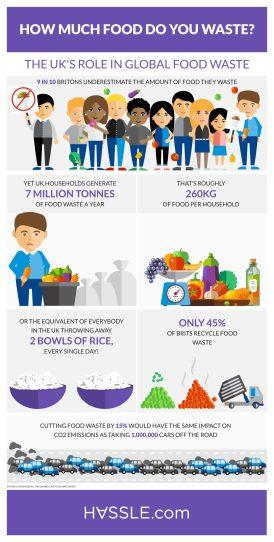 click to enlarge
There's lots that you can do to try and reduce your food waste, things which try and implement in our household. For example, making a meal plan every week, so you don't buy more than you need, using up those vegetables that are getting towards being past their best in a lovely soup, freezing herbs in oil in ice cube trays or making a batch of croutons with bread that is going stale.  What do you do to reduce your food waste?
For those that don't know, Hassle, who produced this infographic was founded in February 2012, and  is the online market leader for booking a home cleaner across the UK and Ireland. Hassle.com is revolutionising the domestic cleaning market for customers through the introduction of online bookings, cashless payments and trusted service providers, eliminating time-consuming traditional methods such as word of mouth recommendations and the Yellow Pages. Within the touch of a few buttons, weeks of searching has been reduced to 60 seconds. Worth a look!
---
Post in collaboration with Hassle