Guest feature on Ishimma.com
Natural oils and our hair: Embrace the goodness!
Before wearing my hair locked, I was not aware of the goodness which essential oils and carrier oils provide natural hair. Growing up, Castor oil was a 'go-to' product for the older generations as they insisted it supported hair growth and made hair stronger.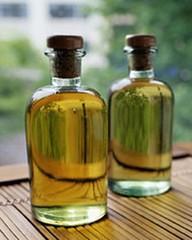 But on this journey of being natural, I have found out that Mother Nature has blessed us with many other useful oils which can promote healthy hair.
Essential Oil or Carrier Oil: What's the difference?
Essential oils (EO)
– also called 'volatile oils', are extracted from the leaves, seeds, flowers and even the stems of plants and shrubs. Funny enough, different sources have stated that EO are not really oils – in the strictest sense of the word. Rather, they are very concentrated liquids from the plant. These oils are also very fragrant, as you can see from some of their names, and are consequently used in the making of perfume, soaps, shampoos and other hair products.
IMPORTANT: It has been advised that Essential oils should not be used directly on the skin without first being diluted with a Carrier oil. Some people can have a bad reaction to them. So if you already battle with sensitive skin issues, I suggest seeking medical advice before use.
Carrier oils (CO) on the other hand, are mostly derived from the fatty portions and the nut/kernel of many vegetable or fruit plants. You may also hear them being referred to as 'fixed oils', 'base oils' or 'vegetable oils'. The oils are usually extracted via cold press method or hot extraction. Carrier oils do not easily evaporate. In addition, they contain important vitamins and minerals. It is these nutrients which aid in making your hair, skin and nails healthier. When looking to choose a Carrier oil, the process is just the same as when looking to buy an Essential oil: choose the oil with the properties you need for the particular situation.
Oils and their properties: What does this one do?
Different oils accomplish different things. Below is a brief compilation of some oils and their main uses when it comes to hair.
ESSENTIAL OILS
Carrot Seed
Good for all hair types
Revitalizes scalp, treats dry hair and scalp. 
Goes well with Jojoba oil. Avoid during pregnancy.
Chamomile oil
Good for oily hair
Cures oily scalp/hair, repairs and revitalizes the scalp, strengthens hair.  
Goes well with Jojoba oil; or, a combo of Burdock and Olive oils.
Avoid during pregnancy.
Lavender
Good for all hair types  
Treatment of dandruff, itchy scalp, controlling hair breakage, known to treat alopecia areata, good for hair growth. 
Goes well with other essential oils and Jojoba oil.
Peppermint
Good for thinning hair and/or excessive oily hair
Promotes hair growth, tingly sensation is the stimulation of blood to the hair, balances the pH of hair making it good for treating dry scalp, fights itchy scalp. 
Goes well with a Jojoba oil and Glycerin combination. Must definitely be diluted.
Rosemary
Good for dry, brittle, frizzy hair and/or those with thinning hair
Excellent for hair growth, treatment for dandruff as well as oily hair, stimulates the scalp and hair follicle. 
Goes well with Clary sage oil or Jojoba oil.
Tea Tree
Good for all hair types
Known for its antiseptic and healing properties, good treatment for dandruff and head lice, unclogs hair follicle, keeps scalp clean. 
Goes well with Jojoba oil.
CARRIER OILS
Almond
Good for all hair types
Rich in B-Vitamins and Vitamin E. Can be added to conditioner, acts as a moisturizer. Nourishes hair but its popularity wanes in comparison to Jojoba or even Olive oil.
Avocado
Good for all hair types especially those with thinning hair
Rich in Vitamins A, D, E. Corrects dry hair and scalp, can be added to conditioner to give hair shine and volume. 
Goes well with other oils.
Castor oil
Good for all hair types but especially dry hair
Contains Ricinoleic Acid which protects the scalp and hair from infection. Excellent at keeping the scalp moisturized, keeps hair nourished and aids in thickening, it regenerates new hair growth.  Many people have turned to Jamaican Black Castor oil to regrow damaged edges/hair lines. Use sparingly to avoid greasy hair. 
Goes well with Sweet Almond oil and most other EO.
Coconut
Good for all hair types
Fatty acids in Coconut oil have high antiviral and antifungal properties. Repairs and revitalizes damaged hair, promotes hair growth, can be used to condition dry scalp, adds shine and volume to dull hair, has a high Vitamin E content. 
Goes well with other oils.
Jojoba
Good for all hair types
A popular and versatile oil. Excellent at promoting hair growth/fighting hair loss, tames frizzy hair, keeps scalp nourished and hair shiny. Jojoba unclogs pores which have become blocked due to over production of sebum, it penetrates down to the hair shaft and loosens the build-up. 
Goes well with any Carrier or Essential oil.
Olive
Good for all hair types
A very popular oil, referred to as 'liquid gold'. Combats hair fall/hair loss, strengthens hair's elasticity, nourishes and conditions, promotes a dandruff free scalp, can be used as a hot oil treatment. 
Goes well with more fragrant EO like Lavender.
Regardless of whether you choose to use an EO or CO or, combination of both, there are some things to be mindful of:
1

      

Use in moderation as overuse can cause itching and dry scalp

2

     

Because one person uses a particular mixture of oils, it does not mean that a similar recipe will work for you. My hair and scalp will more than likely be different than yours; so you will have to take the time and effort to find out what proportions work for you.

3

   

Give the oil time to work. Don't expect miracles. A week or two might have gone by and yet no signs of change. Don't give up yet. I have come to realize that there might be other factors involved which hinder the growth of our hair. Have you taken into consideration your current daily diet? Are you drinking enough water? What about fresh fruits and vegetables? Don't become despondent. Make this journey one about lifestyle changes.
Tell us about your experiences.
Do you currently make your own homemade conditioners or hair oils using Carrier and/or Essential oils? What are some of the changes you have noted in your hair, skin, health?
We'd love to have your feedback!!
Tasha,
Editor,
.::Naturaleza::.