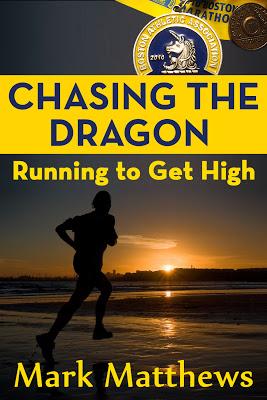 Free Today and This Weekend on Amazon
My book is out!  "Chasing the Dragon: Running to Get High."  
And it's free.
It's a lively discussion of the role running plays in recovery from addiction and the natural highs that running provides. There's plenty of material in here for all runners to get the most out of their runs including training philosophy, how to apply KT tape to hairy legs, and the all important marathon morning poop.  Much of the material is rewritten blog posts, but all of it has been revised. 
But before you proceed, a note of caution.
5 Reasons Not to Buy this Book
1. You have been following this blog for years, and have read every post. Most of them twice.
2. Who cares if it is rewritten, revised, and new material has been added. You configured that in your microsoft word brain as you read already.
3. Dragons?  Enough said.
4. I don't trust free downloads. Better wait a few days for the paperback. Those new-fangled kindles are destroying our kids.
5. You won't fall for this reverse psychology crap. Clearly I am telling you not to download this free book so that you, in fact, do the opposite. You are smarter than that.
In order to see what you won't be downloading, click here: 
Chasing the Dragon: Running to Get High