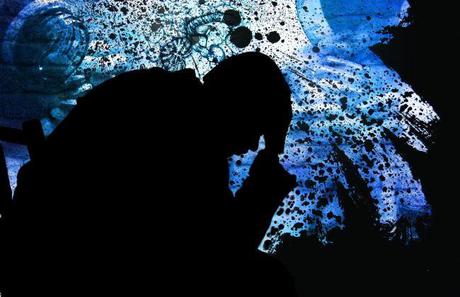 I am definitely not. (This question was actually asked of me by a reader.) Who is?
Is it Jesmyn Ward, award-winning novelist who beautifully depicts depression and her intimately personal losses in life alongside the harsh poverty and racism that still exists in her neighborhood today?
Is it James Altucher, the well-educated millionaire entrepreneur  who went bankrupt, lost his family, business, mind, and almost killed himself before finding a new path to happiness?
Is it Andrew Solomon, who wrote what I consider to be the definitive book on depression, both in the way that he divulges his own breakdown, and chronicles the history of the depression as it relates to all of us?
Is it one of the nine-hundred members of this Depression Awareness Community on Google+?
Wait – maybe the poster boy is not in that community. Maybe he or she is in one of the several hundred other communities that come up in search for 'depression' on G+.
Wait – I have to check Facebook, Twitter, and Instagram as well.
Wait – I haven't even begun to read all the books at the library on the topic.
Wait – who goes to the library? There are 32,828 books  tagged 'depression' on Amazon to read.
Or, maybe it's not even any one of the thousands who have written about it. Maybe it's a young boy, sitting at home, who's never read or written a single word about it.
Kind of like me twenty years ago.
Will Smith once said that any problem that you are having, has been had before. It's been written about before, and someone who lived before your time has been through something similar.
The point being that there is help, advice, and guidance available if you look for it. Except depressed people, they generally don't go around looking for help.
I am not the poster boy for depression. No one person is. If anything, it's the opposite. We all are.
Depression affects us all whether you agree with me or not. If it never affects you directly, it will to somebody you know. It has been around since before Christ and it is not going away.
"Depression is the flaw in love." – Andrew Solomon, Noonday Demon
We all want to be loved and to love. If depression is the flaw in love, we should be aware of it.
A poster is a piece of paper that you walk by, and whatever it says, it catches your eye, whether you were looking for it, or not.
I'm not the poster boy. I'm just putting up a few more posters for the next boy.
~ I would like to personally thank Matt Fried for his guest blog. I think that it is a wonderful introduction of more great posts from him to come in the future. Thank you again for caring enough to help others on their journey through life. The more we learn the better. Here is Matt's blog  friedsblog.com Check it out! Stay Strong everyone~