Hi all....
   Summer is here and we all like to pamper ourselves with refreshing face packs and scrubs. But most of the face packs are heavy and we don't feel comfortable with heavy face packs on our face during these hot summer days. So i came up with this gel face pack that is refreshing as well as not heavy on our skin. This face pack calls for simple ingredients and it is really refreshing in this hot climate. This face pack also helps us to tackle skin problems that we face during this climate.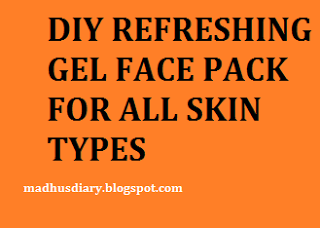 THINGS NEEDED⦁   Aloe vera gel-3 spoons
⦁   Cucumber pulp- 1 spoon
⦁   orange peel powder- 1 spoon.
⦁   Multani mitti(optional)
PROCEDURE1.   Take aloe vera gel in a clean bowl, you can use fresh or store bought aloe vera gel.
2.   Grate some cucumber and extract the pulp from cucumber. Now add this pulp to aloe vera gel.
3.   Add orange peel powder to aloe cucumber mixture.
4.   Now mix all the ingredients and our face pack is ready to use.
APPLICATION   Cleanse your face with suitable cleanser and pat dry your face. Now apply this face pack all over face and neck. Leave it for 10 to 20 minutes. Then wash it with cold water. Then moisturize your skin with suitable moisturizer.
 

ALSO READ




30 days Skin brightening face pack




wild turmeric face pack for all skin types




Rice water toner for glowing skin

 
 BENEFITS OF INGREDIENTS
Aloe vera gel    Aloe gel refreshes skin. It soothes the skin. It helps to keep our face fresh for longer time. It helps to control excess sebum production in these hot days.It helps to hide scars. It also treats sun burn. it removes tan to some extent.
Cucumber
   Cucumber is an excellent ingredient to refresh our skin. It moisturizes our skin.It also removes tan from skin.It makes skin glowing. It also gives fresh feel to skin.
Orange peel powder   Orange peel powder helps to remove excess oil from face. It makes our skin fresh. It gently removes dead cells from skin without making our skin dry. It also helps to treat breakouts and tan.
Multani mitti   Multani mitti is useful for oily skinned girls whose skin produces more oil in this hot climate. It soaks excess oil and refreshes our face.
   Do try this face pack and let me know your results.