A cold has finally hit our home.  We had been doing so well keeping seasonal sicknesses away but alas a few days before
Christmas
and a few of us are coughing.  Along with using the essential oils on our feet, I have also made a cough syrup using a blend of doTERRA pure essential oils.  Yes, the oils in this blend can be ingested as they are certified 100% pure and not filled with synthetic oils.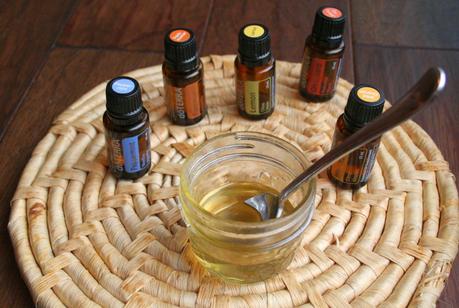 Here is a break down of the oils I used as well as some substitutions if you are making this for infants or nursing mothers.  I didn't add the On Guard or peppermint for the girls but simply added more of the other oils instead.
Lemon
-boost immune system, detox, support respiratory health, stress
Frankincense
-anti-inflammatory, boost immune system,
Peppermint
-alleviate headache, soothe sore throat, nausea, stomach upset
(*not for infants/pregnant)
Wild Orange
-sleep aid, immune boosting, reduce anxiety
On Guard-
antiviral, antibacterial, immune boosting
(is a hot oil to digest)
Ingredients
1/2 cup raw local honey
8 drops Lemon
8 drops Frankincense
8 drops Peppermint (optional-add more drops of remaining oils)
8 drops Wild orange or On Guard
Directions
Combine all ingredients and store in air tight container.
Take 1 tablespoon every 2-4 hours as needed.
Statements made on this website about doTERRA Essential Oils have not been evaluated by the FDA. This information is for learning purposes and self advocacy. These products and information are not intended to diagnose, treat, cure or prevent any disease. Please consult your medical professional for more information, concerns or changes to your medical routine.