DIY Hair Oil for treating hair fall and damaged hair, reduce frizz and add shine.
Hey everyone, today's post is on hair care, of this easy do it yourself hair oil that you can easily make from regular ingredients easily available in your kitchen but this hair oil works miracles in treating most of your hair problems from hair fall, hair loss, dry and damaged hair from heat tools, or frizz. A little backstory as to what made me make this hair oil. I was losing a lot of hair suddenly and I attributed it to my Thyroid, I just assumed my thyroid levels are up or down that is why I am losing my hair, turns out my thyroid was fine but my vitamin levels were low especially vitamin B 12 and Vitamin D3, so I took injections for those and then I noticed lesser hair fall.  But by this time the damage was done, I had only 25% of hair left on my scalp and what was left was dry damaged frizzy and lifeless.
Hence began my search for DIY ideas for hair care that are easy to do and effective also. So I saw several recipes for hair oil and read up on ingredients that are good for the health of hair care. And I made a small batch of this hair oil and I was amazed at the results in just few uses.
My hair fall reduced even further.
Shine returned to my hair.
Hair were less frizzy.
Hair were soft to touch and felt smooth.
So I decided to make a second batch and share it with everyone.
Few tips I would like to give anyone suffering from severe hair loss and you feel you are going to get bald.
See a doctor dont become one. Most of the times its vitamin deficiency that is the root cause of hair fall, and simple medicines and vitamin supplements will take care of most of the hair problems.
Take your medicines on time be regular with them.
And make this hair oil. I am not kidding this hair oil actually works. See other recipes online too and see whatever you want to make, but do use it properly.
Okay so on to this hair oil.
Ingredients of this miracle and magical hair oil for treating hair fall.
Onion 1 medium size
Garlic 8-10 pieces big size or 2 small garlic
Pepper Corns (kali mirch) 20-30
Fenugreek seeds (methi) 3 tablespoons
Onion seeds ( Kalaounji) 2-3 tablespoons
Curry leaves: 2 bundles approximately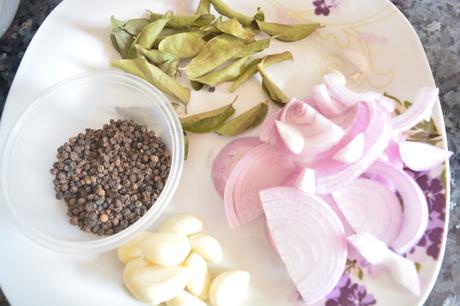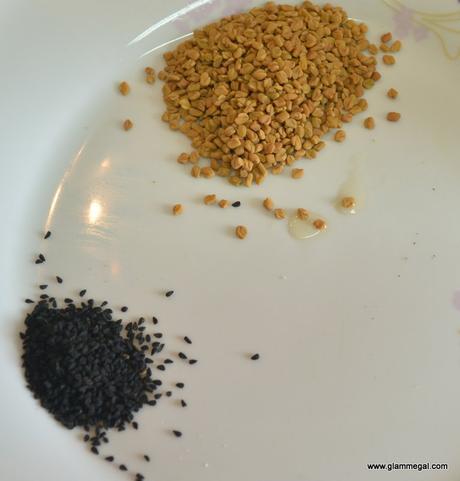 Hair oil for treating damaged hair
Coconut oil: 400 ml
Almond oil: 50 ml
Castor Oil: 20 ml
Argan oil: 20 ml
Rosemary essential oil: 10 ml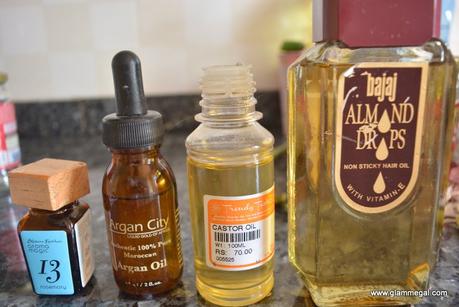 Coconut oil is essential to this hair oil all the other oils that I mentioned are optional. But I would suggest you use them, as each hair oil has its own benefits .
DIY Hair Oil for treating hair loss and damaged hair
I am sharing the recipe of the hair oil that has helped me to prevent hair loss and has also improved the texture of my hair. It is less damaged and I am feeling my hair is stronger than it was 3-4 months back.
Each oil that I have use din this recipe is has its own quality.
Castor oil helps in hair growth.
Rosemary oil helps in preventing hair loss.
Almond oil is rich in Vitamin E which is essential for hair strength
Argan Oil is also reffered to as hair elixir, its excellant for hair and skin as well.
Coconut oil stimulates hair growth and fights scalp problems among several other benefits.
I have used these above mentioned hair oil. If all the oils mentioned are not available you can skip those, coconut oil is essential to this recipe and rest all are optional, though I would recommend adding them.
How to make this hair oil.
You can watch the video on how to make this hair oil.
In a heavy bottomed pan add coconut hair oil and let it get warm, once it is sufficiently warm add the peppercorns and then add the curry leaves, after that add the fenugreek seeds and onion seeds. Keep the flame on low and let the curry leaves turn black/brown.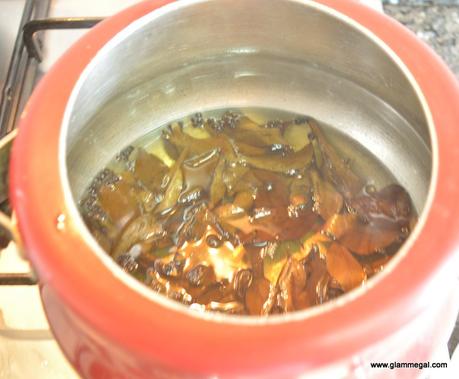 HAIR OIL FOR TREATING HAIR FALL
Next add the garlic and onions and then let the oil simmer on low until everything in the pan turns black.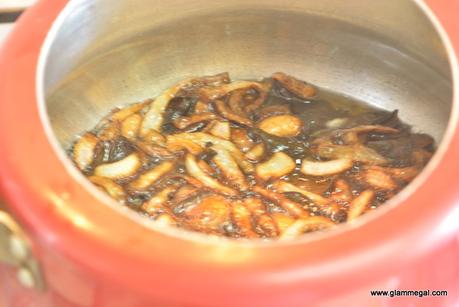 At this stage turn off the flame and let the oil cool down for 2 to 3 hours or until it is completely cooled down.
Then strain the oil, or you can even use the oil as is without straining also, just store it in a glass jar.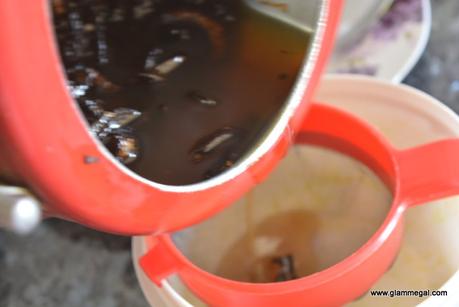 Hair oil for treating hair loss/hair fall
Once the oil has cooled down then add the rest of the oil.
Argan oil 20 ml this is an expensive oil and its also not readily available so you can skip this oil.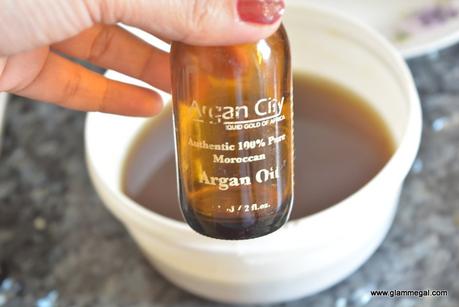 Argan oil is good for skin and hair both
Rosemary essential oil: 10 ml, this is readily available, the one I have used id from Blossom Koacher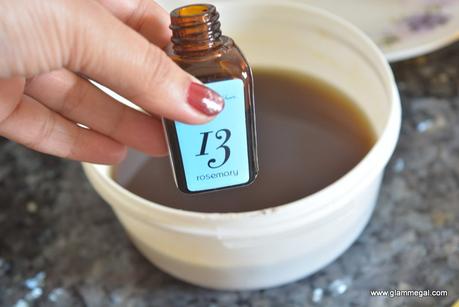 Rosemary Oil
Castor oil 20 ml this is very easily available and if you have bald patches on your hair due to hair loss you can increase the quantity of castor oil as it helps in hair growth.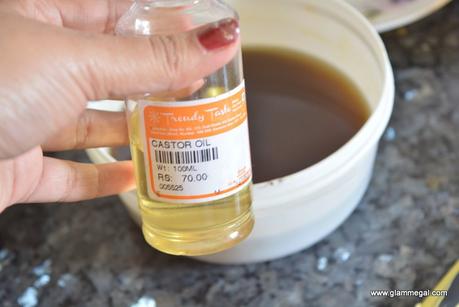 Castor oil is great for boosting hair growth
Almond oil 50 ml If you can use pure almond oil that is the best if not you can use any kind of almond oil.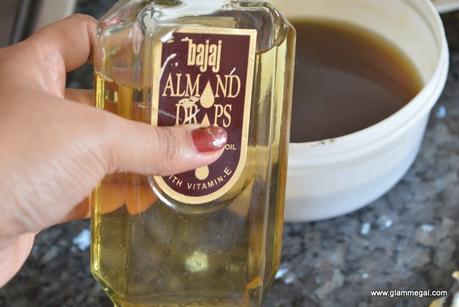 Almond oil is rich in Vit E
So once you add all the oils just give it a good mix with a spoon and store the hair oil in a glass jar.
You should use this oil a  minimum of 2 times per week, and also make sure to keep this hair oil on your hair atleast 2 hours before you shampoo your hair. This hair oil doesnt really smell the greatest so you can increase the amount of rosemary oil as it has a very strong smell so it can reduce the bad smell a bit more.
But frankly if you are reading this I know you will do whatever it takes to get your hair back healthy and shiny.
So that is all for this hair fall which is for sure help you increase the strength of your hair and reduce hair fall and damage to the hair.
Related
You Might Also Like
LOREAL 6 OIL NOURISH : PRESS RELEASE
KERASTASE Oleo Relax Serum For Dry Frizzy Hair
THE BODY SHOP COCONUT BEAUTIFYING OIL REVIEW
GARNIER FRUCTIS LEAVE-IN CONDITIONER CREAM
L'OREAL PROFESSIONAL LISS ULTIME SHINE PERFECTING SERUM A REVIEW
Tags:
argan oil is benefitial fro skin and hair, castor oil for hair growth, diy, diy hair oil, dry damaged ahir, dry damaged hair, dull hair, hair care for frizzy hair, hair care for hair fall, hair fall, hair loss, how to hair oil, how to make hair mask for treating damaged hair, how to prevent hair fall, how to stop hair fall, how to take care of damaged hair, how to treat severe hair fall, rosemary oil helps in hair loss, vitamin e enriched almond oil