With Mr Juicy and I manically trying to save up for our house move in April 2013, we've been thinking of ways to keep Christmas spending to a minimum without coming over all scroogey! When I came across
this post
from Becky at Milk Bubble Tea I thought, BINGO! Adorable but budget friendly Christmas gifts = sorted.

I've tried to take Becky's original idea and made it my own by beautifying them a bit differently .They were a pleasure to make and sourcing little gifts which would fit in the jars was an interesting challenge! All in all I would say my jars cost around £22 each to make.That includes the gifts inside the jars and all the material I used to make them look pretty. Depending on your budget you could easily adapt these jars to suit.
Materials Used
Kilner Preserve Jars

(packs of 3) from TK Maxx (also available from Hobbycraft)

Festive Cotton Material

(1m) from Etsy - to create jar toppers. I used a protractor and some zigzag edged dressmaking scissors to create circles to fit the jars.

Red Raffia Ribbon

from Hobbycraft

Glass Paint

(translucent glitter) from Hobbycraft. To create a wintery sparkle (hard to see in these photos)

Brown Tags

from Ebay

Merry Christmas Stickers

from Ebay
Suggested Content
Yankee Candle Samplers

. Especially the Christmas scents!

Christmas Socks

. Many shops of 3 for 2 offer on these.

Small Beauty Products

. 3 for 2 Barry M nail polishes in Superdrug right now! I also bought little gift boxes for Korres and Weleda products and divided them up between jars.

Jewellery

Golf Balls

. I popped a couple of these in my Dad and Step Dad's jars. Both are big golfers!

Stickers

. I put some cute stickers in my 7 years old sister-in-laws jar.

Gift Cards

. If in doubt, gift cards and vouchers always go down well!

Christmas Chocolates.

I bought a whole bunch of Lindt Bears on a 3 for 2 offer in Morrisons.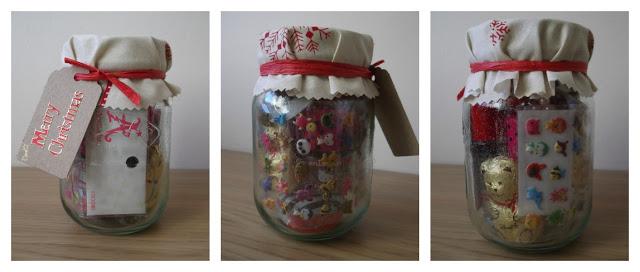 7 Year Old Sister-In-Laws Jar
Stickers
Chocolate
Bracelet
Hello Kitty Nail Polish
Hello Kitty Lip Balm
Hello Kitty Perfume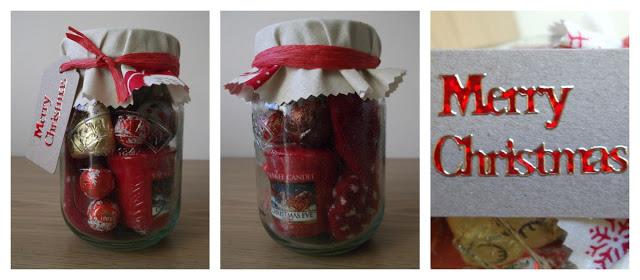 Mother-In-Laws Jar
Angora Wool Christmas Socks
Yankee Christmas Candle
Chocolate
Small Jewellery Box
I've made jars for males, females, kids and grown ups and the concept has worked equally well for everybody! I've even made one for £10 for a Secret Santa gift.
If you're looking for a thoughtful, fun but inexpensive gift for someone this Christmas and enjoy a bit of crafting then why not give a Christmas gift jar a try? If you make one do let know how you get one and what you put in it!
Lisa x
PS You only have a few days left to use your FD Avenue discount code for 15% off everything! www.fdavenue.com