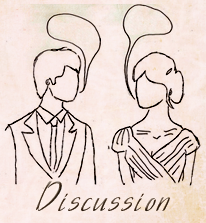 "Hi Anna!

So, I've been blogging for well over a year and a half and I have something that is nagging me: I post weekly, at least 2 or 3 reviews a week, I comment on a lot of blogs and I interact with others on social media. I still can't seem to find my "readers." After such a long time, I thought I'd have readers to interact with but I don't seem to. What can I do to get more readers? I do blog for my love of reading....but having someone read my thoughts would be nice too. Any advice?" - Sad Blogger
I don't think there's any specific way to get people to come to your blog. Obviously, commenting and networking are good ways to put yourself out there, but there's no guarantee that people will come. I know it can be really disheartening when you work so hard and put so much effort into your blog and no one comes by to read what you have to say. I've definitely struggled with that, but I've found that the best way to get people to visit your blog is to comment, comment, comment.
How do I get people to notice me?I hate to say it, but when you're first trying to build your following up the best ways to get people to visit are memes and giveaways. Should you resort to posting only memes and giveaways? No, of course not. But participating in a few giveaway hops always gets a ton of people to stop by your blog. And memes typically get the most pageviews for me, because so many people participate in them and you all link up together. I've found that a lot of people who start visiting because of Waiting on Wednesday or a giveaway hop begin to come back regularly and read reviews, discussions, etc. Comment, comment, comment.Commenting on other people's posts is a great way to get noticed. The best way to get people to return the favor is to leave a link to your blog. I always leave one that says "Anna @ Literary Exploration" and then have "Literary Exploration" link directly to my blog. Like this: Anna @ < a href= "www.literaryexploration.com" > Make sure there are no spaces in your link. This makes it easier for people to see what you have to offer because they can just click on your link and be taken directly to your site. And make sure you post meaningful comments. I don't take people seriously when they leave comments that are just like, "Oh awesome review!" Because, let's be honest, I don't think they read my review. Why was it so awesome?? I just skip right over comments like that, it's obvious those people are just looking for people to come visit them.And in order to get people to come back regularly you have to put in a lot of time. I spend about an hour a day going through my Google reader and commenting on posts. When I was first gaining my following it was anywhere from 3-4 hours a day. I am not even kidding you. You have to work hard to get yourself noticed, and it isn't something that happens over night. You have to be seriously committed. Make yourself a regular.Just commenting a couple of times on one blog won't get you a lot of recognition. It's important to make yourself a regular presence on someone else's blog. I notice when the same people come back and comment on my posts every day. Those people are obviously interested in any and all things that I have to say which makes me want to return the favor. If I see your name popping up on all of my reviews I'll take you more seriously. By regularly visiting a blog you'll become noticed and that person will be more willing to return the favor.Also, make sure you're a regular poster. Make a posting schedule for yourself and stick with it. If you post at least 5-6 days a week and people know you'll always be hosting new content then you'll become a reliable blogger. When your name pops up in my reader every day it helps show how committed you are. People like consistency and when you have a new and different post every day of the week and I know I can visit you on a certain day and find the same thing as last week it scores points. I have a weekly blogging schedule that I follow (most of the time) religiously. Mondays & Thursdays are for reviews, Tuesdays/Wednesdays/Saturdays are for memes, Fridays are discussion posts, and Sundays are my catch up day so I don't post anything :P But not only does it make things easier for me, it makes things easier for my followers. Sometimes I'll throw in an interview, guest post, or blog tour, but those always go up on days that I would regularly post a review or something. Social Media!Okay so I love Twitter. Like... with a flaming passion. I have the app for it on all of my electronic devices and I spend more time tweeting than texting my friends. Is this healthy? Probably not. Do I care? No. Twitter is the best way to get your blog out there. By making friends with other bloggers on Twitter and other social media sites you'll be able to send out links to your posts which your multitude of Twitter followers will click on and visit. I've met a lot of bloggers on Twitter and ended up following their blogs because of it. When you're a nice, social person, people will want to visit your blog because you're so awesome online!Be original and interesting.Posting memes and reviews isn't always good enough when it comes to getting people to regularly visit. Some of my favorite posts are discussions (like this one!) and different things that sort of mix it up. I love doing/reading author interviews and any time I see one I immediately have to read it. Don't conform to what you think the blogosphere wants, just do what you love. Your passion is reflected through your writing so as long as you stay true to yourself (so cheesy, I know) people will want to visit you. Make yourself stand out. In a community where there are thousands of us, it's hard to be original, but if you come up with a cool idea for a post just go for it! People like reading things that are new and interesting!
Don't be afraid to speak your mind. If you have an opinion about a controversial topic, post about it! Say what you want, when you want. If there's a scandal going around in the blogging world, write about it! People want to hear refreshing thoughts and ideas about the things affecting their community.
*****
What are some tips you have for gaining a regular following? Can you recommend any good ways to get people to continuously visit and comment on your posts? 
Leave your discussion requests! Do you have any questions? I'll answer them :)