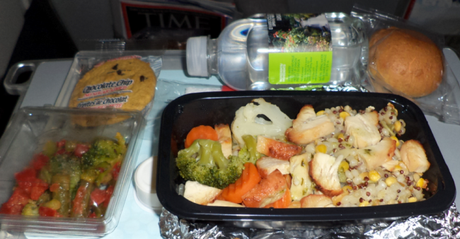 Airline diabetic meal
Airline food is hardly great, and it's hardly healthy. How about the special "diabetic meal", would that be an improvement?
A reader decided to try it out:
Dear Andreas,

I recently flew to Frankfurt from Canada and I ordered the diabetic meal. I have been doing LCHF for over a year and have lost 30 pounds (14 kg) and my blood sugar is much better. I found that airplane meals are so high-carb that they make me ill, so I pack cheese, sausage, nuts and veggies for flights now.

I decided to order the diabetic meal just to see what it would be and hoped it might be LCHF or at least low-carb. It was worse than I ever expected. It was low fat, high carb. It was supposed to be some sort of chicken with coconut sauce. There was barely any sauce (I expect because they were trying to keep the meal low-fat). Most of the meal was some sort of grain – that my seat mates and I never identified. There were just a few pieces of chicken and some veggies, no sauce.

There was a bun that came with margarine! My neighbor with the regular meal got butter. So, for some reason, Air Canada thinks margarine is healthier for diabetics, or Air Canada hates diabetics, I can't decide. There was a sugar free cookie, too. Also, a broccoli and red pepper salad that was frozen solid, so I couldn't eat it, but I suspect it was low-fat.

I couldn't eat most of the meal – just the chicken and veggies. I had forgotten my snacks at home, but luckily, a flight attendant got me a cup full of nuts because the meal was inedible and would have made me sick. It would have pushed up my blood sugar and it would have been difficult to lower it again, as I was stuck sitting on a plane for hours. Imagine if I had been a type-2 diabetic trying to control my diabetes through LCHF?

The "diabetic" breakfast was a processed fruit cup, a muffin and a V8. I ate nothing.

Thanks!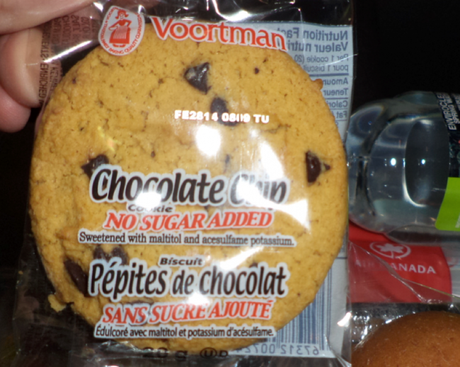 High-carb low-fat food for diabetics? That's insane. But it could have been worse, they could have added a bottle of fruit juice.
More
More weight and health stories
How to Normalize Your Blood Sugar
PS
Do you have a success story you want to share on this blog? Send it (photos appreciated) to [email protected], and please let me know if it's OK to publish your photo and name or if you'd rather remain anonymous.