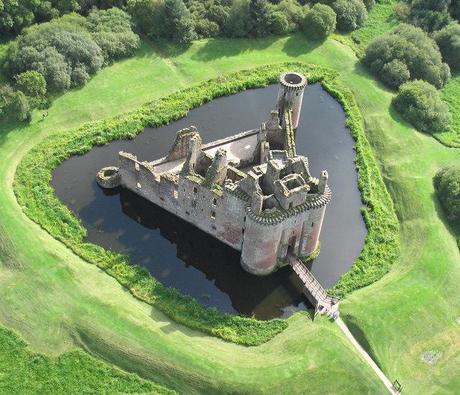 With its moat, twin towered gatehouse and imposing battlements, Caerlaverock Castle is the epitome of the medieval stronghold.
The castle's turbulent history owes much to its proximity to England which brought it into border conflicts.
Visitors can enjoy a siege warfare exhibition, a children's adventure park and a nature trail.
The shop and cafe are open throughout the year.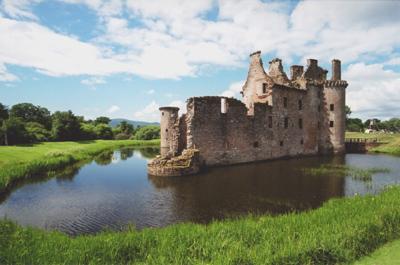 Photo credit
Unique castle
Caerlaverock's triangular shape is unique among British castles. Why it was built this way is not known. A walk around the castle gives a sense of its strength, its economy of form and its pleasing geometry. Three lengths of defensive curtain wall are linked at their three angles by high corner towers. The north tower, facing into Scotland, is a mightily impressive twin-towered gatehouse, where the Maxwells had their private suite of rooms.
Down the years the Maxwells repaired and upgraded their ancestral castle. The formidably impressive slotted defences (machicolations) at the tops of the three towers date from the late 14th/early 15th century, after the ravages of the Wars of Independence with England had taken their toll. Inside the castle walls stands the remarkable Nithsdale Lodging, built in the 1630s by Robert Maxwell, 1st Earl of Nithsdale. Its attractive façade, embellished with ornate Renaissance stone carvings, contrasts wonderfully with the severity of the ancient castle walls.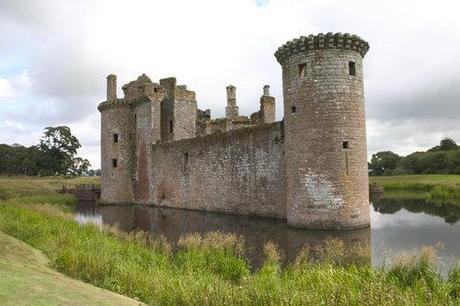 Photo credit
Tale of two sieges
Caerlaverock was besieged and captured on numerous occasions. However, two sieges stand out.  
The first, in July 1300, involved Edward I of England in person. He brought the full might of his army to bear on the stronghold, and the small garrison surrendered within two days. The contemporary account of that siege is one of the most fascinating recorded for any castle in the British Isles.  
The second siege, in 1640, was the castle's last. It was brought about by Lord Maxwell's adherence to Charles I in that monarch's struggles with the Covenanters (religious dissenters). On that occasion the garrison held out for 13 weeks before surrendering. Following the siege, the castle was stripped of all its valuable fixtures and fittings, and the great south curtain wall was demolished to render the building useless as a place of defence. 

Source