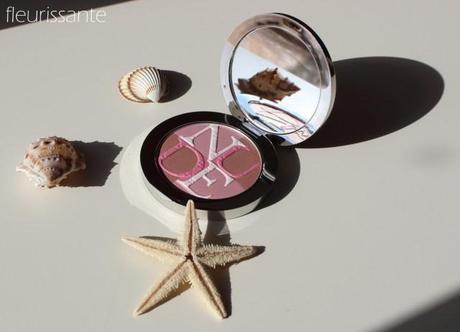 Hello lovelies,
today I'm going to talk about Dior Nude Shimmer powder in Pink Glow, which is a part of Transat collection for summer 2014. The product retails for 38GBP and I got mine from feelunique.
The powder comes in a heavy silver round compact with cannage imprint. You also get a nice dust bag with it. The compact on the outside catches fingerprints (my biggest pet peeve). The compact contains a mirror and there's also a mini kabuki brush included, which is pretty soft and nice. The powder has 10 grams.
Even thought the product description ("DIORSKIN NUDE Shimmer can be used as a light veil on the rounded areas of the face to catch the maximum amount of light and create a naturally dazzling glow") leads me to believe that this should work as a highlighter, on my skin this shade is actually a blush.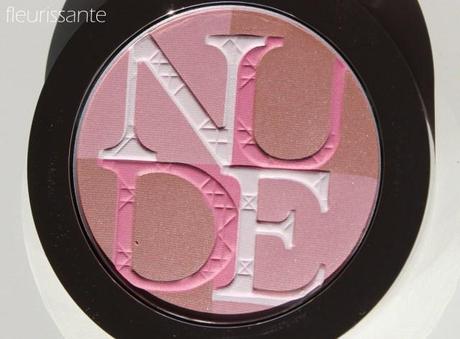 The shade Pink Glow has two pink quadrants with pale pink letters. The other two quadrants are rosy bronze shade with pink letter imprints. The product contains shimmer. The pink quadrants with light pink letters are extremely sheer and pale and they barely show even on my NC15-20 skin. The bronze quadrants are surprisingly more orange than I thought they'd be. However, mixed together, they give a perfect, slightly bronze pink flush. If you use a really small brush, you can get the colour from each quadrant individually, but I prefer to mix all shades together.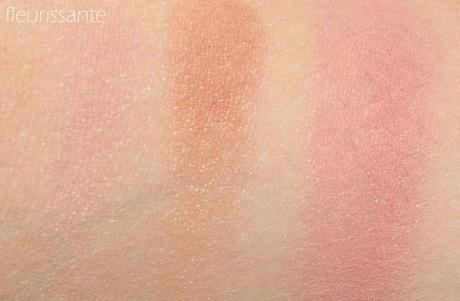 Depending on your skintone this will work either as a blush or a highlighter. It is too pink to be used as a bronzer.
On my skin this is the perfect summer blush. It is very pigmented and I don't see how it could work as a highlighter. It is shimmery, but the shimmer is barely there - only to prevent the product from looking flat. It wears well - I didn't notice any fading throughout the day.
I definitely like it. It's been a while since I last bought something from Dior and this blush definitely makes me want to get more.
Did you try Nude Shimmer?
xoxo Tamara