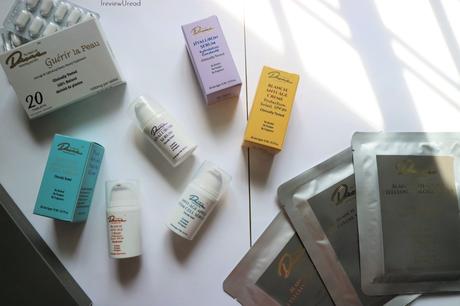 My Anti-Aging, Mid-20s Skin Routine
Do you know, your body replaces itself every seven years? According to researchers, your body replaces the skin cell every seven to ten years. That means you should also change your skincare products every few years too. There's no exact age as to when one should change their skincare routine but the mid-20s is a good age to transition to anti-ageing skincare products. Therefore in this post, I'll be presenting to you my first ever Mid-20s Skincare routine.

Dione The Ideal Lab Series
Dione the Ideal Lab Series is a skincare bundle from the aesthetics skincare distributor, Dione International. Dione International was set up in 2009 where it became the exclusive distributor for Dione (France, Switzerland, Korea and Singapore) and Nouvea en Beaute (France). They mainly distribute their products to dermatologists, skin doctors and plastic surgeons in Singapore. Thus you don't see these products on the shelves of Singapore shops. Recently, Dione has opened its sales to the public. Therefore you're able to find their products on Shopee, Lazada and Q10.
Dione International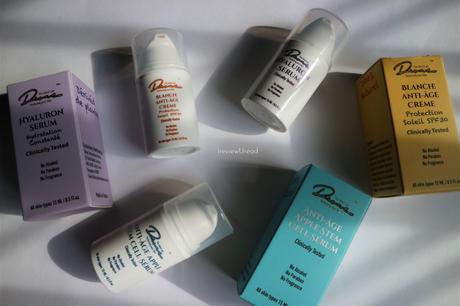 Dione The Ideal Lab Skincare Set
Dione The Idea Lab Skincare set is an anti-ageing set that is curated to help people battle skin concerns such as dry skin and anti-age. The skincare set includes 3 skincare product, 1 supplement and 1 box of masks that includes 3 pieces of the mask. We'll be starting with the skincare set :
Hyaluron Serum
Apple Stem Cell Serum
Blanche Anti-Age Cream
Before moving on to the daily supplement and weekly mask:
Guérir la Peau
Blanche Anti-Age Bio Cellulose Stem Cell Masque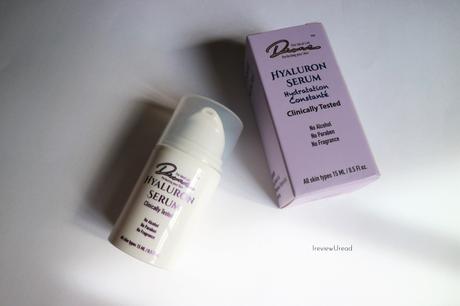 Hyaluron Serum
The Hyaluron Serum is a hydration serum that helps hydrate the skin and giving it a soft and smooth texture. One of its key ingredients is Hyaluronic Acid and that ingredient is wonderful for those that have dry skin. The hyaluronic acid's job is to replenish the skin's hydration and it is suitable for all skin types.
How to use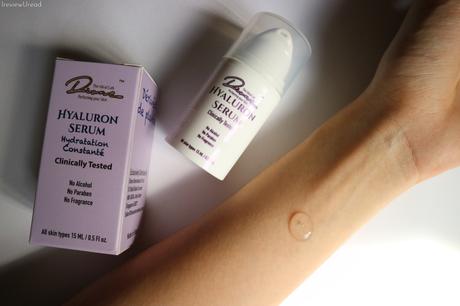 I would recommend using the serum as the first step of your skincare routine if you do not use a toner. For your skin to absorb your moisturizer and other skincare products, your skin has to be slightly damp. Thus, applying the Hyaluron serum to hydrate your skin is a wonderful first step. Apply it on both your face and your neck and pat the serum in.
Hyaluron Serum Review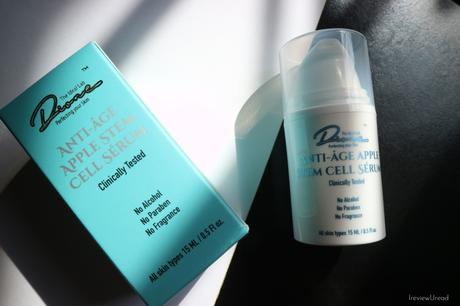 The Hyaluron Serum is a clear hydration serum that feels cool upon touching one's skin. It has the iconic hyaluronic acid scent to it. When spread across the face, the serum absorbs quickly and had a refreshing feeling to it. I like how the serum glides on your skin effortlessly and it does not have a sticky effect after. This serum is perfect as the first step to one's skincare routine due to its fast absorption rate.
Apple Stem Cell Serum
The Apple Stem Cell Serum is a miracle serum that repairs and heals one's skin. It was first derived from a rare 18th-century species Apple Tree in Switzerland. Its stem cells could be kept for months without withering. I first got introduced to the marvel of apple stem cell was during a facial treatment years ago. I learned that when we age, our skin loses elasticity and the apple stem cells help bring the skin back to life. This is due to its phenomenon ability to regenerate new cells and repair the skin. Thus, making the apple stem cell serum a must-have anti-ageing product to add to your skincare routine.
How to use
After using the Hyaluron serum and ensure that it is absorbed into your skin, apply the apple stem cell serum. Pat this serum in as well instead of rubbing for rubbing will cause wrinkles.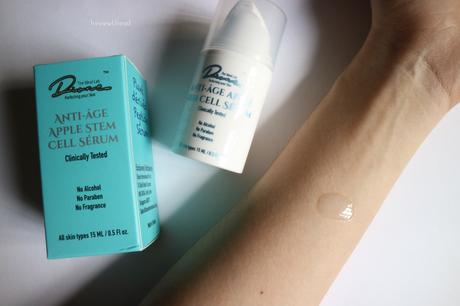 After using this, put your favourite moisturizer and eye cream before moving to the next step.
Apple Stem Cell Serum Review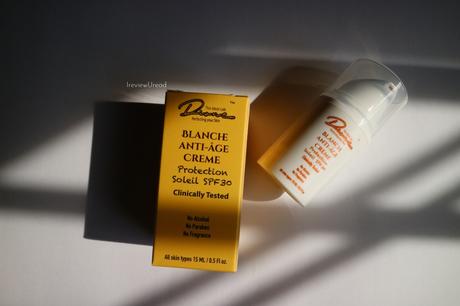 After learning about the miracles of apple stem cells, I was excited to try out this serum. This serum has an opaque look to it. When applied, the serum feels fresh and it has a sweet apple scent to it. Like the hyaluron serum, the apple stem cell serum absorbs quickly and does not feel sticky after. It made my skin felt more velvety. I thoroughly enjoy applying this step because of the fruity scent.
Blanche Anti-Age Cream
The Blanche Anti-Age cream is a sunblock with concealer effect. Translated to English, Blache Anti-Age Cream means white anti-ageing cream. It has SPF30 that blocks out 97% of the sun rays. Do note, no sunscreen blocks out 100% of the sun. Thus, SPF30 is enough protection for your skin. One of the ingredients of the Blanche Anti-Age Cream is Titanium Dioxide. That means this sunscreen is suitable for people with sensitive skin as well.
How to use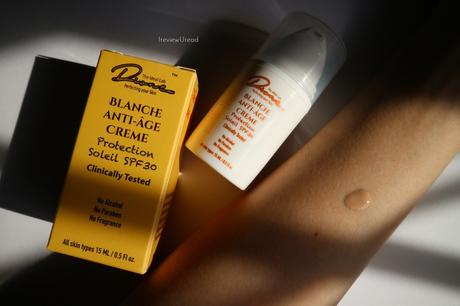 Use half a teaspoon for your face and neck. Let it dry for 3 - 5 minutes before applying makeup.
Blanche Anti-Age Cream Review
This whitening anti-age cream is sunblock and concealer in one. It is very light-weighted and it has a sweet scent to it. It reminds me of a tinted sunscreen but slightly thicker than that for it can slightly cover your light blemishes. It is not sticky after application and it gets absorbed into your skin almost instantaneously. Although it is partially waterproof, it is still required for you to use a cleanser or a makeup remover to fully remove the sunscreen.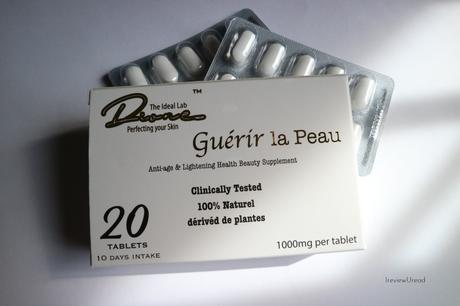 A shocking revelation for me is how the Blanche Anti-Age cream blends in flawlessly with my skin tone after it was spread evenly. When I swatched the cream, it looked a shade lighter than my facial skin tone, thus I was shocked at how it blended into my skin tone perfectly.
Guérir la Peau | Anti-age Lightening Health Beauty Supplement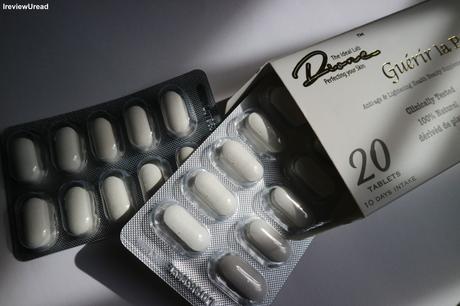 Guérir la Peau translated to English means heal the skin. This anti-ageing, health beauty supplement is made in Switzerland and it is the latest and most advanced development of a triple-action whitening supplement. It helps with whitening, anti-ageing, reduction of fine lines, repairing of the skin, hydrating, lightening and smoothening of the skin and it is an excellent source of anti-oxidant. Guérir la Peau contains various enriching ingredients from Vitamins, minerals, amino acid and anti-oxidant. These ingredients help with nourishing, hydrating and repairing damaged skin and even out one's skin tones.
Each tablet contains 1000mg and there are 20 tablets in a box. One of their most notable ingredients is Vitamin E. Vitamin E could be found in almonds, kiwi and avocados. It is an antioxidant that helps with reducing free radical damage and slowing the ageing process of your cells.
Directions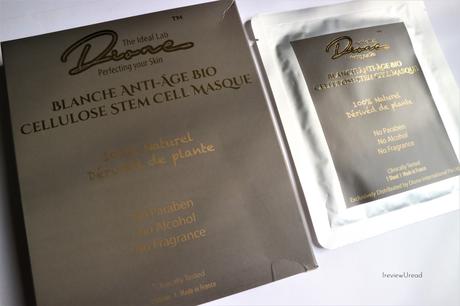 Take 2 tablets a day after meals for 10 days straight.
Blanche Anti-Age Bio Cellulose Stem Cell Masque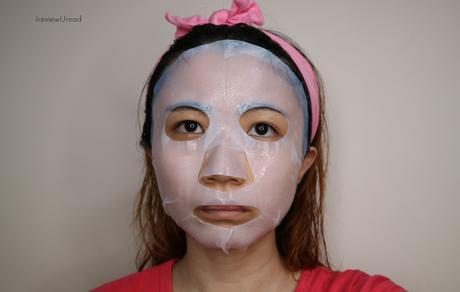 The Blanche Anti-Age Bio Cellulose Stem Cell Masque is created by stem cells. This allows the mask to heal and hydrate your skin easily. Additionally, stem cell extracts are often rich in antioxidants and it has growth factors to help renew and repair one's skin. This Bio cellulose stem cell mask is suitable for people with ageing, dull skin and dry skin problems for it helps with anti-ageing, anti-wrinkle hydration and whitening.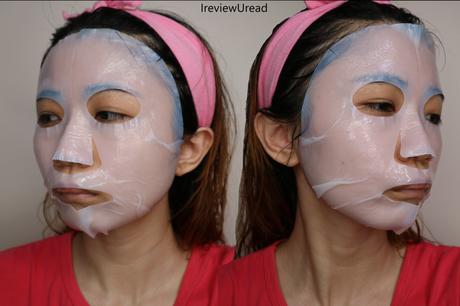 The mask is clinically tested and specifically formulated for skins that went through dermatological procedures such as peeling, MTS, IPL, Fraxel, Non-ablative, CO2 and other associated laser treatments. Having gone through a few of these treatments myself, I understand how the skin will become overly sensitive and it requires specific products in order not to cause harm to it. To know that this mask can cater to this specific group of people assures me that this mask is suitable for people of all skin types including people with sensitive skin.
Put it in the fridge for a few minutes before using.
Remove 1 side of the non-woven layer and apply the Blanche Anti-Age Bio Cellulose Stem Cell Masque to the face.
Remove the other non-woven layer and smoothen the facial mask down from the centre evenly.
After 15 to 20 minutes, remove the mask.
Use the mask once a week.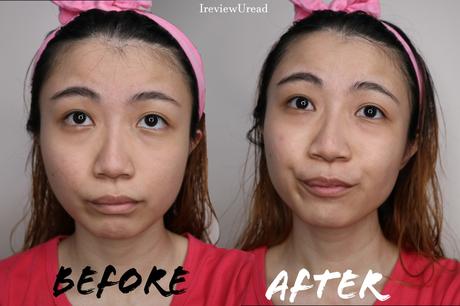 Directions
Blanche Anti-Age Bio Cellulose Stem Cell Masque Review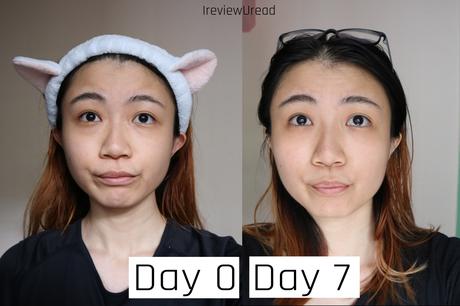 Since I place the mask in the fridge before usage, the initial shock factor of how chilled it becomes always surprise me. I like how it has a layer of non-woven cloth on each side to help protect the mask. The mask is slightly thicker so it is not as fragile as it seems. It fits onto every nook and cranny of your face easily. It also seemed like a perfect fit on my face. It doesn't slide down easily so you can continue doing your work while having this mask on.
After removal of the mask, pat in the excess essence before applying moisturiser to seal the essence in. The essence felt sticky when I just removed it but after it was fully absorbed, it is no longer sticky. I felt rejuvenated and fresh after usage. My skin also felt hydrated and cool. It's a great end of the week treat to your skin.
Day 0 vs Day 7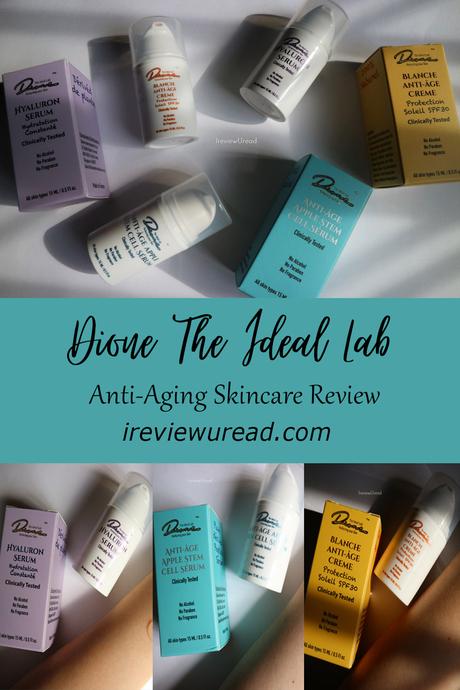 On day 0, my face was dull and sickly pale. My eye bags were also significantly darker and uneven. My eye even looked puffy. It was a typical quarantined face, where my skin became this way due to staying in the dark and functioning on an abnormal sleep cycle for too long.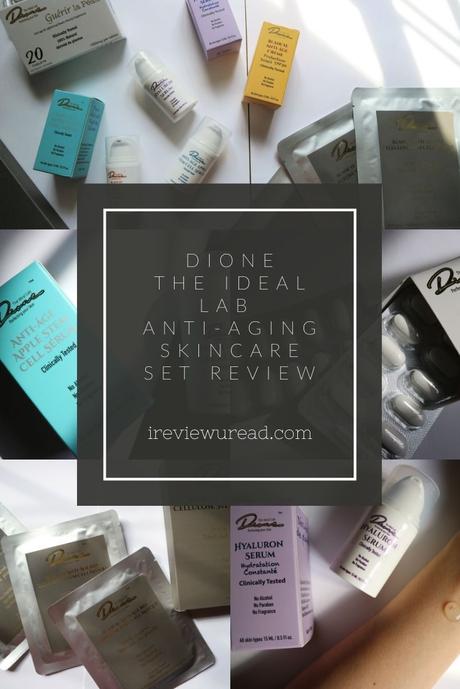 Pin me!
By day 7, although my sleep cycle is not any better, my skin looked brighter and healthier. My skin felt more hydrated and my skin looks fresher. I look younger and even my eye bags looked like it doesn't exist. I thoroughly enjoyed my skincare journey using these products for they are not only a treat to my skin but a treat to my senses as well. They are easy to use and there are visible changes to my skin conditions as well. Plus, after learning more about how the important ingredients of these products work, it made me appreciate these products further. My favourite has got to be the apple stem cells serum for its rarity and significance in the role of an anti-ageing skincare routine.
Get these products at SGD 87.75 (U.P. SGD$97.50) when you quote ' ireviewureadsh#03 ' on dioneinternational.com.sg/main/shop