You know you're truly British when you constantly try to make the most of the nicer weather with a little alfresco dining. There's nothing quite like dinner and a catchup whilst basking in the late summer evening air.
Hush Brasserie has a perfect outdoor dining section, with small tables a delectable menu – the best bit: no loud music like some restaurants in the area which make a catchup across the table almost impossible.
This stylish brasserie has a variety of options to suit all. It was difficult to decide between a few options (all sounded too good!), but I settled for the Tuna Niçoise salad – can't believe I'd never had one of these before – and my friend, the crispy duck salad.
Food was extremely well presented, the tuna cooked perfectly rare, green beans a la dente, and the whole meal extremely delicious. The crispy duck also went down a treat, and we both treated ourselves to a Chenin spritzer with elderflower to accompany – very refreshing, nice and sweet, the perfect end to a busy working week.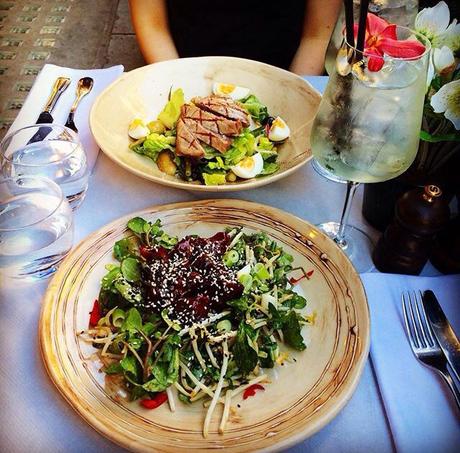 Crispy Duck Salad and Tuna Niçoise salad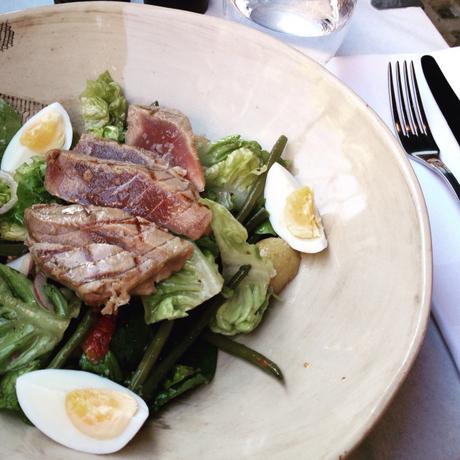 Tuna Niçoise salad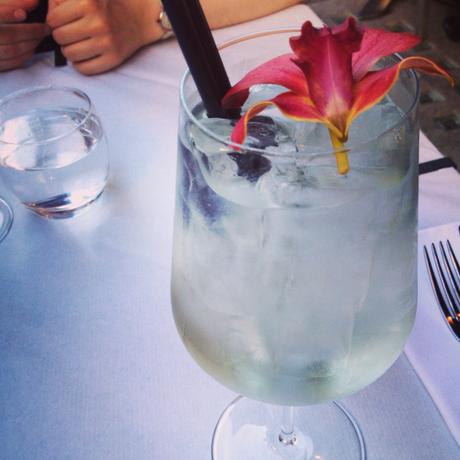 Chenin and Elderflower Spritzer
We finished up sharing a the cheesecake – sharing a dessert makes it feel less naughty – before splitting the bill, which came to less than expected as our spritzer came under happy hour, a lovely surprise!
Highly recommend trying this brasserie, whether looking to dine inside or out. I'll almost certainly be returning – just spotted they do an afternoon tea too!
Have you been before?
Chloe xxx