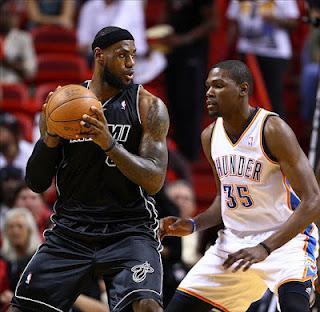 Photo: ThunderousIntentions.com
- Troy Ballard
Kevin Durant may have looked great in OKC, but when the Thunder played the Heat in Miami, LeBron James rocked the floor.
King James absolutely demolished the Thunder, and put on a clinic in Miami's 98-93 win on Wednesday night. It didn't take long for James to get red-hot, and his solid play carried the Heat to a tough win, making a strong case for him deserving the NBA MVP Award in 2012.
Compared to the last Durant vs. LBJ battle in OKC, James totally flipped the table and played smothering defense and lighted up the scoreboard on offense. There were plays where the announcers had to watch the replay three-times to believe it actually happened. King James was that good. Surprised?
Here is the side by side comparison of James and Durant:
LBJ                                                  Durant
Points: 34                                          Points: 30 
Field Goals: 10-20                            Field Goals: 11-21
Assists: 10                                         Assists: 3 
Rebounds: 7                                      Rebounds: 7
Steals: 4                                            Steals: 2
Blocks: 1                                          Blocks: 2
Turnovers: 2                                    Turnovers: 9
This game was awesome to watch. As most have said, Thunder vs. Heat is a likely Finals preview, and the two teams were playing like everything was on the line. Throughout, there were hard fouls, crazy fast break dunks, and defensive pressure like Fort Knox.
Both Durant and LBJ put on spectacular performances, and all things considered, the two had incredibly similar stat lines. However, I'd like to draw attention to one number -- Durant's turnovers. Nine turnovers is a career-high for Durant, and most were caused by the defensive intensity of James.
There is no doubt that James is athletic on the offensive end, but his defensive performance against Durant was insane. On most possessions, James forced bad passes, difficult shots, and even forced a Durant miss on the last three-point shot that would have tied the game.
Good stuff.
This MVP race is going to be tighter than ever, but after last game's performance between Durant and LBJ, the King has taken a narrow lead. Given that he can finish the season in a strong fashion, James will have one more trophy to add to his expansive collection.
The intensity that James brought to the court against the Thunder was unmatched, and if he can play like that through the playoffs and Finals -- count the Heat as NBA Champions.
Be sure to follow Beard and Stache on Twitter @BeardAndStache, and also Troy @TroyBallards, Like our Facebook page HERE!