The Dicota Hard Cover for iPhone 4 wraps around your mobile phone, keeping it away from damage. It is crafted from sturdy plastic resistant to bumps and impacts. This is a custom made iPhone 4 cover and offers perfect and snug fit. It offers a great amount of protection from scruffs, scrapes, scratches, fingerprints, and wear and tear. The cover for iPhone 4 will help you keep your smartphone look like new. With the authentic zigzag design it will add up the iPhone's overall look. Dicota has yet again made a great combination of function and style, maintaining its tradition of high-end iPhone 4 accessories.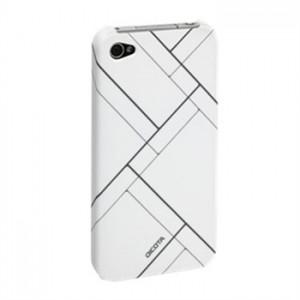 iPhone 4 Cover - Dicota Lov
Thanks to custom cut openings and cut-outs will easily use all of the phone's functions and features: camera, flash, buttons, and ports. This means that you will never have to take the phone from the case in order to fully use it.
Main Features:
Thin profile

Custom made for iPhone 4

Appealing design with zigzag pattern

Cut-outs and opening for free access to buttons, camera, and ports

High-quality protection

Made from sturdy plastic