I've run out of my Clean & Clear toner and just in time I found out about this Dickinson's Witch Hazel toner on my trip to Subic where I did makeup on a friend for her prenuptial shoot.  This is what the Bride-to-be brought along which just proves that she wouldn't be without it wherever face cleansing was concerned.  I tried it there when she showed it to me, it's the first toner I've tried that doesn't make my skin tight and a wee bit dry, my skin pores went smooth on the spot.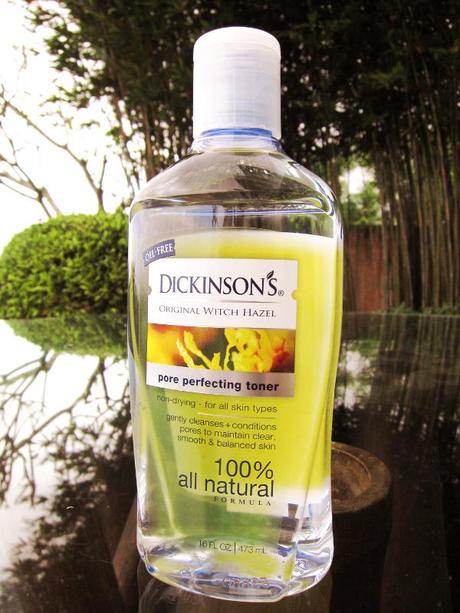 Mom picked it up for me from Healthy Options since she was in town (I live in the province) and she picked up the big 16 oz/475ml bottle, there's also an 8 oz bottle which is more suitable for traveling and that's the size my friend had.  I want to pick up the smaller size or transfer some to a little bottle for my professional makeup kit since I want to use this gentler toner for clients.  What's notable about this product is that in spite of it not being an alcohol-free toner (it contains 14% natural grain alcohol) it does not dry out my skin, I have relatively clear skin but quite a few sections with aggravated pores.  This relieved the skin surface instantly, it's funny that something with significantly less ingredients worked more effectively for me.  We humans tend to complicate things for ourselves.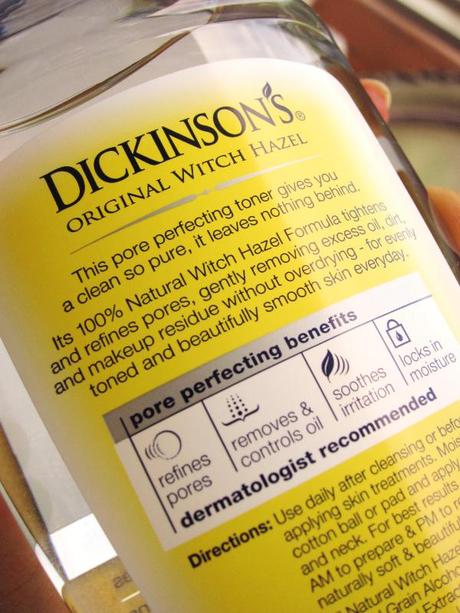 Witch Hazel is from the leaves and bark of a North American witch hazel shrub.  The native American Indians would boil the stems and leaves of the shrub and apply topically to treat wounds and/or problematic skin.  It is a natural astringent which means it mildly shrinks or constricts body tissues upon topical application.  Witch Hazel that is used in skincare like this is in hydrosol form and is a proven naturally derived anti-oxidant that is very effective in fighting acne, the toner also contains the extract which makes it more effective.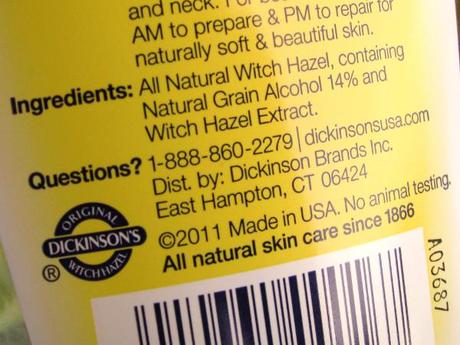 My friend, Patricia, said that she guarantees this removes makeup remnants when she feels makeup removers don't do a 100% thorough job.  Of course, not for the eyes since it is an astringent.  The only thing that slightly, as in ever so slightly, turned me off about it was the sweet woodsy natural scent (not fragrance, natural) which takes just a bit of getting used to but the wonderful results on my skin made me get over it and stick with my desire for it.  It actually really smells somewhat like tequila or gin, but the smell wears away right after application and it's just more proof that the product is naturally derived.  I'm not kidding about the tequila scent, and I smiled when I read that another local blogger, GeekGirlManila also thought it smelled like tequila.  I saw her thoughts about it right after I believed the same.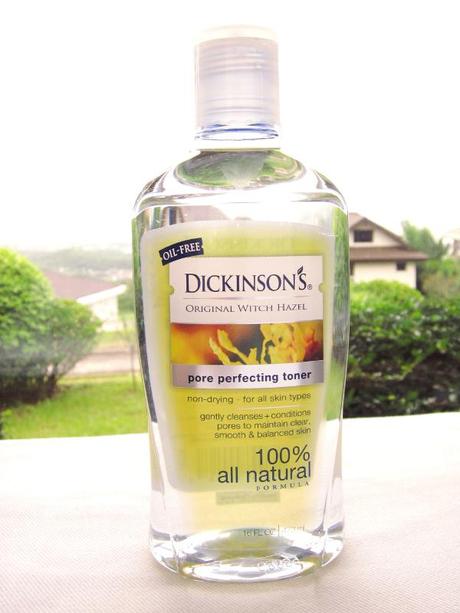 Buy the yellow one if you're going to get this because this is what my bride-to-be friend recommended.  This product was also frequently discussed in the Cosmo.ph forums.  The big bottle costs about Php300.00 for 16oz/475ml and the regular size costs Php200.00 for about 8oz/240ml at Healthy Options.  In the U.S. I'm guessing this would be available at places like WholeFoods or wherever organic and natural wellness products are sold.