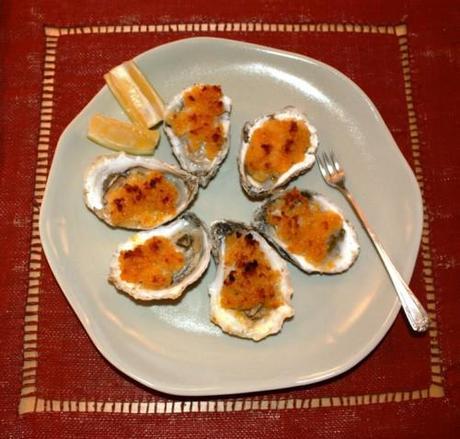 This recipe for Deviled Oysters was inspired by the inimitable Starfish Oyster Bed and Grill in Toronto where reigning World Oyster Opening Champion Patrick McMurray offers a dazzling array of the freshest, most succulent oysters nightly. Nirvana on a bed of shaved ice.
Last weekend Gena Bone and I went to visit her daughter and my god daughter Carson, a junior at the University of Toronto. She's doing quite well, thank you, majoring in archaeology and Buddhist studies, with a cute apartment and cuter boyfriend. What could be bad?
I found it reassuring that the friendly folks at Starfish always have an open stool at their oyster bar for Carson and keep an avuncular eye out for her as well. Starfish Oyster Bed has a Cheers kind of vibe — only with world class cuisine and a sophisticated clientele. No buzz-killing Cliff Clavens or Carlas in sight and yet they do seem to know everyone's name.
While Carson was eager to show off the variety of the Toronto food scene I insisted on Starfish Oyster Bed for dinner two nights in a row.  It's a comfort that godfathers can still make offers that can't be refused.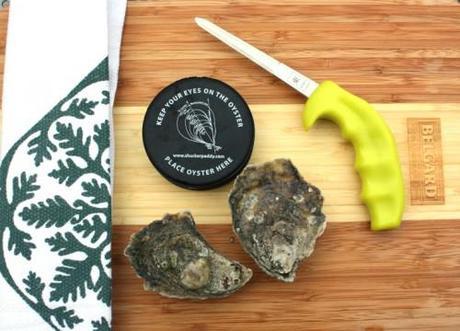 Je ne regrette rien!
Oh the oysters at Starfish! The finest from North America's east and west coasts are offered in spectacular abundance. Amazingly tasty wonders from the far-flung shores of Ireland, Scotland and France lie in wait as well. Our master shucker Lawrence created ethereal tasting flights for us. Grand plates composed of contrasting varieties were set before us while Lawrence gently pointed out the origins and finer distinctions of each. Starting with the finest specimens of good old Wellfleets, we moved on to Lilliputian Olympias from British Columbia and then crossed the pond, working our way through elegant Belons and some intensely flavored behemoths from the western shores of Scotland and Ireland. As we'd travel the world on the platter set before us Lawrence would oh-so-casually offer us another glistening half-shell of this and that, insisting we taste some obscure and rare personal favorite, perhaps with a grind of black pepper or gently browned in garlic butter and Panko.
Heaven.
And what of that charming champion shucker / Starfish proprietor Patrick McMurray? He of the uncontested world record of 38 oysters shucked in one minute, beating his previous record of 32?
Skills of his magnitude don't happen by accident. Of course years of practice and an unwavering, passionate obsession are required but the inside skinny is McMurray has invented innovative tools like this Shuckin' Puck (only a Canadian…) and pistol grip long-bladed oyster knife.
The extra-strong tip and ergonomic grip on the McMurry makes it easy to pop the top shell. Sharpened on both sides, long blade makes a quick scrape along both top and bottom shells to sever the abductor muscles, ensuring they slip out effortlessly when tipped into waiting lips. The Shuckin' Puck provides a non-skid base (safety first kids!) securing the bi-valve horizontally, thereby preserving the maximal amount of delicious oyster liquor. Buy yours here.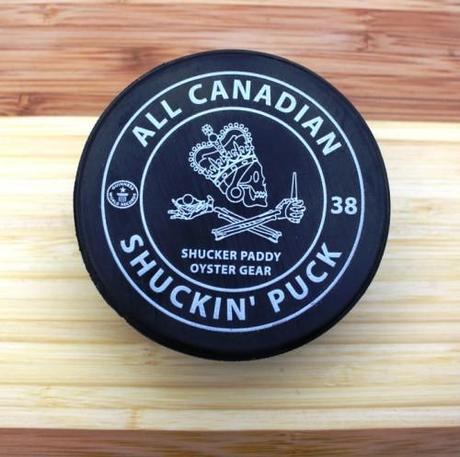 The inspiration for these Deviled Oysters is a small variation one of those aforementioned bonus treats, some of Lawrence's hotties-on-the-half-shell doused in garlic butter, Panko topped and toasted for a crunchy counterpoint to the salty softness beneath. I simply swapped out the garlic with a big hit of Tabasco, with excellent results I might add.
Back home in East Hampton we immediately set off on a quest for the finest and freshest.  A dozen Long Island North Forks from Sag Harbor's Dock House quickly turned into two dozen as soon as tasted one in the shop. Over at Stuarts in Amagansett we scooped up another dozen Montauk freshies brought in just that morning. The North Forks had deeper shells and a brinier flavor; the Montauks were shallower of shell and more delicate of taste. Lesson learned: variety is not only the spice of life, it's the lifeblood of a good ol' oyster feast.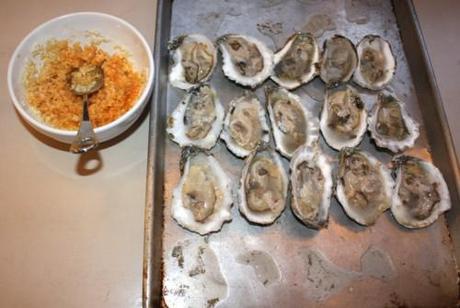 After our fill of simple ice cold oysters on the half shell, we moved onto a hot preparation.
It couldn't be simpler — click here for the recipe for Deviled Oysters from East Hampton, Montauk and Long Island's North Fork.