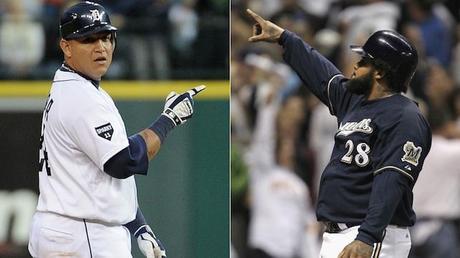 Photo: deadspin.com
- Adam Parker
The Detroit Tigers and slugger son of former MLB and Tigers great Cecil Fielder, Prince Fielder is coming full circle and will call Detroit home until 2020 after agreeing to a nine-year, $214 million contract (with no opt-out clauses) with the Tigers.
What an unexpected turn of events!
Fielder, who was agent Scott Boras's biggest remaining meal ticket this offseason, surpisingly went through the Winter Meetings without signing with a team.
The carousel continued to spin with teams like the Nationals, Rangers, Orioles, and Mariners all be mentioned as possible destinations at one point or another for the 27-year-old slugger.
However, after Victor Martinez's 2012 season was lost a week and a half ago to a torn ACL, the Tigers needed to make a move, and that's when they ultimately decided it was time to pounce on Fielder.
This move actually works out wonderfully for both sides, as the Tigers were Prince's childhood favorite going back to the days when Prince (12 years old at the time) and his father would take batting practice with the team. A few years ago, when Prince returned to Detroit as a member of the Milwaukee Brewers, Tigers Hall of Famer Al Kaline recalled spectacle of power.
"You can't every say that you look at a kid that age and say that you know he's going to hit 40 or 50 home runs someday, but Prince was unbelievable," Kaline said then. "Here's a 12-year-old kid commonly hitting homers at a big league ballpark."
In an interview with MLB NetworkRadio on SiriusXM, Cecil Fielder said he was "shocked" by the news that Prince was heading to Detroit.
"He's been there in Detroit for most of his young life so I think he'll be comfortable in that place," Cecil Fielder said. "I know [team owner] Mr. Ilitch is probably excited because he's been wanting that kid since he was a little kid, so he finally got his wish."
Bring Prince back to Detroit was a move that not many people saw coming. After all, the Tigers' front office wasn't initially interested in a more than a short-term replacement for Martinez and downplayed the likelihood of courting Prince despite the rumors.
"Of course we'd consider Prince Fielder," general manager Dave Dombrowski said last Thursday, according to MLive.com. "But realistically, it's probably not a good fit. We anticipate Victor Martinez coming back in 2013 and playing at the level he was at last season."
Martinez hit .330 and tallied 103 RBI's last year to help lead Detroit to its first division title in 24 years and protect Miguel Cabrera in the lineup on the first baseman's way to his first American League batting crown.
However, now the Tigers have another issue on their hands with the signing of Fielder. Cabrera is entrenched at first base for Detroit, and Prince has played first base for his entire Major League career with Milwaukee, having played a mere 17 games in the designated hitter role during inter-league play.
It's all going to depend on Cabrera. More than likely, the Tigers will ask him to move to third base, where he played for the Marlins when he first broke into the league, or he could end up filling the hole at shortstop since the Tigers seem to like Brandon Inge patrolling the hot corner.
Cabrera seems receptive to the idea of changing positions to incorporate Fielder though, telling a Venezuelan newspaper that he's moving to third base. It makes sense, after all, most players will do whatever the team asks if it puts them in a better position to win games, and having Fielder in the lineup every day is certainly one of those scenarios.
Fielder has averaged 40 homers and 113 RBI's over the past five years, and he's also earned a reputation as one of the league's top iron men, playing in at least 157 games over the last six seasons.
Once Victor Martinez returns to the fold in 2013, the Tigers will have some shuffling to do with their lineup, but having too many big bats on the roster is a 'problem' I'm sure every team in the league would love to have.
Motown has a new 'Prince', and his acquisition all but guarantees the Tigers the AL Central title next season, but something tells me that Ilitch and Dombrowski are dreaming a little bigger, and with the lineup they'll have for the foreseeable future, why the hell not?
Nice one, Detroit.
Be sure to follow Beard And Stache on Twitter 
@BeardAndStache
, 
and also Adam 
@Adam_Parker43
, Like our Facebook page 
HERE
!