I'm delighted to have Emma Woodhouse writing for the site again – you may well remember her excellent honeymoon report back in December. When I was initially chatting to Emma about her honeymoon, she casually mentioned that she'd been to the Maldives not once but four times – and to different islands – so I thought she'd be the perfect person to fill you in on choosing your perfect honeymoon island in the Maldives. And, in case you haven't already, be sure to pop over and visit Emma's fantastic new site The Wedding Reporter, where she can create a personal account of your wedding day. Over to Emma: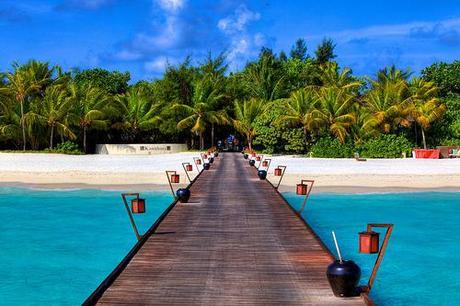 The Maldives are comprised of a group of three hundred islands, which are spread between sixteen atolls around the capital of Malé, in the Indian Ocean, southwest of Sri Lanka. For many years, this cluster of tiny islands has represented the epitome of a dream honeymoon with crystal clear waters lapping at pristine white beaches. However, between various natural catastrophes, tourism disasters and celebrities alleging to be bored whilst honeymooning there, the Maldives have suffered multiple blows recently. All of these are easy to forget though, once you get your first glimpse of honeymoon paradise.
Where to stay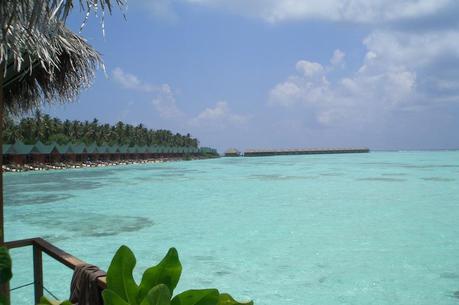 View of Meeru from honeymoon villa
Each island is an individual resort. Some resorts may be part of a larger brand or chain of hotels, but each island has a specific identity. The choice and range of accommodation varies depending on budgets, but generally most resorts will offer standard beach villas, some will have over-water villas, and the most luxurious of all can offer in-ocean villas and private islands. The 2004 tsunami gave resorts the opportunity to update their accommodation and, as a result, many now offer luxurious rooms with jacuzzis or private plunge pools.
Whereas a decade ago the Maldives was considered an exclusive destination, it is now possible to bag package deals from high street travel agents. Whilst these are often more of a bargain, they tend to lack any personal recommendation. For first-time travellers to the Maldives, I would definitely recommend a specialist travel agent who has local knowledge, direct contact with the resorts and will be able to offer suggestions on the best resort to suit your budget, your requirements and what you want from your honeymoon.
Larger resorts, such as Kuredu or Sun Island can cater for hundreds of guests with up to four hundred rooms. These islands are great if you want more of a social vibe to your trip and are especially popular with families and European holidaymakers on an all-inclusive basis.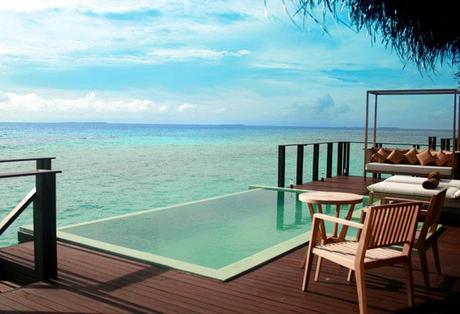 Water villa, Zitahli Kuda-Funafaru
The smaller islands like Zitahli Kuda-Funafaru or Huvafen Fushi have less than eighty rooms, so if your ideal of the Maldives is to not see a soul for the duration of your visit, then these are definitely worth their price-tag.
High-end resorts such as Hilton Iru Fushi or Banyan Tree Madivaru are often more popular with guests from east Asia. The cost of these resorts is reflective of their exclusive nature, excellent service and luxurious accommodation. Then there are more mid-market resorts that aim for luxury on a smaller budget, which are especially well-accomplished at Meeru Island and Medhufushi.
There are currently 97 resort islands in the Maldives for you to choose from, each with its own great reason for visiting. Once you have a budget in mind (and this will almost certainly be your biggest consideration) then you should ask yourself what you most want from your resort. Is it a great house reef to snorkel on? Do you want a wide variety of restaurants to choose from? Are you dead set on having a honeymoon suite set on its own away from the island? Make a list and then enjoy researching which place best suits your honeymoon.
What to do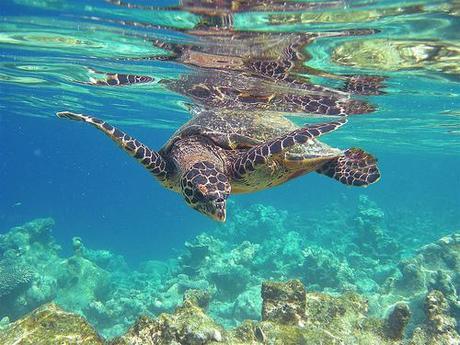 The Maldives is not just a destination for beach-bums who just want to read and tan all day – although it is a perfect destination for those that do! Divers are also drawn to the country for its amazing cornucopia of sealife and the epic organised dives. Don't worry if you aren't already PADI certified – most resorts will have a dive centre and you can book lessons to learn how to dive and get your qualifications.
Most resorts will also offer a watersports facility. These are usually run by local guys who swim like fish and are completely fearless. The activities on offer can range from kayaking to windsurfing, banana-boats to catamaran sailing. This is also the place to come for snorkelling gear – so there's no need to worry about lugging it with you if luggage space is tight.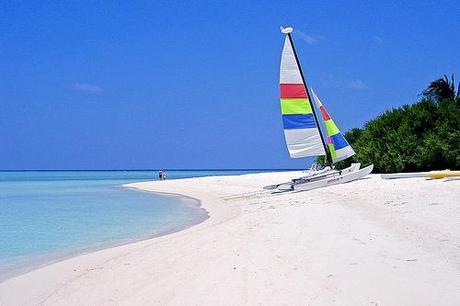 You will also find a whole host of expeditions and adventures guided by informed and friendly resort staff available. These are as varied as visiting local inhabited islands, dolphin-spotting, snorkelling expeditions, Robinson Crusoe island escapes (just the two of you and some food left on a sand bank for the day), sunset fishing, big game fishing (pretty much any fishing you can think of, actually) and love-boat cruises. And if none of that floats your boat, make sure you stay at a resort with its own spa and indulge in some truly relaxing treatments.
The Maldives as part of a wider trip
If too much time in one small place isn't ideal for you, the Maldives are conveniently located to create a multi-destination honeymoon. You can add anything from a few days to a week or more in Dubai, Mauritius, the Seychelles, Sri Lanka or India. Many tour operators now offer these options as packages but it can often be cheaper to do your research and book individual elements independently.
When to go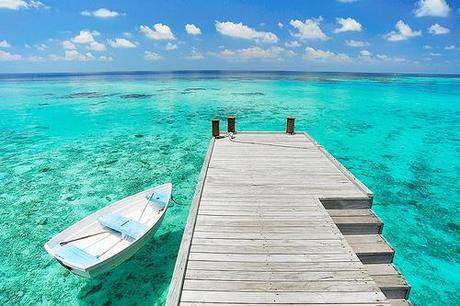 The dry season is between December and April, with a few extra hours of daylight and lower humidity. February to April is the hottest, most popular period, but beware that certain marine life will be mating and nesting, such as Trigger Fish, and can be quite aggressive – you may come across them when simply snorkelling in your house reef.
May to November has a greater chance of storms, with August and September being the rainiest months of the year. However, rainy season does not necessarily mean continuous soul-destroying rain as per the United Kingdom, so much as sporadic, sudden, dramatic hardcore storms, interrupted by blazing sunshine. The southern atolls can also suffer from a fairly harsh southwesterly wind at this time as well.
No matter when you go, however, the temperature remains in excess of 30ºC all year round.
Photos courtesy of: Nic Adler; Emma Woodhouse; Zitahli Kuda-Funafaru; Mr eNil; Strep72; muha…