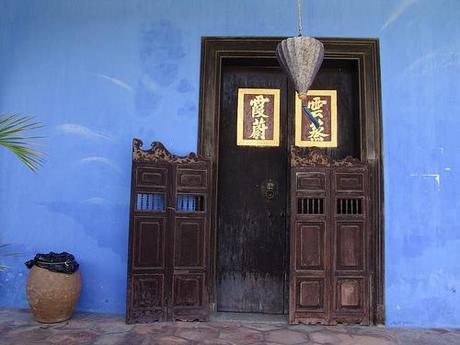 Cheong Fatt Tze Mansion, Penang
Malaysia often gets overlooked in favour of its brasher, better-known neighbour, Thailand, but it's an amazing country with a huge variety of landscapes and experiences on offer. If you've never travelled to southeast Asia before, it makes a great introduction to the region – it's easy to get around, the food is absolutely amazing, the people are friendly, and you won't encounter the kind of hassle that you do in other countries. Even if you have travelled in the region, it can be quite surprising just how much there is on offer in Malaysia – from tranquil white-sand islands to lush rainforest and bustling towns – and the fact that the country is split in two – Peninsula Malaysia (attached to mainland southeast Asia) and East Malaysia (on the island of Borneo) – means you could easily spend months exploring this fascinating country.
Where to stay
One of the great things about Malaysia is that you can get some amazing deals on accommodation, and even in Kuala Lumpur it's possible to stay in five-star hotels for under £100 (see my post here). Here's a selection of some of my favourite properties in the country, though this list is by no means exhaustive.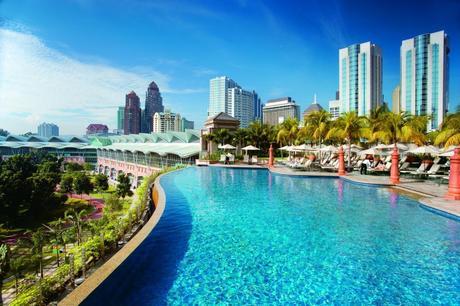 Mandarin Oriental, Kuala Lumpur
In Kuala Lumpur, the lovely little Anggun boutique hotel is a great, intimate choice, with a charming Malay feel. Best of all, it's just a stone's throw away from one of KL's best nightmarkets, on Jalan Alor, where you can sample some of the city's fabulous cuisine. From £56 a night.
If you're after five-star luxury in the city, head for the Mandarin Oriental, right by the iconic Petronas Towers. If you can afford it, splash out on one of the club rooms, which gives you access to the club lounge, where you can enjoy complimentary snacks and evening cocktails. From £98 a night.
Many people head up to the island Penang to stay on the beach; to be honest, there are much better beaches to head to in Malaysia. Instead, stick to the lively city of Georgetown, full of old Chinese shophouses and a great place to spend a couple of days pottering. Here you'll find one of my all-time favourite hotels – the Eastern and Oriental – which is all dark wood, whirring fans and literary connections – it's like stepping back to the turn of the twentieth century. From £133 a night.
The island of Langkawi has long been popular with honeymooners – hardly surprising given its beautiful white sands. One of the most atmospheric places to stay is the Bon Ton Resort, composed of gorgeous old restored Malay houses. It's not on the beach, however, but the excellent restaurant and lush grounds more than make up for this – and the sea is only five minutes away. From £99 a night.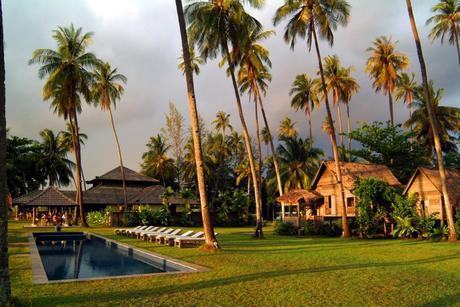 Bon Ton Restaurant & Resort, Langkawi
Off the east coast of Peninsula Malaysia lies gorgeous Tioman Island, which has long been popular with divers for the rich, clear waters that surround it. Get off the beaten track by staying at the charming, small Bagus Place Retreat, with eco-sensibilities and a rustic feel. From £172 a night, including all meals.
Up in the cool Cameron Highlands, just a few hours from KL, the Lake House has a rather old-fashioned British charm about it – just what you want for tea country, really. The honeymoon suite even has a fireplace in it – which is just as well as nights up here can, believe it or not, get a bit nippy. From £112 a night.
Over on Malaysian Borneo, the Shangri-La Tanjung Aru resort is situated just outside of Kota Kinabalu, making it a good choice for a bit of relaxation and soaking up the sea views, and the lovely islands of the Tunku Abdul Rahman Marine Park are just a short hop away. From £136 a night.
On the other side of Sabah, divers and snorkellers will love the over-water bungalows at the Sipadan Kapalai Resort – there's not really anywhere else like this in Malaysia, so it's a pretty special place. From £200 a night.
What to do
It would be a shame to travel to Malaysia and only see one place – most honeymooners choose to kick off their trip with a few days in Kuala Lumpur. It's an interesting city, and rewards a little exploration, as the most interesting parts are away from the glossy malls of Bukit Bintang, in areas like Chinatown and Little India.
The Cameron Highlands, an old British hill resort, make a cool reprieve from the capital city, and is an especially good choice if you fancy doing a bit of walking.
But to really explore, head into the rainforest – Taman Negara National Park is an amazing place, and I'd really recommend staying in the jungle itself for a few days in order to really discover it.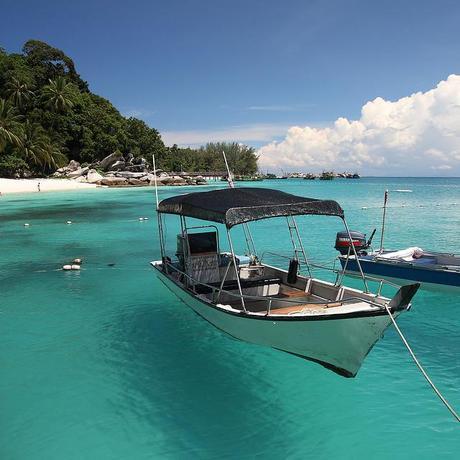 The Perhentian Islands
Take your pick of beautiful islands – on the west coast, most honeymooners choose Langkawi, or you could head to exclusive Pangkor Laut for pure luxury, while the east coast boasts the beautiful and still relatively undeveloped Perhentian Islands and, perfect for diving, Tioman, further south.
Malaysia isn't all beautiful beaches, however – there's also lots of interesting towns, including Melaka, with its old shophouses and colonial relics, Penang, with its fabulous food, and, on Borneo, the feline-fond town of Kuching.
If you want a bit of adventure on your honeymoon, head over to East Malaysia to climb Mount Kinabalu (strenuous, but not quite as unobtainable as it may sound). Afterwards, you can soak your muscles in the warm waters of Poring Hot Springs.
Marvel at the country's rich wildlife: watch as turtles lay their eggs on the shores of Turtle Island, go diving off Sipadan, and spend a day with the orang-utans at Sepilok Rehabilitation Centre.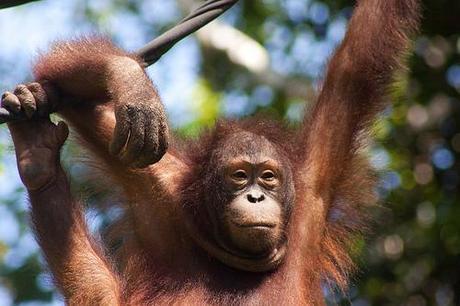 Orang-utan, Sepilok Rehabilitation Centre
Malaysia as part of a wider trip
Singapore – the city-state, which adjoins Malaysia, makes a great start or end point for a honeymoon, with great shopping, fabulous food, and fantastic onward flight connections.
Bali - hop over to Indonesia for yet more beautiful beaches, or head into the interior to experience the more traditional side of the island.
Thailand - budget flights make it easier than ever to reach Malaysia's northern neighbour, or you could catch the rather fun overnight train.
Australia - Kuala Lumpur makes a great stopover on the way to Australia. If you fly with Malaysia Airlines, you can sometimes tack on an extra return flight to elsewhere in Malaysia for no extra charge.
Cambodia - Malaysia's excellent budget airline, Air Asia, has a fantastic range of routes throughout the region, including to Siem Reap, the gateway to the ruins of Angkor Wat.
When to go
The great thing about Malaysia is that its two coasts experience rainy season at different times of year, so you can pretty much always find somewhere to go. The west coast's monsoon generally takes place from April until October, though you'll find the rain fairly sporadic (we've travelled there in May and October and not found it a problem). The east coast's monsoon more or less takes place from November until February, and you will find that more things, such as hotels on the islands, close down for this period. The weather on Malaysian Borneo also tends to follow a similar pattern to the east coast. That said, don't worry too much about the monsoon season ruining your honeymoon – it's generally not half as bad as it sounds. Check out my post here for more information about monsoon travel.
Photos courtesy of: Bentley Smith; Mandarin Oriental; Mr & Mrs Smith; Choh Wah Ye; Darren Pearce