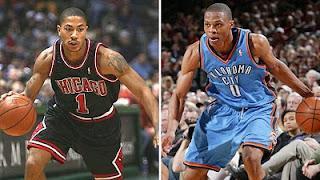 Photo: Getty Images
- Adam Parker
The NBA Finals between the Miami Heat and Oklahoma City Thunder are in full swing with the series tied at one game a piece.
In all honesty, this series has boasted, at least for me, some of the best basketball I have ever watched in my life to date.
Naturally, the bulk of the spotlight centers on the LeBron James and Kevin Durant duel with cameo appearances from Dwyane Wade, Chris Bosh, James Harden, Russell Westbrook and.. wait for it.. Shane Battier.
But while we wait for the series to resume this coming Sunday, I had a quick thought after watching Westbrook's exploits in particular.
If I were in an NBA front office, who would I rather have as my point guard if I were starting a team -- Rose or Westbrook?
Both 23-year-old floor generals will be forever attached at the hip. Not only are the two good friends, but they both were also part of the 2008 draft class (Rose -first, Westbrook - fourth).
It's not a tough decision if you base it purely on where the two players are today. While Rose is in the middle of rehabbing from a torn ACL he suffered in the playoff series against the Philadelphia 76ers, Westbrook, meanwhile, is locked in a 15-round title bout (along with KD and
The Beard)
for the Larry O' Brien Trophy against the Miami Thrice.
Seems like an obvious choice to go with Westbrook, right?
Westbrook finished Game One of the Finals a mere two rebounds shy of a triple-double. Despite being so young, there's no doubt that the guy does it all for his squad on both sides of the floor. Though granted, he did look somewhat out of control in the first quarter of both Games One and Two; often forcing up bad shots when he didn't necessarily have to.
Another thing working against Westbrook in this case is that he's still categorized as the Robin on his Thunder team to Durant's Batman, which means he doesn't have to deal with quite as bright a spotlight or as much scrutiny as the former Memphis Tigers' star.
Rose, on the other hand, has basically had to be
the guy
since he joined the league. Since 2008, Rose has single-handedly shouldered the weight of not only an entire franchise, but an entire city. But D-Rose hasn't shied away from the pressure. In fact, he's reveled in it, most recently to the tune of league MVP honors for the 2010-11 season. Rose too, like Westbrook, has off-the-charts athleticism. Not only that, but he has that ridiculous crossover that gets even my ankles (which aren't even the target) to quiver in fear.
The guy is flat-out amazing, and it's why, entering this season, he was considered the best player in the league according to the MVP voters.
Westbrook's stock has really risen over the past season. Some people even went as far as to put him ahead of his teammate Durant in the conversation for league MVP (when it was still up for grabs). I think you definitely have to put him in the top five point guards when considering his play on both sides of the floor, and the dangerous thing is -- he's still growing.
But Rose is as well. That's why it's so rewarding to be an NBA fan right now. The quality of young talent in this league is growing every year while the old guard led by guys like Kobe, Dirk, KG and Tim Duncan are all still getting it done too.
I doubt either respective franchise would trade their guy for the other, and rightfully so. You have to be loyal to your team's stars.
But if you ask me who I'd prefer to start my team with, I'm taking a healthy Derrick Rose (which I have no doubt he'll get there eventually) over Westbrook simply because he's done more with less.
It may not be fair to knock Westbrook down a peg simply because he was fortunate enough to fall into a situation where he plays along side the reigning NBA Scoring Champion while Rose's No. 2 is either Carlos Boozer, Luol Deng or Joakim Noah. It's not even close. Like it or not that's just the way it is and the luxury of playing alongside Durant is one that I'm sure any point guard in the league would kill to have.
Truthfully though, you really can't go wrong with either young gun. Their stats are very similar as is the perennial success of their respective clubs. Having the choice of Rose or Westbrook to choose from is like playing with house money -- you can't lose.
Be sure to follow Beard And Stache on Twitter 
@BeardAndStache
, 
and also Adam 
@Adam_Parker43
, Like our Facebook page 
HERE
!